Explore the Benefits of Blackout Shades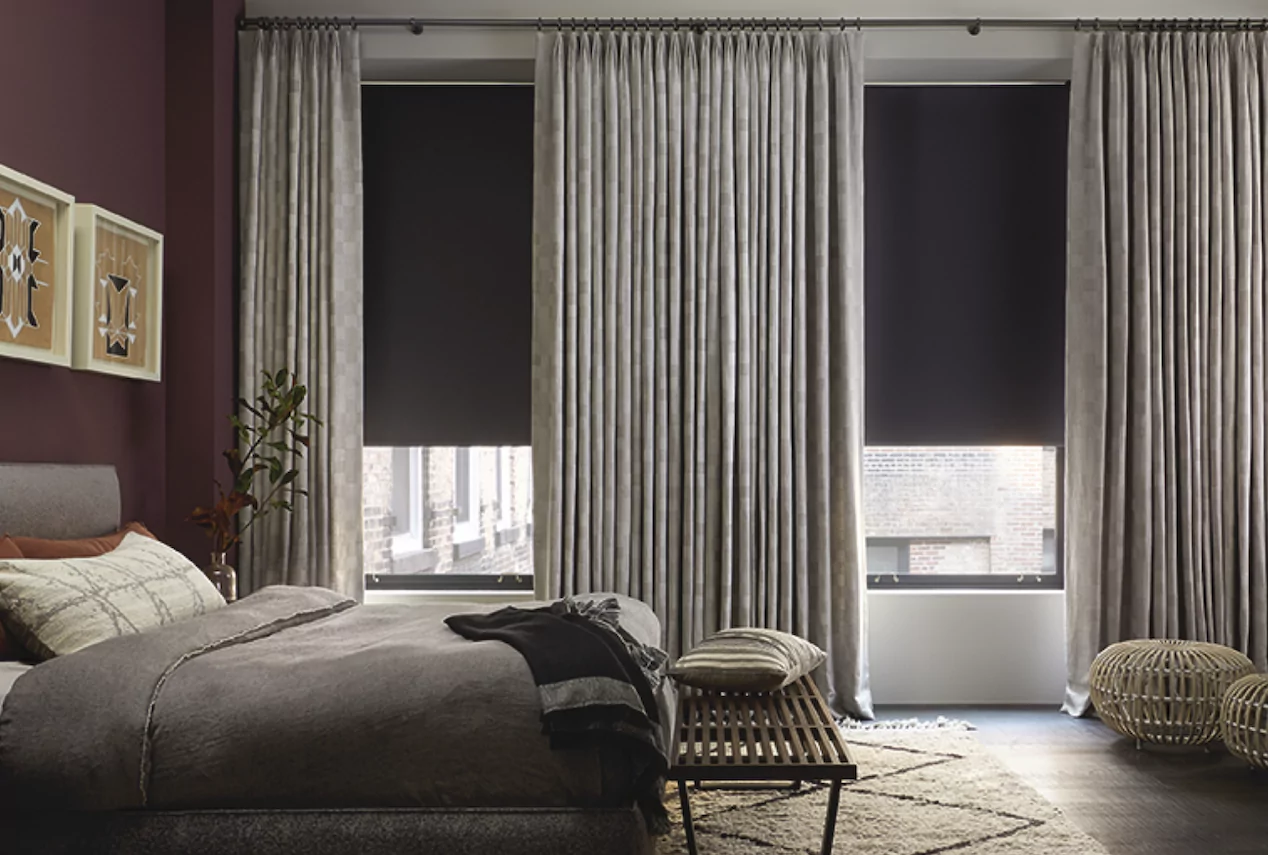 Inner Layer: Blackout Roller Shades — Bond, Charcoal / Outer Layer: Tailored Pleat Drapery — Victoria Hagan Oceana, Stone
You should consider Blackout Shades if you're in the market for window treatments and looking to prevent natural light from seeping into a room. Blackout Shades are great for bedrooms, nurseries, home theatres, and so many more spaces. We also recommend them to customers who work at night and sleep during the day.
If you are interested in finding the perfect Blackout Shades for your windows or learning more about the benefits of Blackout Shades, The Shade Store has everything you need. Continue reading for ideas and custom Blackout Shade options available at The Shade Store.
What Are Blackout Shades?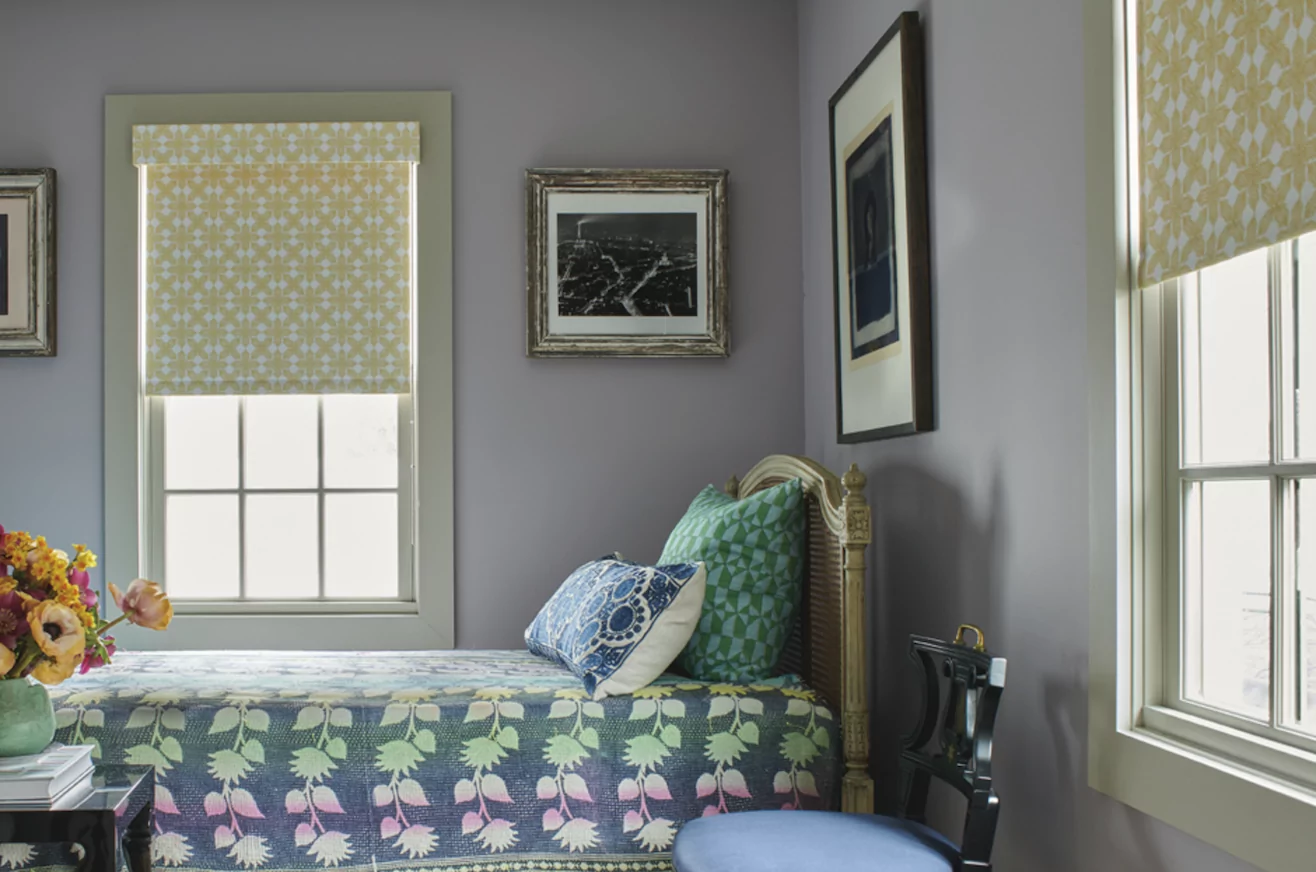 Blackout Roller Shades — Sheila Bridges Porringer, Mimosa
While every window treatment from The Shade Store is handcrafted to meet your privacy and light-filtering needs, our Blackout Shades are designed specifically to block out natural light — properly installed Blackout Shades can make your room almost completely dark. To achieve this effect, Blackout Shades are made with high-quality opaque materials and designed to fit tightly into window casings to reduce light seepage. Blackout Shades' unique design also makes them great for helping control the temperature in your home.
At The Shade Store, blackout materials are available for many window treatments styles. If you decide on a material that is not inherently blackout, consider adding blackout lining. Blackout lining is applied to the back of shades, which helps to block 95-99% of natural light from entering a room. Similar to Blackout Shades, blackout lining provides added sun protection, improves insulation and offers great light control.
Benefits of Blackout Shades at a glance:
Block Sound
Improve Energy Efficiency
Light Filtering
Choosing the Right Design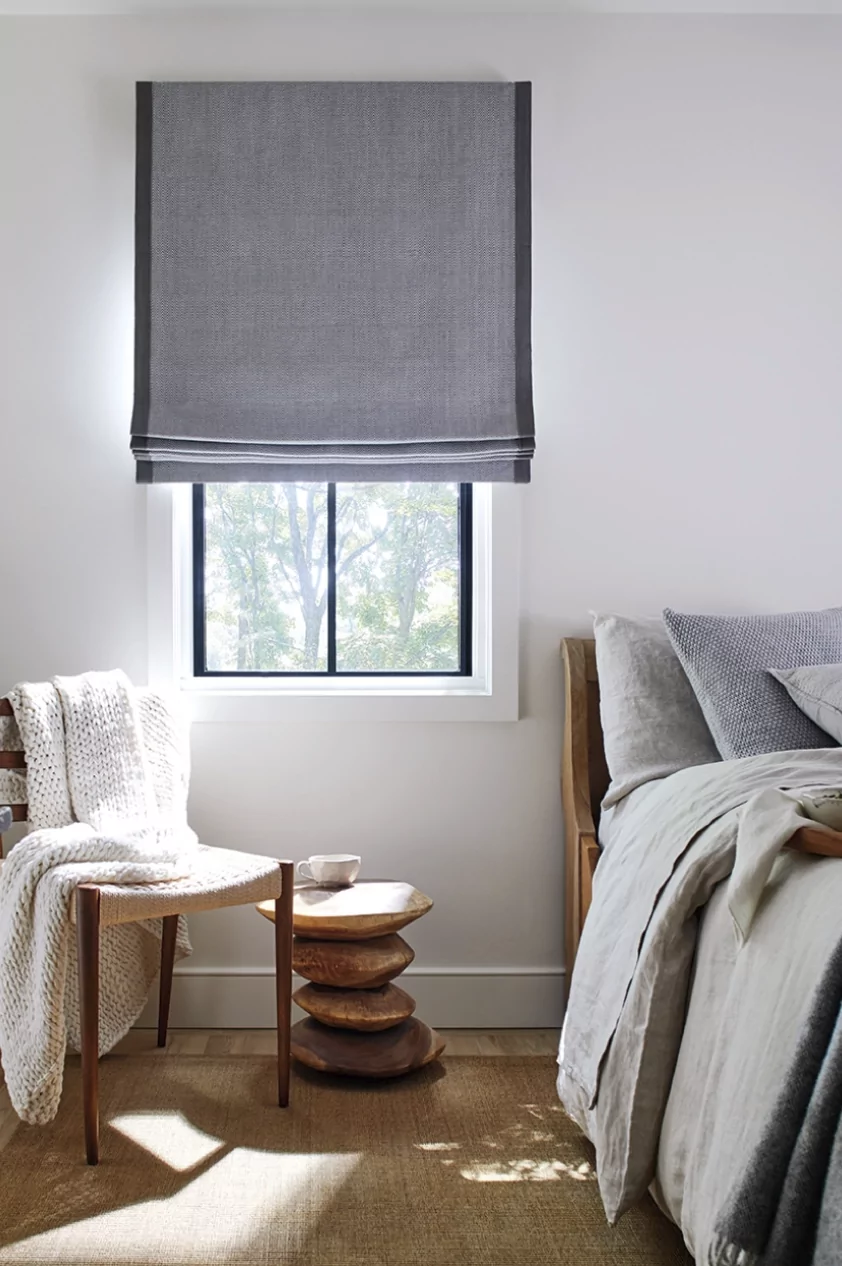 Flat Roman Shade — Baldwin, Stone, with blackout lining and Samuel & Sons Flanders Trim, Granite
At The Shade Store, we offer an assortment of Blackout Shades suited to meet your unique style and design preferences. Blackout solutions are available for the following window treatments:
Once you've selected your window treatment type, it's time to select your fabric. At The Shade Store, you can choose from a wide variety of fabrics and designer materials to complement the aesthetic of any room in your home.
Designer Tips About Styling Blackout Shades
Recently, The Shade Store was featured in a piece by House Beautiful showcasing the best blackout window treatments if you're having trouble falling asleep. In it, our designer partners Nate Berkus and The Novogratz shared a few of their tips for selecting the perfect Blackout Shades.

Nate Berkus
What are some key things to consider when selecting the best blackout shades?
The most important thing is to make sure your blackout shades fit the window properly. I always recommend going with a custom shade to ensure no light peeks through, especially in the bedroom. The Shade Store is truly the best resource for custom window treatments as they make the process so simple and seamless. They handle all the measurements and installation — there is zero guesswork.
How would you balance style and function when looking for blackout shades?
Blackout shades are so hardworking, minimizing light and elevating spaces. But they can also be attractive, adding a subtle pattern or color that complements the overall design of a room. My collection for The Shade Store includes an assortment of timeless, travel-inspired prints for blackout Roller Shades that can easily be combined with Drapery. The beauty of these blackout Roller Shades is in the versatility of their patterns. Each style is a subtle, curated backdrop for the home that can either stand alone as a powder room accent or fold into a large living room.
What are your recommendations for abnormally sized windows?
Go the custom window treatment route. It's worth the investment and will make a big impact.

Bob and Cortney Novogratz, aka The Novogratz
How would you balance style and function when looking for blackout window treatments?
We always feel comfortable choosing styles and patterns, but as designers, we're constantly curious. That is why we rely on other experts when it comes to function. We'll never know everything about a home, so we're not afraid to ask experts. That's what they're there for, and they'll be happy to share their knowledge. Enjoy the learning process as you invest in your home.
Can you share with us your absolute favorite blackout window treatment and why?
We've always been partial to our Backgammon Design, and it's available in a blackout treatment. The pattern can be used both in traditional and modern settings, so it gives us a lot of surprising design flexibility. It's versatile in its function and form.
If I need one that's insulated, what are some things I should look out for?
First, understand whether you are insulating to keep heat out or if you need to insulate from the cold — there are different options for everything so it's good to explain your unique situation to a Design Consultant at The Shade Store and pick their brain. We still do that today on certain projects.
What are your recommendations for abnormally sized windows?
We've currently finished a project in The Bird Streets of LA with huge windows, and we're working on another one in NYC. We've also designed hospitality projects with abnormally sized windows. We recommend creating a custom treatment to make a bold statement. There are places to save in design and places to splurge. Think of a large window as an artistic moment — you want to adorn it with a gorgeous frame.
Have questions about Blackout Shades? We're here to help.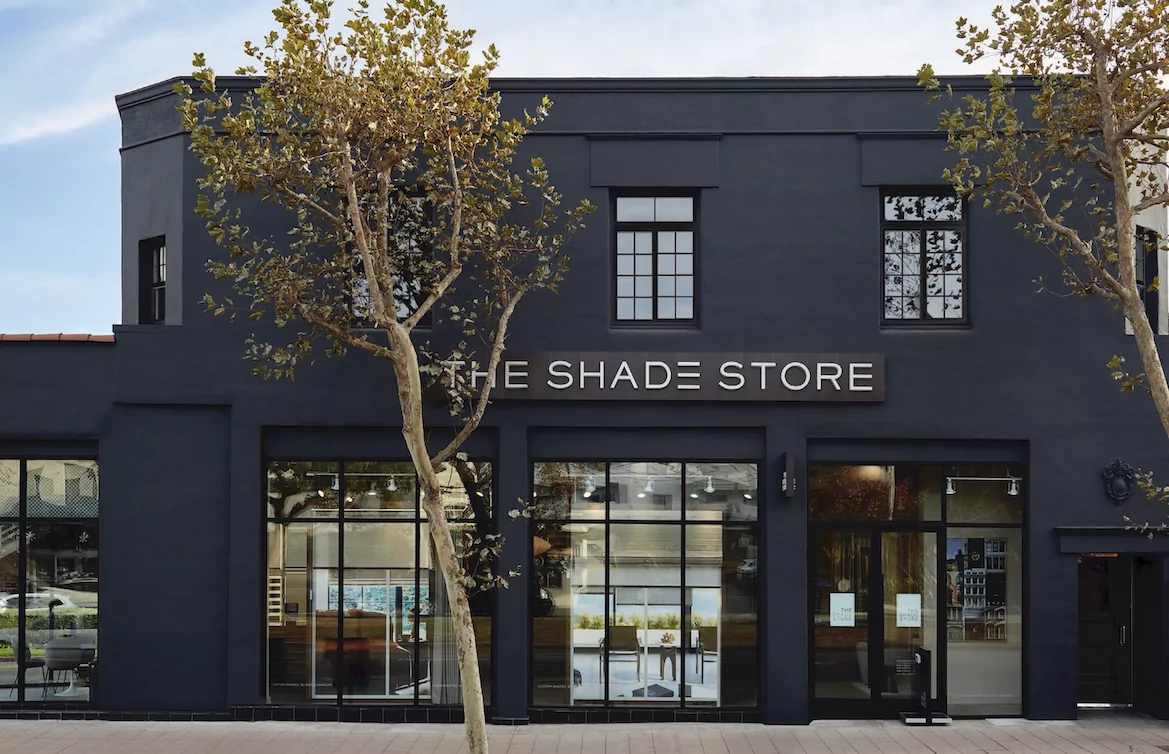 If you have questions about Blackout Shades — or if you need assistance achieving your dream windows, we're here to help. The Shade Store offers expert services every step of the way — from inspiration to installation. Our team of Design Consultants is available to assist you with material selection, color coordination, measurement & installation scheduling and more, however you choose to shop. To get started, stop by your local showroom, visit us online or give us a call at 800.754.1455.