3 Window Treatments Your Indoor Plants Will Love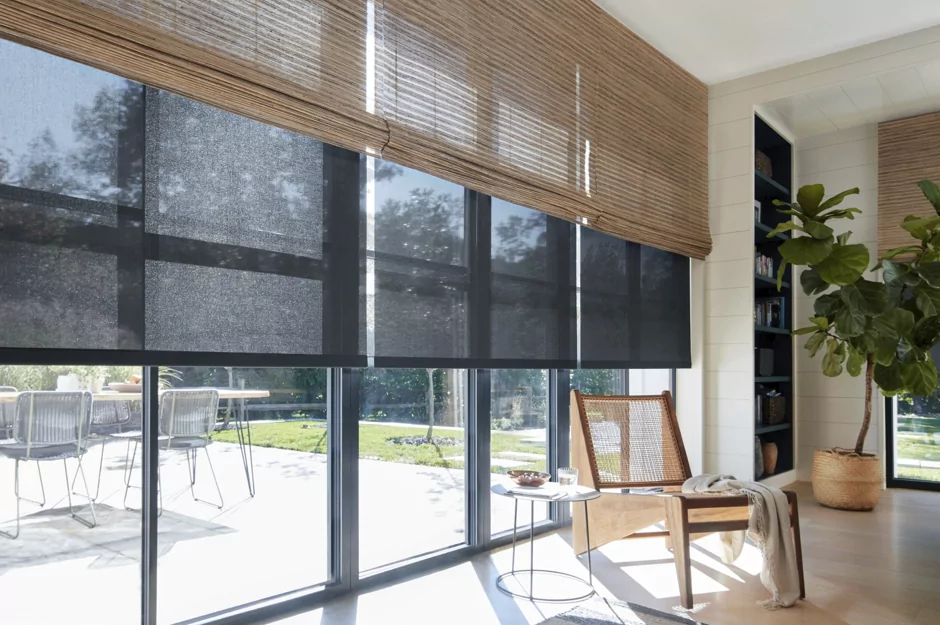 Inner Layer: Solar Shades — 5%, Black / Outer Layer: Waterfall Woven Wood Shades — Artisan Weaves Cove, Beige
Indoor plants are a great way to add interest to your interiors. Traditionally, they require little maintenance, but there are a few things to keep your eye on. When it comes to sunlight, some plants thrive in indirect sunlight, while others need full sunny-day rays. Here are a few window treatment ideas to help you control the natural light that enters your home — your plants will thank you.
Solar Shades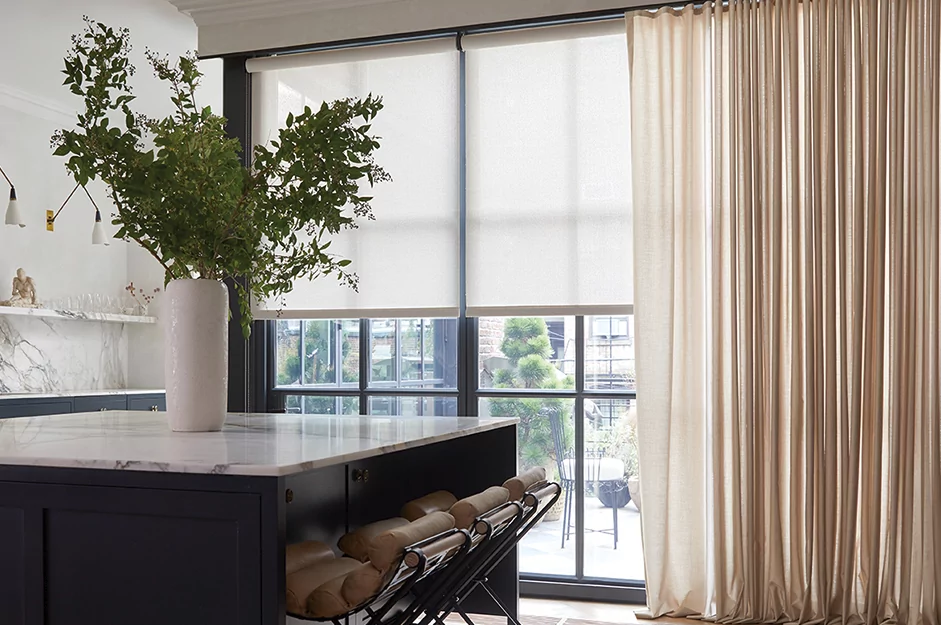 Inner Layer: Solar Shades — SunbrellaⓇ Solar Collection 5% Solistico, Oatmeal / Outer Layer: Ripple Fold Drapery — SunbrellaⓇ Ventana CollectionⓇ Vitela, Heather Beige
Because Solar Shades come in a variety of transparencies (1, 3, 5, 7 and 10%), they're the perfect window treatments to get the perfect amount of sunlight for your plants. With Solar Shades, the higher the openness percentage, the more transparent the material is — the lower the percentage, the more opaque the material is. So if you find your plants only need a little bit of sunlight, consider a 1% transparency. Do they need a little more sunlight? Then 10% is the way to go. Just remember: The lower the percentage, the tighter the weave. The tighter the weave, the less sunlight gets through.
Roller Shades in Light Filtering Materials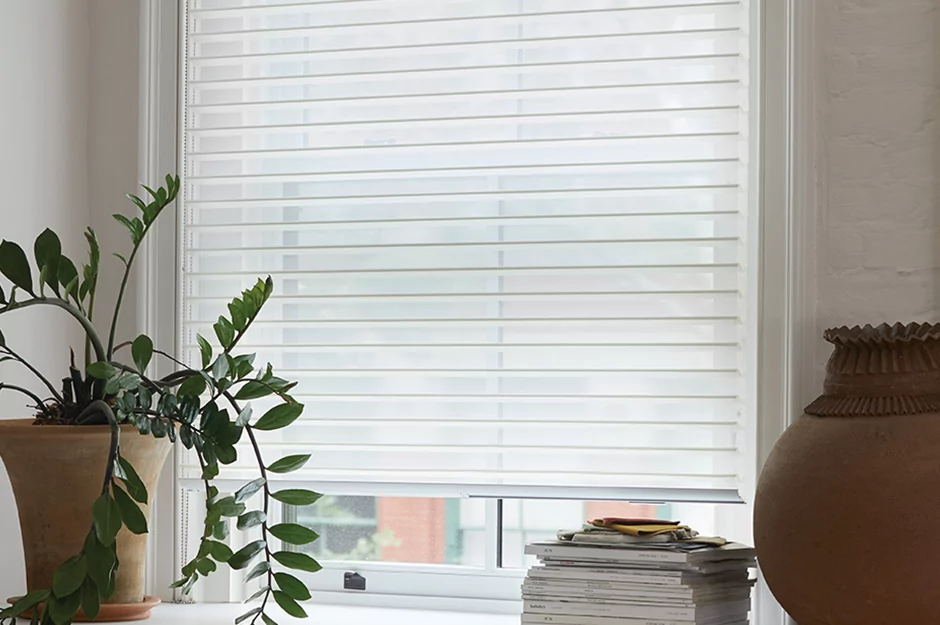 Venetian Roller Shade — Seaside, White
Similar to Solar Shades, our Venetian Roller Shades and Light Filtering Roller Shades will open up your home to gorgeous natural light. There are no percentages here, so we recommend ordering some free swatches, holding them up to your window and seeing which options provide the right amount for you and your plants. With a variety of beautiful materials to choose from, you're sure to find something your plants will love.
Sheer Fabrics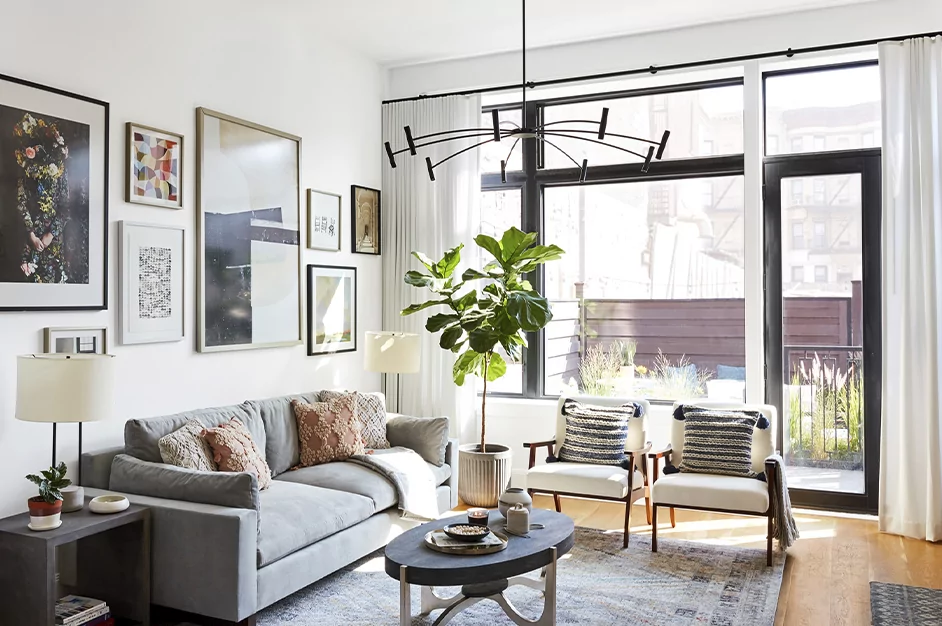 Ripple Fold Drapery — Basket Sheer, Winter
Unbelievably soft with lovely texture, sheer fabrics will filter natural light into your home, saving your plants from harsh direct sunlight. Both Roman Shades and Drapery can be made with sheer fabrics, so there's no shortage of styles to choose from. Browse our collection of beautiful sheer materials and visit our photo gallery for inspiration.
What to Consider When Choosing Window Treatments for Rooms with Plants
When choosing custom window treatments for rooms with plants, there are just a few things to consider:
The Direction Your Room Faces
If your room faces a direction that gets a lot of sunlight, we recommend Solar Shades for your windows. Not only do they allow natural light to filter in for your plants, but they also help protect your space — furniture, artwork, floors — from harmful UV rays.
The Effect You Would Like to Achieve
If you would like to fill your space with soft, comfortable natural light your plants will love, our Design Consultants recommend Light Filtering Roller Shades, as well as Roman Shades and Drapery in sheer materials. You may also want to consider a layered approach with shades and drapery — our Design Consultants are happy to help you with everything.
To learn more about controlling the natural light in your home, request a complimentary design consultation today.