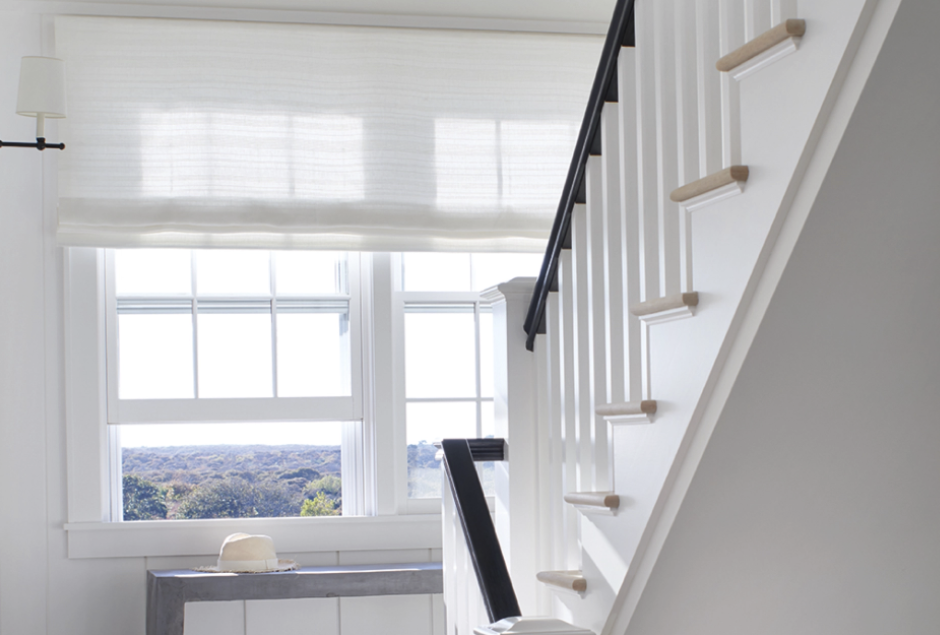 Flat Roman Shade — Victoria Hagan Tidal Line, Moon
Contemporary design is a style that generally incorporates neutral colors, clean lines, and natural materials. It's popular for its simplicity and classic elegance.
Contemporary vs. Modern Design
Often, "contemporary" and "modern" design styles are easily confused. While they bear some similarities (for example, both contemporary and modern styles are relatively minimalist), the major difference between the two styles is that "modern" refers to the design of a specific time or era, whereas "contemporary" refers to the aesthetic. This means "contemporary" design is constantly changing.
Home elements such as furniture, paint selection, accessories, and, of course, window treatments, can help to enhance your contemporary design look. For example, if you are looking to incorporate contemporary window treatments, you should choose white, grey and other natural colors, as well as lighter-colored wood finishes. These design choices naturally lend themselves to the signature look of contemporary windows. In this blog post, we'll go over a few considerations for contemporary window treatments.
Contemporary Blinds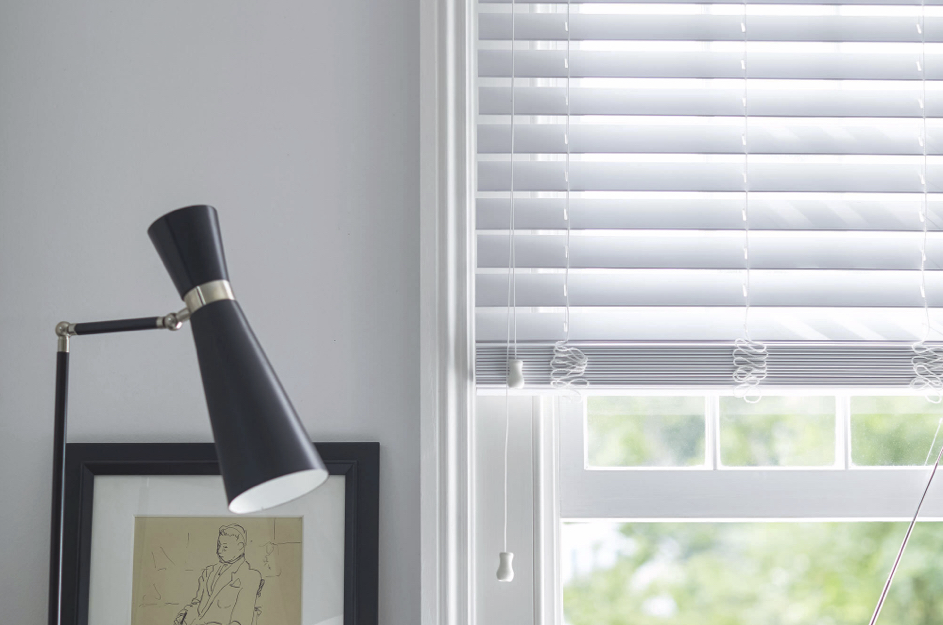 2" Faux Wood Blinds — 2" Faux, Blanc
Unbelievably versatile and available in a variety of styles, blinds are a great choice for contemporary window treatments. Gone are the days of plastic white blinds — you now have a wide selection of options to choose from to fit your desired aesthetic. To incorporate contemporary style in your blinds, we recommend choosing natural-looking materials and colors, such as wood (or faux wood) and complementing them with bright accents.
Wood Blinds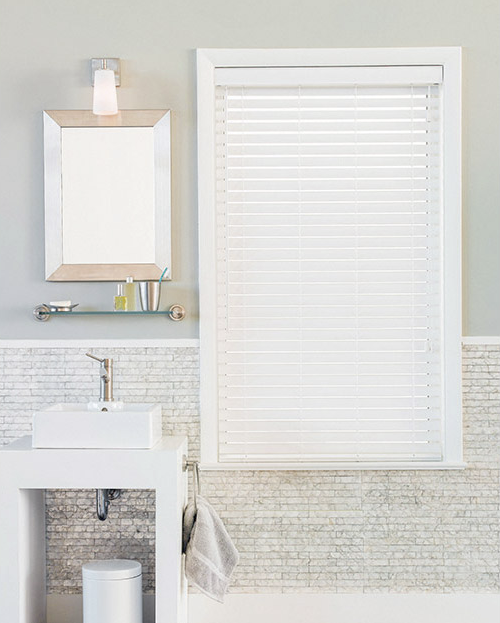 2" Wood Blinds — 2" Painted, White
Wood blinds are an excellent style of contemporary window treatments. Our natural finishes work well with contemporary homes, and pair with neutrals and bright colors alike — and we also offer a beautiful selection of painted styles. Wood blinds are available in neutral colors and natural materials, so you can easily find a style that not only works for you, but also fits your price range.
Contemporary Drapes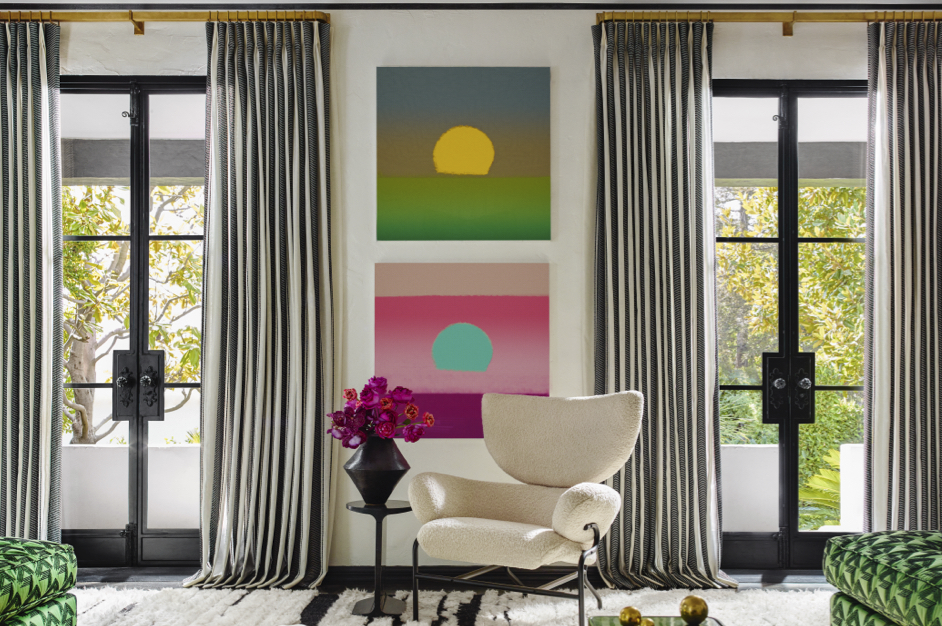 Tailored Pleat Drapery — Martyn Lawrence Bullard Nomad Stripe, Onyx
Drapery is another versatile option of contemporary window treatments. Despite having an "old-school" affiliation, there are many new styles of drapery that work perfectly in any contemporary home. When choosing drapery for a contemporary home, shoppers look for lighter fabrics and avoid dark, rich tones.
Grommet Drapery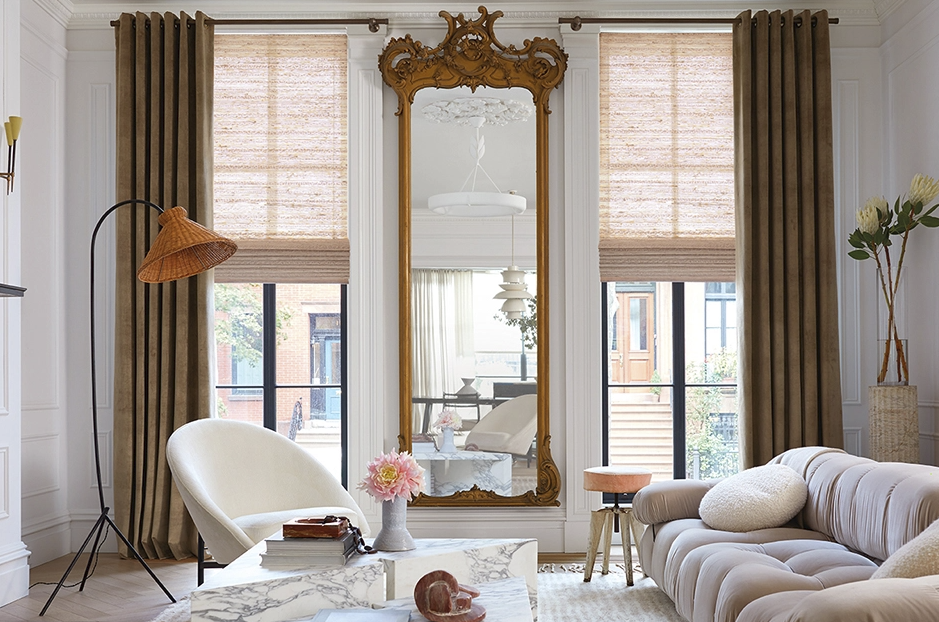 Inner Layer: Waterfall Woven Wood Shades — Artisan Weaves Cove, Ash / Outer Layer: Grommet Drapery — Velvet, Camel
Grommet Drapery features strong features, clean lines and a symmetrical aesthetic — perfect for achieving a unique, modern and stylish look on the window. Grommet Drapery offers a welcome update to traditional drapery and can be the perfect window treatment solution for your contemporary home.
Ripple Fold Drapery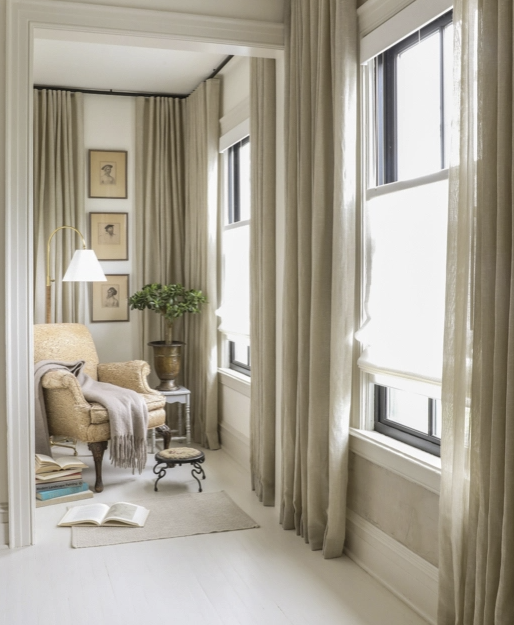 Inner Layer: Flat Roman Shades — Grassweave, Snow / Outer Layer: Ripple Fold Drapery — Sheer Wool Blend, Cloud
Ripple Fold Drapery is another excellent drapery option that complements a contemporary style. Ripple Fold Drapes feature clean, even lines and are available in simple, neutral colors.
Contemporary Shades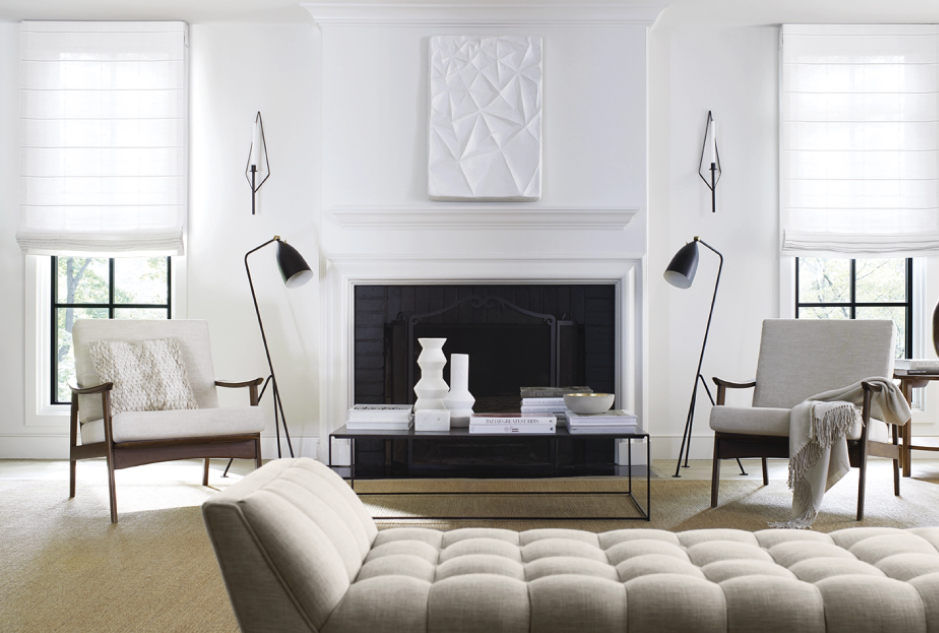 Flat Roman Shades — Victoria Hagan Sankaty Stripe, Sand
In addition to drapery and blinds, shades are an excellent window treatment option for contemporary homes. If you're shopping for shades for your contemporary design, we recommend light fabrics to naturally brighten the look and feel of your space.
Woven Wood Shades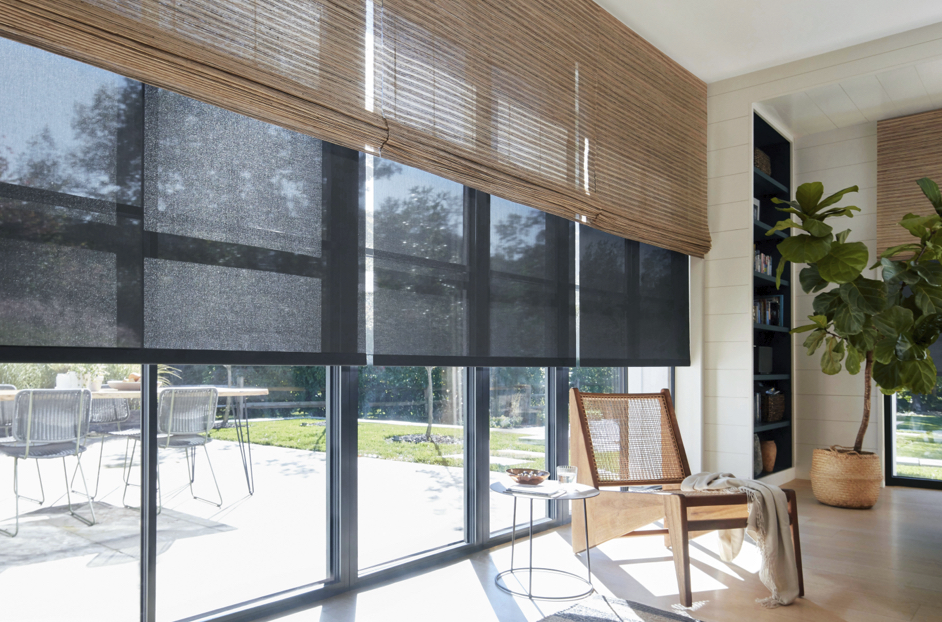 Inner Layer: Solar Shades — 5%, Black / Outer Layer: Waterfall Woven Wood Shade — Artisan Weaves Cove, Beige
Woven Wood Shades offer clean lines and are made from natural materials in a neutral color scheme. Many woven wood shades are made from eco-friendly materials and woods like bamboo. If you're interested in adorning your windows in all-natural materials, we highly recommend our Artisan Weaves collection!
Roller Shades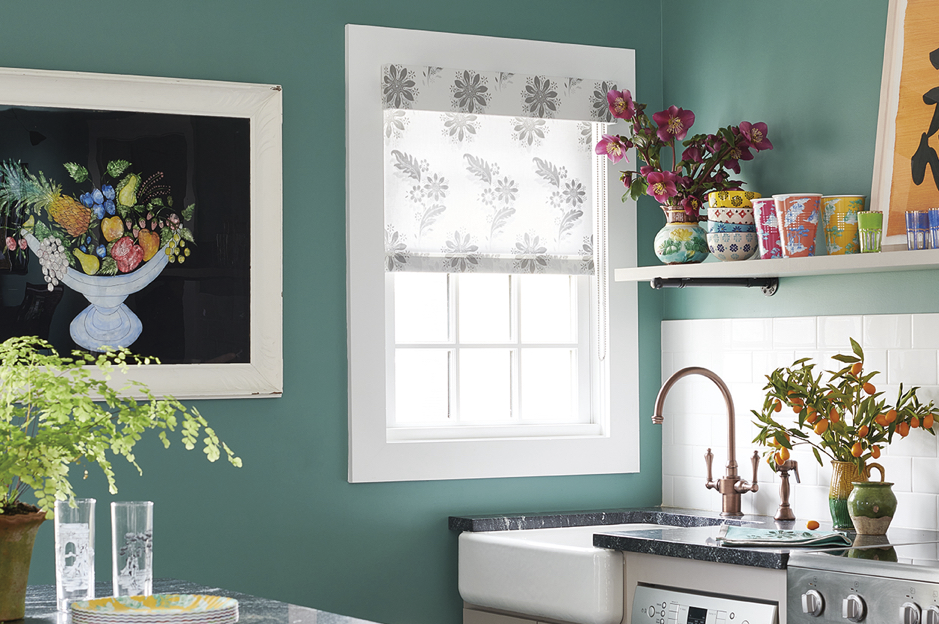 Roller Shade — Sheila Bridges Florentine, Grigio
As the name implies, Roller Shades roll up for a neat and clean visual impact. Roller Shades offer simplicity and privacy, as well as the ability to choose sheer light fabrics, heavier dramatic prints and blackout styles. They are one of the most versatile window treatment styles, which makes them very popular for contemporary design aficionados.
Find the Best Contemporary Window Treatments for Your Home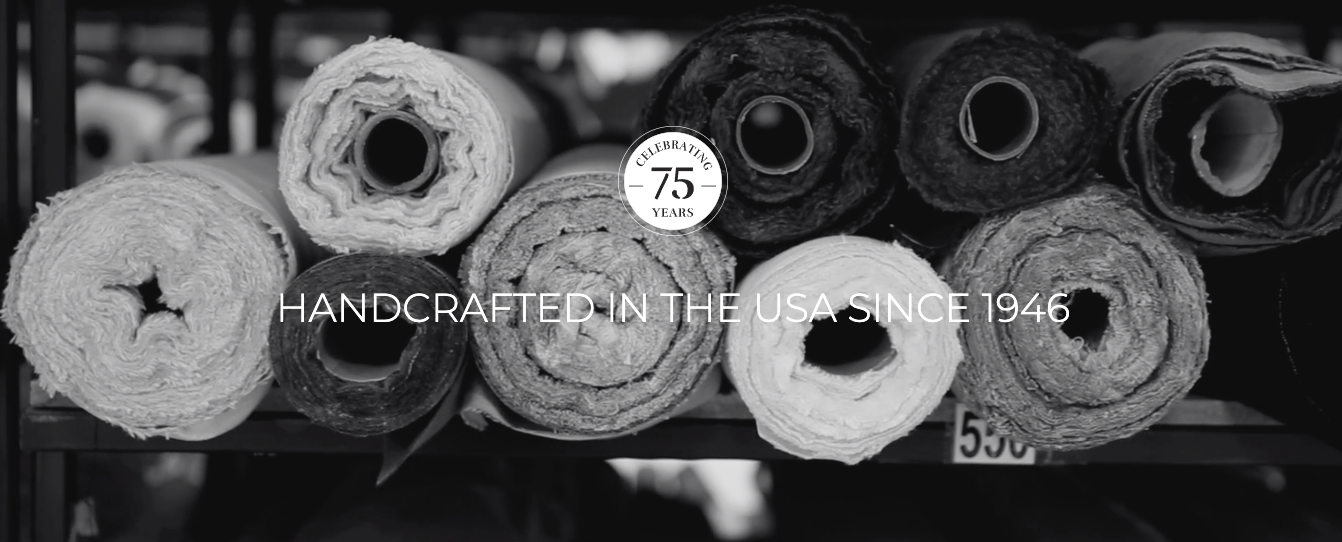 Ready to find the perfect window treatments for your contemporary home? Reach out to The Shade Store's Design Consultant team online or at one of our nationwide showroom locations to find the best window treatments for your home. You can also visit our website to view and order free swatches.