Create an Eco-Friendly Home, Starting with Window Treatments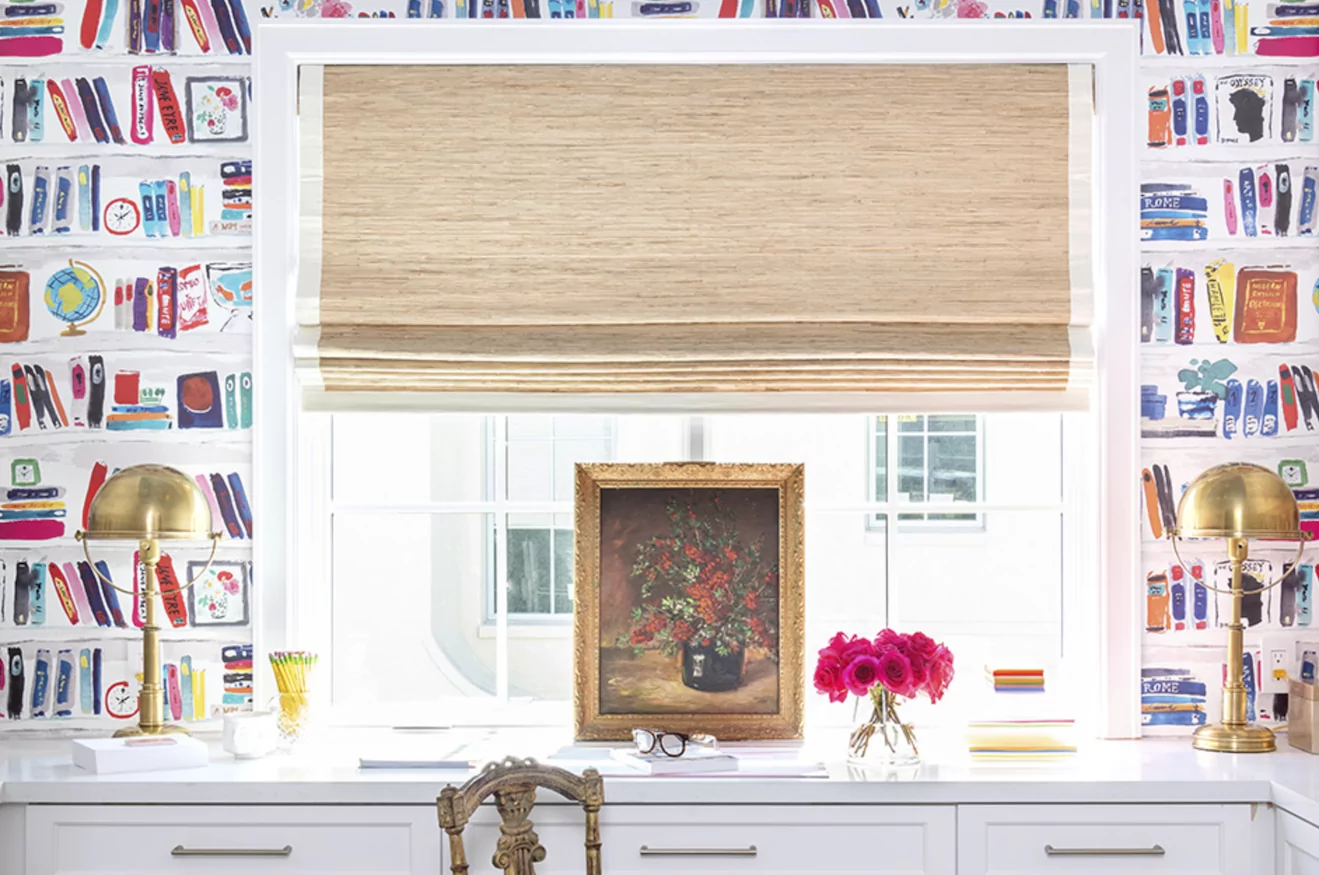 Waterfall Woven Wood Shade — Artisan Weaves Del Rey, Taupe
Eco-friendly window shades, blinds and drapery are an essential part of a healthy home. They control light, prevent glare, protect from UV Rays and help regulate temperature. They transform everyday spaces into relaxing retreats and can even help you get a great night's sleep. At The Shade Store, we offer the finest custom window treatments — including natural woven shades, woven wood window shades, energy-efficient window treatments and more — made from high-quality, eco-friendly materials.
Energy-Efficient Window Treatments
High energy bills are something no one wants to deal with. Luckily, at The Shade Store, we offer a variety of energy-efficient window treatments to help keep your bills in check. Let's explore your options:
Cellular Shades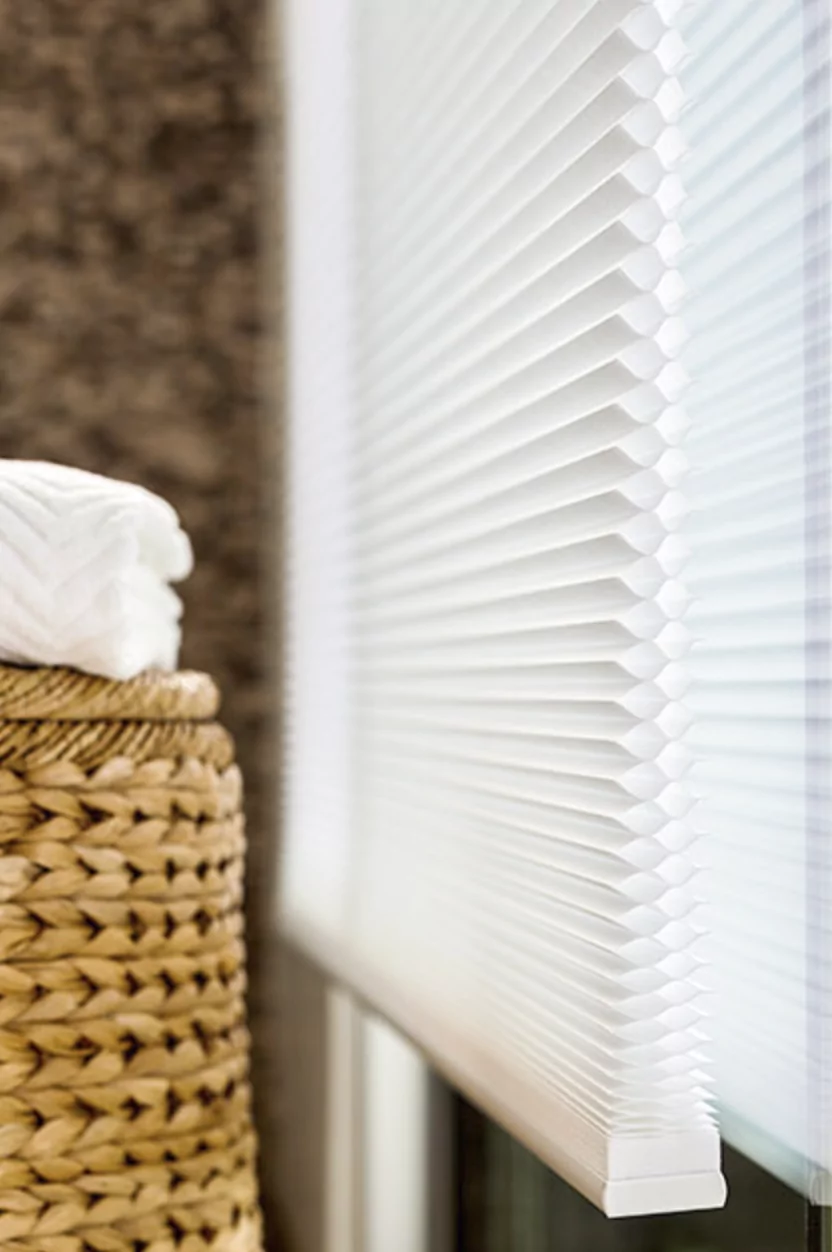 Cellular Shade — 3/8″ Double Cell Light Filtering, White
Made with a unique honeycomb design, our Cellular Shades are some of the best energy-efficient window treatments you can find. Their cells trap air, providing excellent insulation and helping maintain comfortable temperatures. Available in light-filtering and blackout options, Cellular Shades can soften natural light or block it out completely, while providing full privacy.
Wools & Blends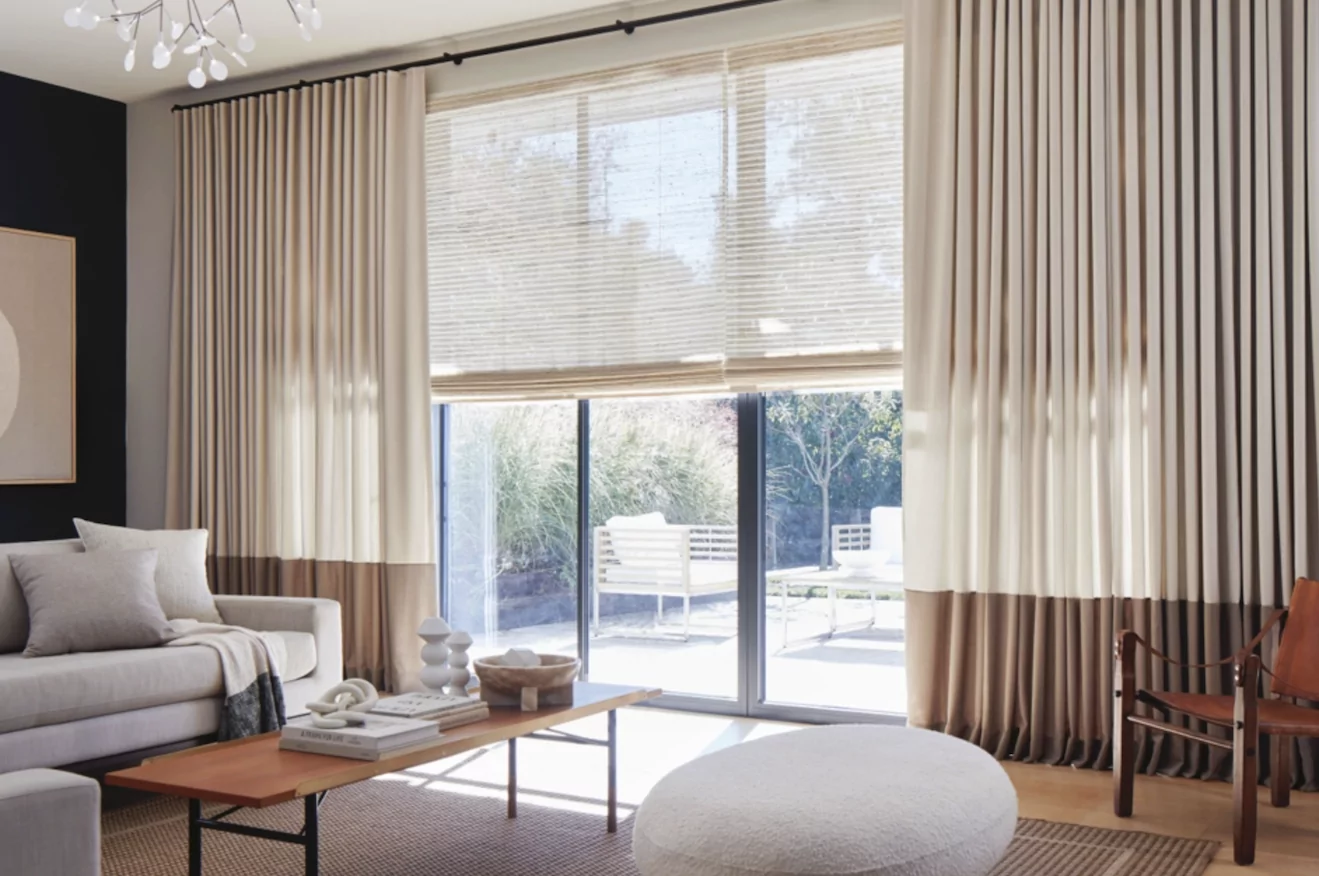 Inner Layer: Waterfall Woven Wood Shades — Artisan Weaves Cove, Ash
Outer Layer: Ripple Fold Drapery — Holland & Sherry Andes, Castle Wall, with Bottom Border — Holland & Sherry Andes, Rye
If you have leaky windows, our Wools & Blends collection is full of beautiful energy-efficient and sustainable window treatments that help cut down on unwanted drafts. Wool Drapery is especially great at keeping chilly air out in the colder months and air conditioning in during the warmer months. We highly recommend exploring our partnership with Holland & Sherry — this exclusive collection showcases five gorgeous materials in 30+ colors, each made with 100% natural wool.
Eco-Friendly Window Shades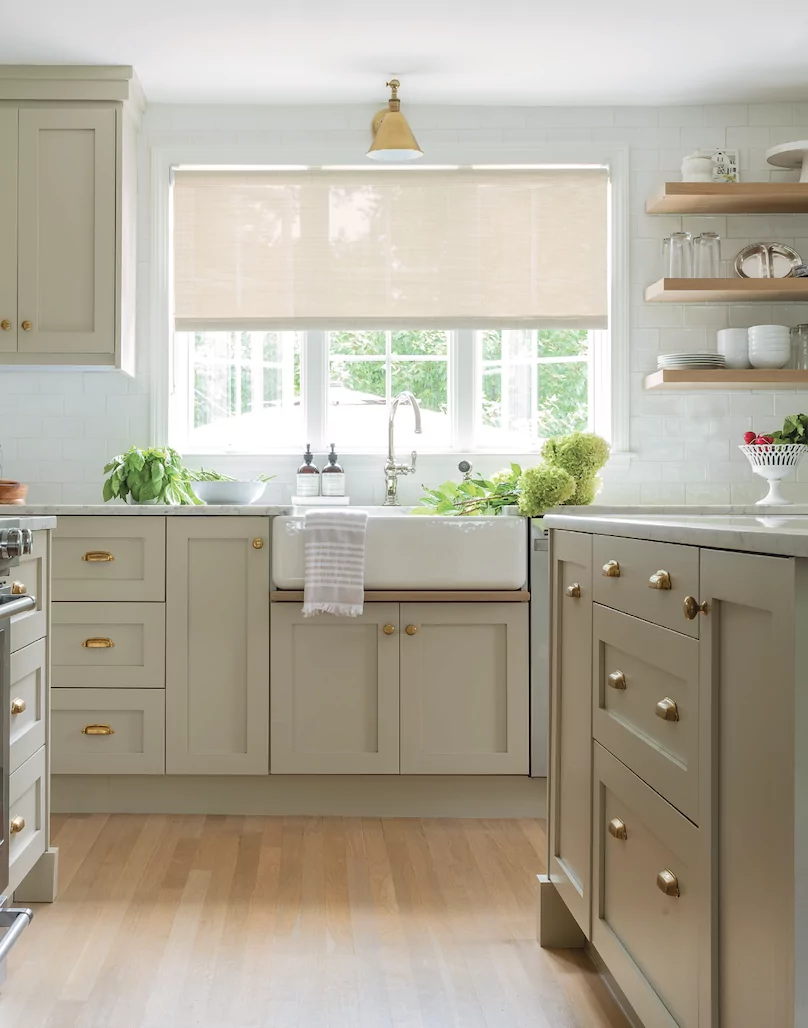 3% Smart Solar Shade, Ivory / Design: Christina Wikman Interiors / Photo: Jessica Delaney
If you're looking for eco-friendly window shades with lasting appeal, we invite you to check out our 3% Smart Solar material. Available in five versatile neutrals, it blocks 97% of UV rays and is GREENGUARD Certified, 100% recyclable, PVC-free and easy to clean.
We also recommend Osprey, Osprey Check and Osprey Diamond if eco-friendly window shades are at the top of your list. Made of 95% bamboo and 5% linen and available for Roman Shades, Drapery and Cornices, these materials are the perfect way to add natural material shades to your home décor.
Natural Woven Shades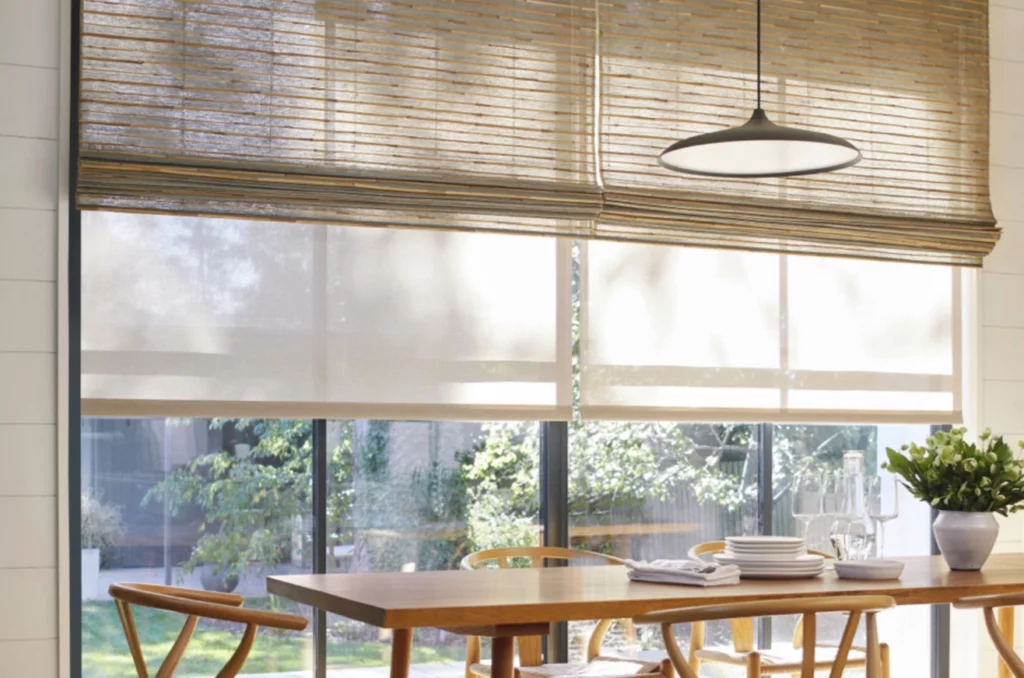 Inner Layer: Roller Shades — Sullivan, Sand
Outer Layer: Waterfall Woven Wood Shades — Artisan Weaves Reed, Slate
Who doesn't love adding a touch of pure, natural beauty to their home? We're proud to introduce Artisan Weaves. Beautifully textured and made with only natural fibers, this exclusive collection of natural woven shades blurs the boundaries between the interior and exterior — showcasing 10 unique materials in 30+ colors made to suit every style.
When it comes to natural woven shades, energy-efficient window treatments and other eco-friendly window treatment materials, The Shade Store has a lot more to offer than what we presented in this blog post! Request a complimentary consultation with our expert Design Consultants or come visit us at your local showroom and we'll be happy to help you find the perfect eco-friendly essentials for your windows.
Have questions about eco-friendly window shades, blinds and drapery? We're here to help.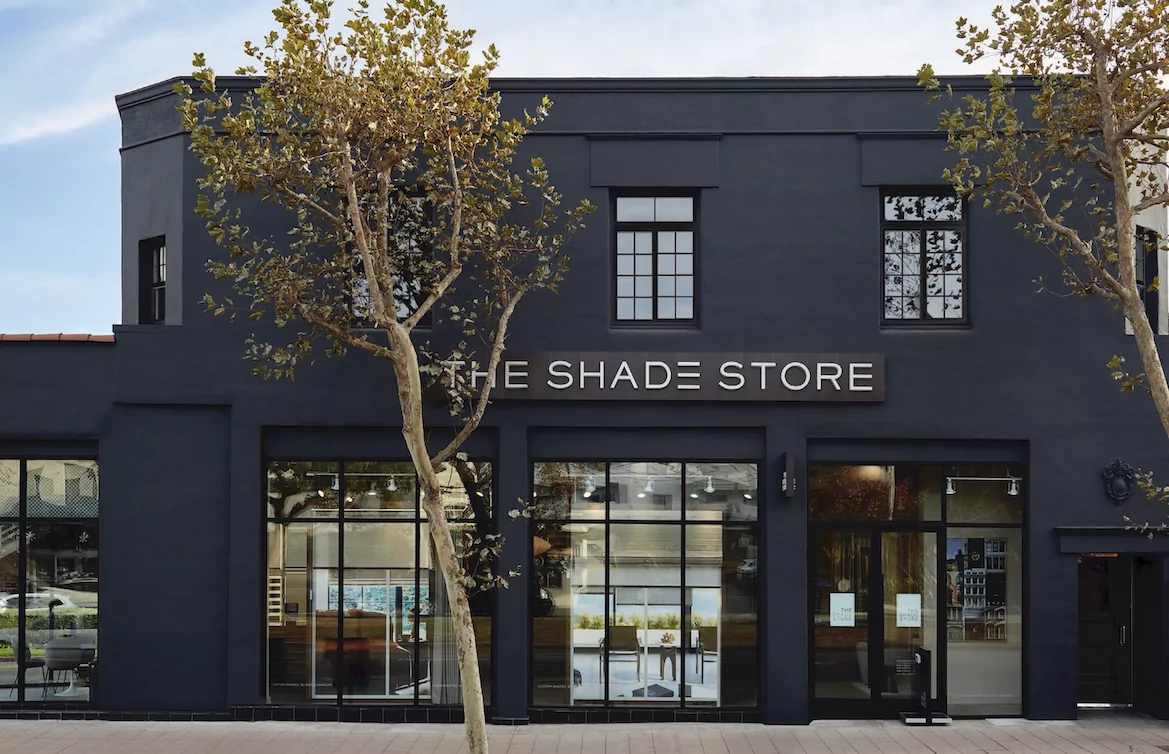 If you have questions about our natural woven shades, energy-efficient window treatments or other eco-friendly options — or if you need assistance finding your dream window treatments, we're here to help. The Shade Store offers expert services every step of the way — from inspiration to installation. Our team of Design Consultants is available to assist you with material selection, color coordination, measurement & installation scheduling and more, however you choose to shop. To get started, stop by your local showroom, visit us online or give us a call at 800.754.1455.
About The Shade Store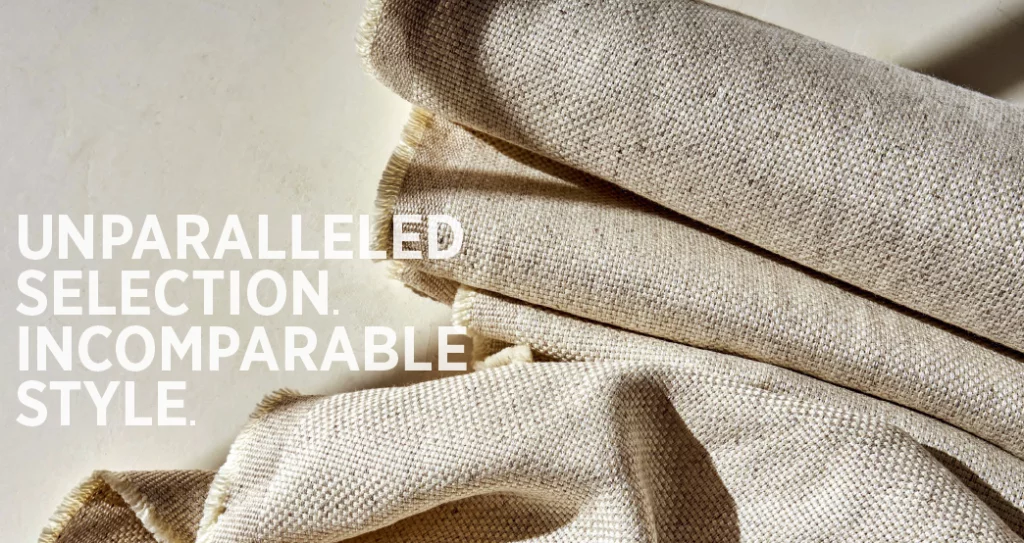 The Shade Store is a premium custom window treatment company with a rich heritage in luxury textiles and interior design. Its exclusive collection of more than 1,300 in-stock fabrics and materials provides customers with an unparalleled amount of style and customization options. Every window treatment is proudly handcrafted in the USA, hung and tested for quality assurance and ships free in 10 days or less. With showrooms nationwide, The Shade Store offers a complete range of in-person and virtual design services for consumers and design-trade clientele, including samples, complimentary professional window measurements and photo rendering. Additionally, the company is an advocate for environmental sustainability: For every purchase made, the company provides the 'Gift of Shade' by planting a tree in partnership with the Arbor Day Foundation. For more information about The Shade Store, please visit theshadestore.com.