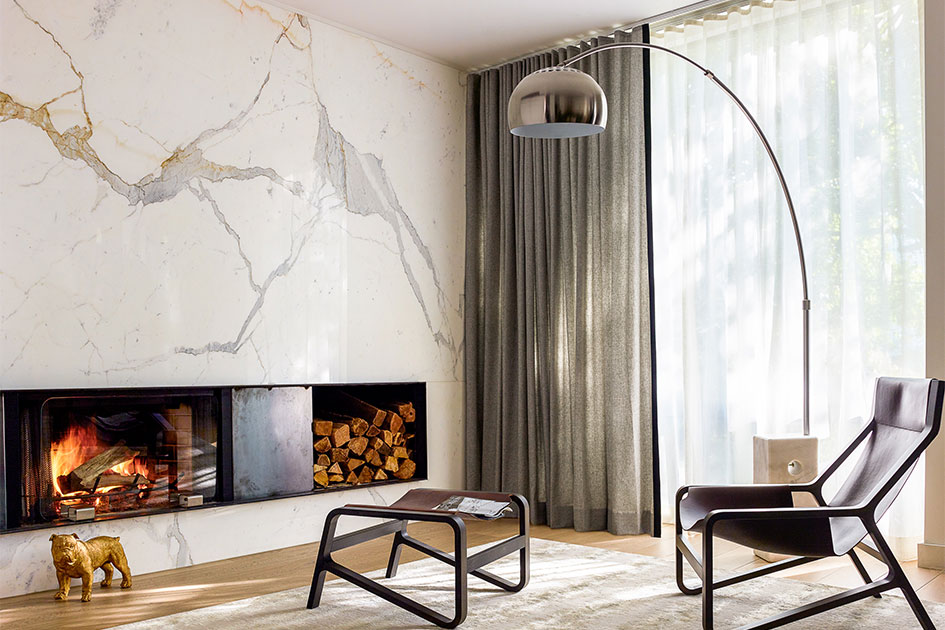 Layered window treatments have become a popular decorating trend, and it's easy to see why! Layered curtains and other window treatments allow you to mix and match patterns and materials to create a custom look for a home.
In addition, layered window treatments are great for those who want to add more texture and depth to their space. This option is also great to provide flexibility in light control, with the option to pair blackout and light filtering materials.
How to Layer Window Treatments
There are many different layering options, which make customization nearly limitless! To give you some ideas and inspiration, we're sharing some examples of layered curtains and window treatments to create a stylish new look in your home.
Layered Curtains and Sheers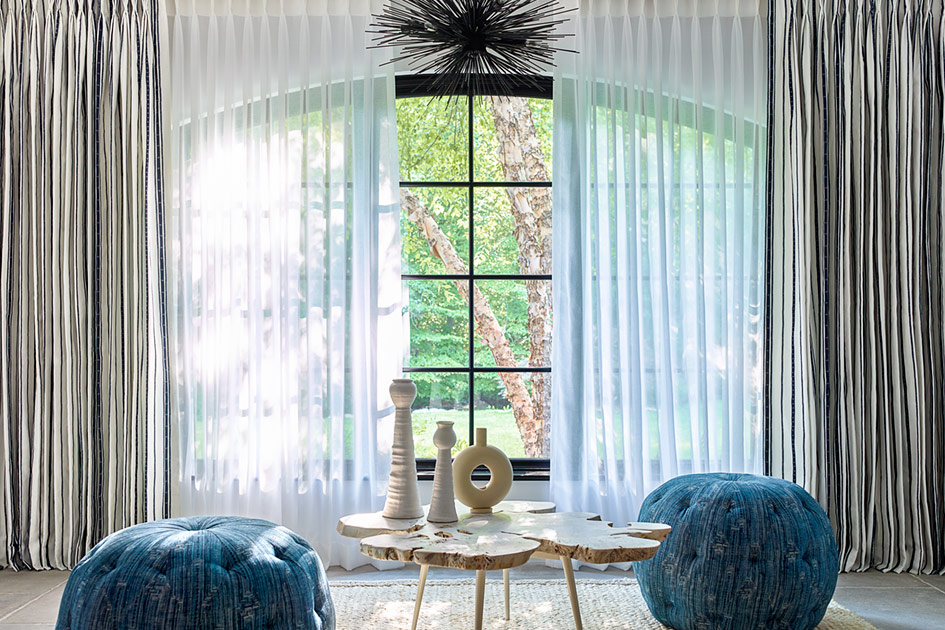 Layering opaque drapery with sheer drapery is a classic look that allows soft light in during the day and provides more privacy at night. This is one of the most commonly used window treatment layering styles because there are so many different textures and fabrics to choose from to create your desired look and feel.
If you're looking to create a curtain with sheers style for your home, The Shade Store offers eight custom drapery styles in a wide variety of beautiful materials, providing endless options to mix and layer draperies and sheers. Find your perfect pairing of layered curtains today.
Layered Curtains and Blinds
Can you have blinds and curtains on the same window? Absolutely! Curtains over blinds (or drapes over blinds) is a popular style of layered window treatments that provides clean lines and light control. This pairing is easy to execute and offers thousands of pairing options for homeowners to choose from. One important note about choosing individual treatments: when choosing a layer of curtains and blinds, choose the blinds first, as they will provide the majority of the light blocking features. Then you can choose a curtain to complement your blinds.
Unlike layering draperies and sheers, when pairing curtains with blinds, you only need one drapery rod, as blinds are mounted at the window frame.
The Shade Store offers three different blind styles in versatile materials, woods and metal finishes, to give you the flexibility to mix and match materials to each curtain style. You can opt for something classic, like white or solid color blinds, or use curtains over wood blinds to integrate natural and neutral tones. If you need supreme light filtering but don't want to sacrifice aesthetic, you can also choose blackout curtains over blinds.
Pairing Curtains with a Cornice
Another great layered window treatment option is to pair your curtains with a cornice. Combining curtains with a valance is a simple way to add depth to a room while also concealing any hardware from the existing window treatments. A cornice can also block light from the top of your window treatments, preventing any light seepage into the room.
If you're not familiar with cornices, you don't have to look far to find excellent choices. The Shade Store has three cornice options in a wide selection of exclusive materials. You can find the perfect option to pair with your curtains.
Layering Curtains Over Shades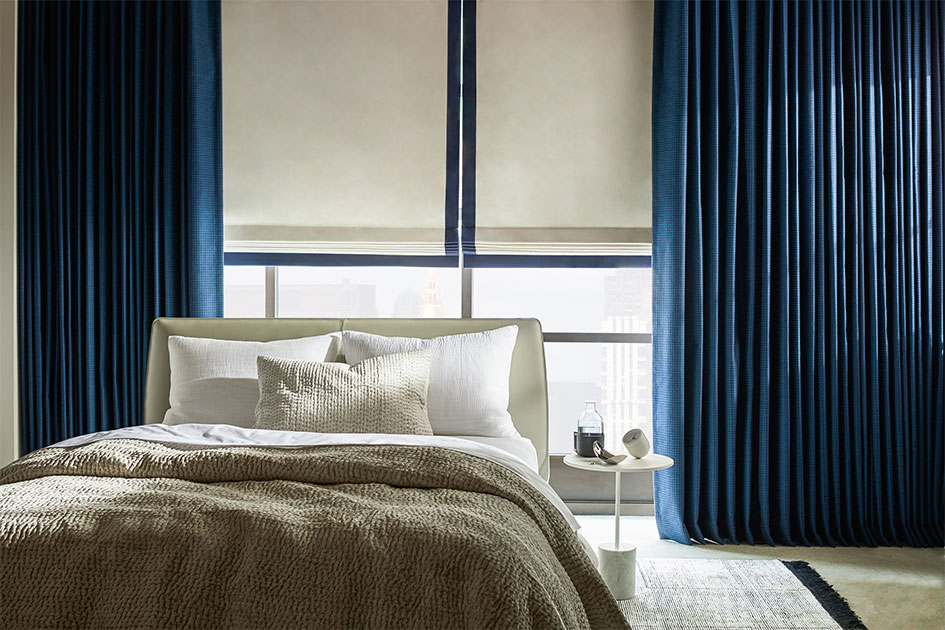 Layered curtains and shades can add strong patterns and textures to the room, as these two window treatments usually have the most material options to play with. While many different styles of shades work perfectly for this pairing, Roman Shades have unique pleat and stacking designs to add depth and texture.
If you are interested in layered curtains and want to mock up some designs for curtains over shades, The Shade Store has six custom shade styles to give you the opportunity to create a truly customized look for your space.
The Key Elements of Layering Window Treatments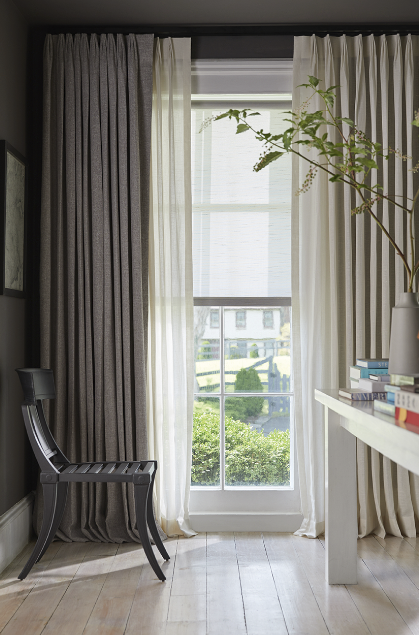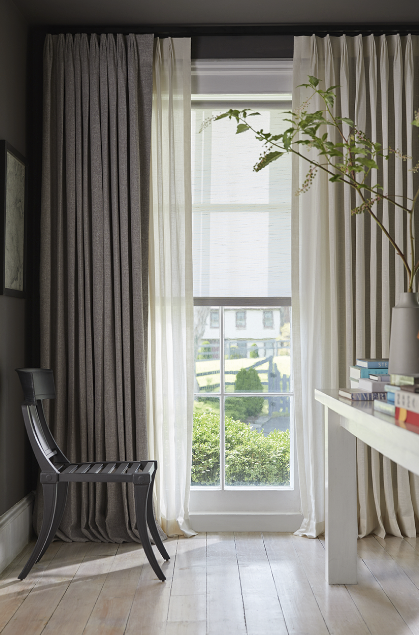 Inner Layer: Roller Shade — Cora, Light Grey / Middle Layer: Tailored Pleat Drapery — Sheer Wool Blend, Cloud / Outer Layer: Tailored Pleat Drapery — Heathered Linen, Smoke
When layering window treatments, it's important to keep to things in mind:
Function: What would you like your window treatments to accomplish?

If you're looking to block light and achieve privacy, we recommend adding Blinds, Blackout Shades or Drapery with blackout lining to your layered look.
If you would like to protect your interiors from UV rays, prevent fading and reduce glare, try Layering Solar Shades under Roman Shades.

Aesthetic: What look or style would you like to achieve with your window treatments?
Order Free Swatches Get Expert Design Advice Today
While there are a number of layered curtains and window treatment pairing options to consider, it can be hard to envision these styles in your home. If you need some assistance, you can order free swatches to mix and match different materials to find the best layered look for you.
For more hands-on design insight on how to mix blinds and curtains, visit one of The Shade Store's nationwide showrooms or schedule a free design consultation with our expert team today.