What Roman Shade Styles Are Available at The Shade Store?
If you're going to dress your windows, why not put them in something pretty? Windows love our Roman Shades and here's why: each Roman Shade is meticulously handcrafted from the finest fabrics to fit the exact specifications of your window. But which of the six styles offered at The Shade Store is right for your windows? Let's take a quick look at the types of Roman Shades and the benefits of each.
What Are Roman Shades?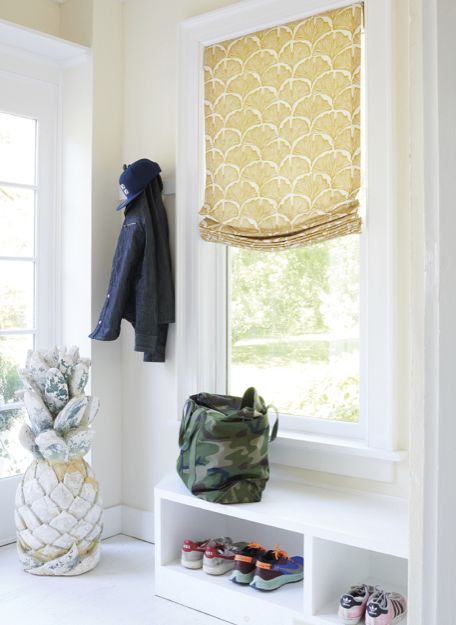 Relaxed Roman Shade — The Novogratz Feather Palm, Golden Mustard
Roman Shades are soft and elegant window treatments that combine the beauty of Drapery with the functionality of Shades. They are often made with luxurious fabrics like wool, linen and velvet and introduce beautiful depth to the window. The Shade Store offers six different types of Roman Shades: Flat Roman Shades, Cascade Roman Shades, Aventura Roman Shades, Relaxed Roman Shades, Tulip Roman Shades and Pleated Roman Shades.
Types of Roman Shades
Flat Roman Shades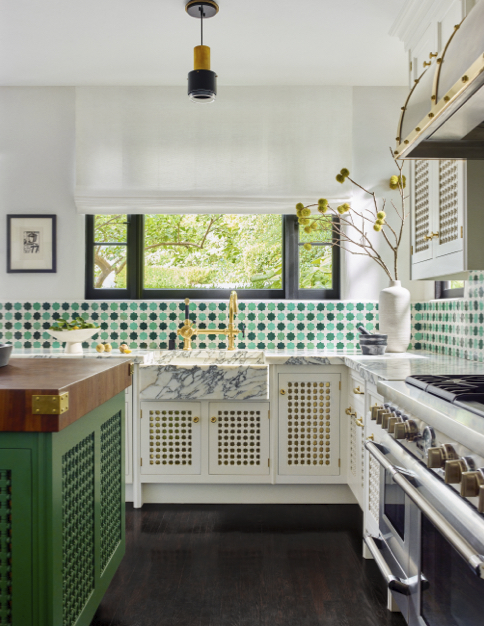 Flat Roman Shade — Martyn Lawrence Bullard Tangier Weave, Blanco
Sleek and beautiful, no matter which material you choose. Flat Roman Shades are our most popular style, mainly due to their sleek modern aesthetic. They're also highly functional, meaning they're easy to raise and lower. If you like the look of window treatments with a smooth front and appreciate a neat stack when the shade is raised, then we recommend Flat Roman Shades.
Cascade Roman Shades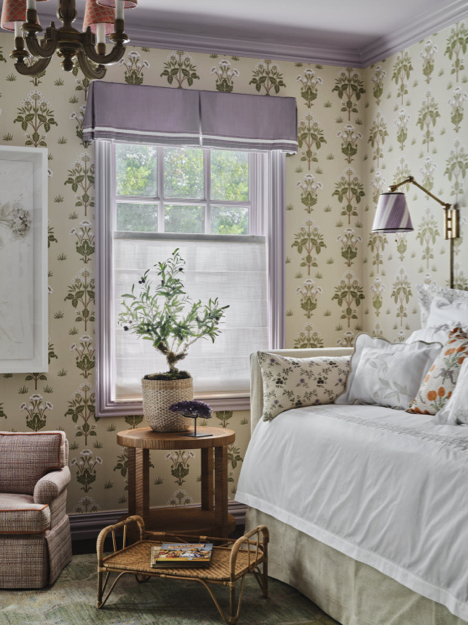 Top Down Bottom Up Cascade Roman Shade — Korinthos, White
When people imagining Roman Shades, this is likely the style that comes to mind. Our Cascade Roman Shades offer a timeless look thanks to their hand-stitched seams and sewn-in aluminum dowels. This attention to detail and expert craftsmanship account for their sleek appearance.
Aventura Roman Shades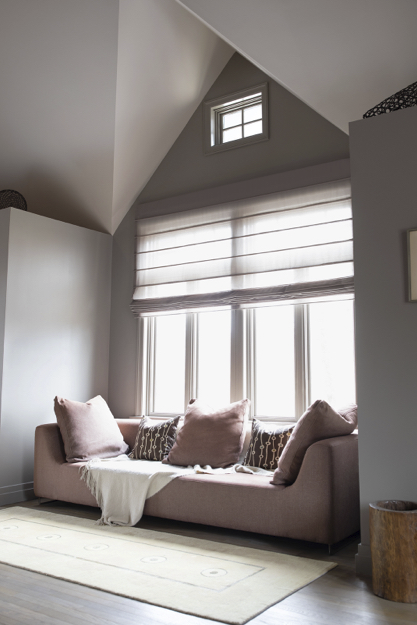 Aventura Roman Shade — Sheer Elegance, Sand / Design: Everick Brown Design
Our Aventura Roman Shades are similar to Cascade Roman Shades but with a few important distinctions that make this style stand all on its own. Inspired by traditional Japanese Shoji designs, Aventura Roman Shades feature dowels on the front for unique appearance. The functionality is excellent and the look is striking.
Relaxed Roman Shades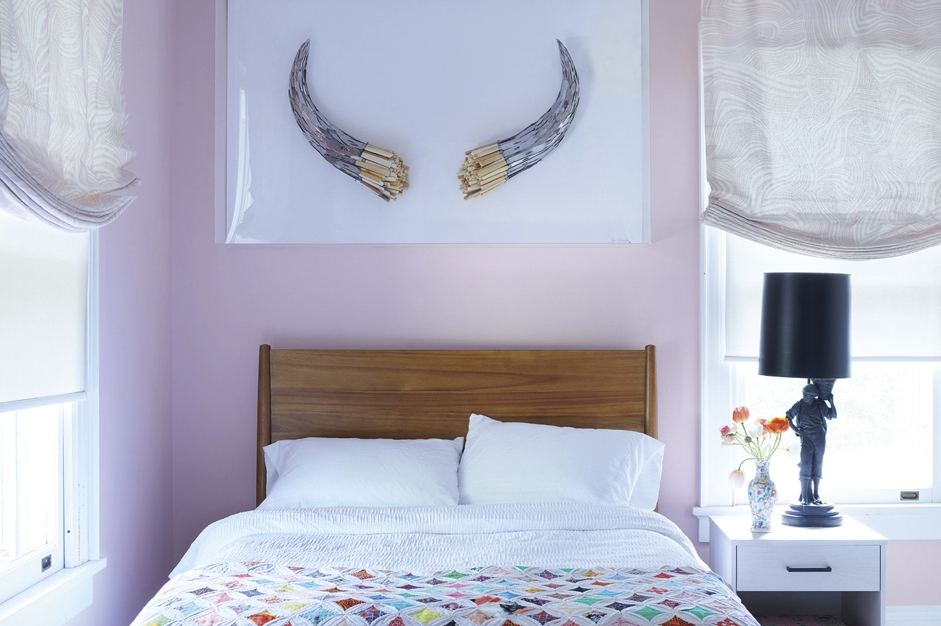 Relaxed Roman Shades — The Novogratz Zebra Marble, Waverly Pink
Our Relaxed Roman Shades are beautifully constructed with gentle swoops to give windows a whimsical and easygoing appearance. They're primarily decorative — meaning they're not designed to be opened and closed frequently — so we recommend layering them with Roller or Solar Shades in rooms where you'd like to filter or block out light completely. Relaxed Roman Shades are made to showcase the beautiful fabric they're made from, so be sure to choose something you love.
Tulip Roman Shades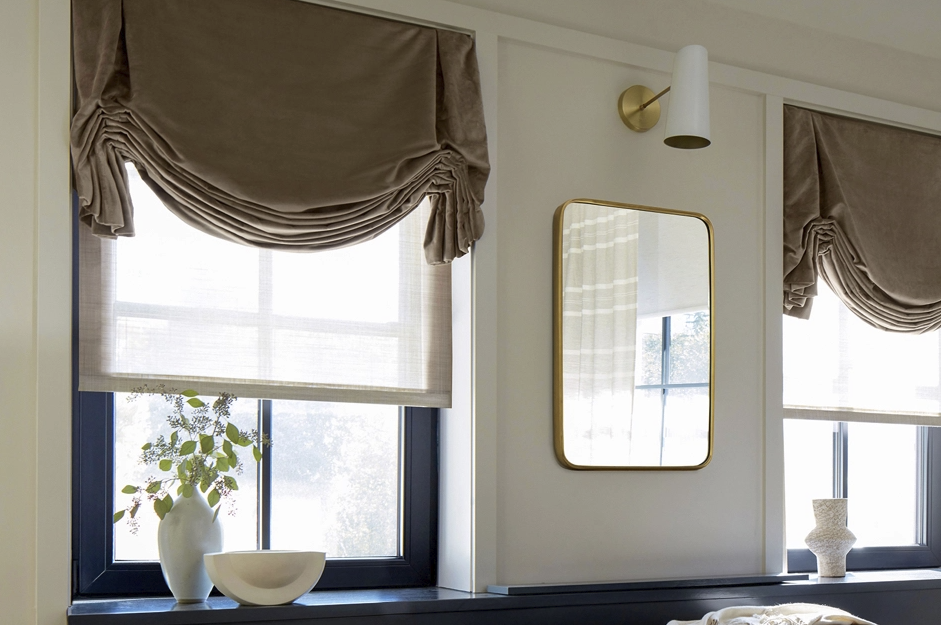 Tulip Roman Shades — Velvet, Camel
Our Tulip Roman Shades are designed with carefully handcrafted inverted pleats along the headrail to ensure a lasting look and shape. They're primarily a decorative style and not ideal for frequent use, but they make an elegant statement on any window.
Pleated Roman Shades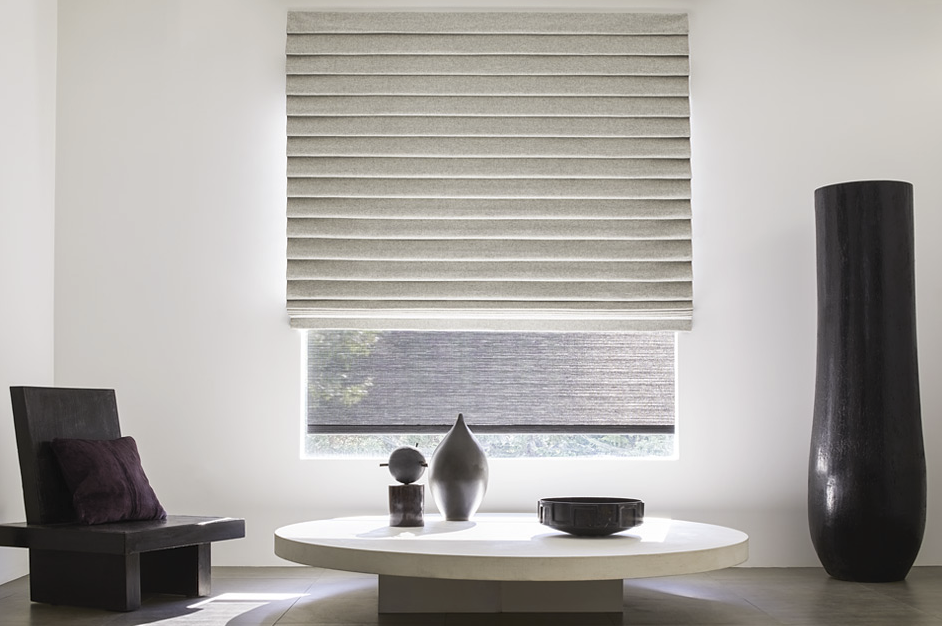 Inner Layer: Solar Shade — 5% Evergreen, Coal / Outer Layer: Pleated Roman Shade — Wool Blend, Fleece
Our Pleated Roman Shades are bold, beautiful and attention-grabbing. The beautiful cascade effect is achieved by uniform hobbled folds spaced 4″-5″ apart, which also guarantees a neat stack when raised.
Roman Shades with Curtains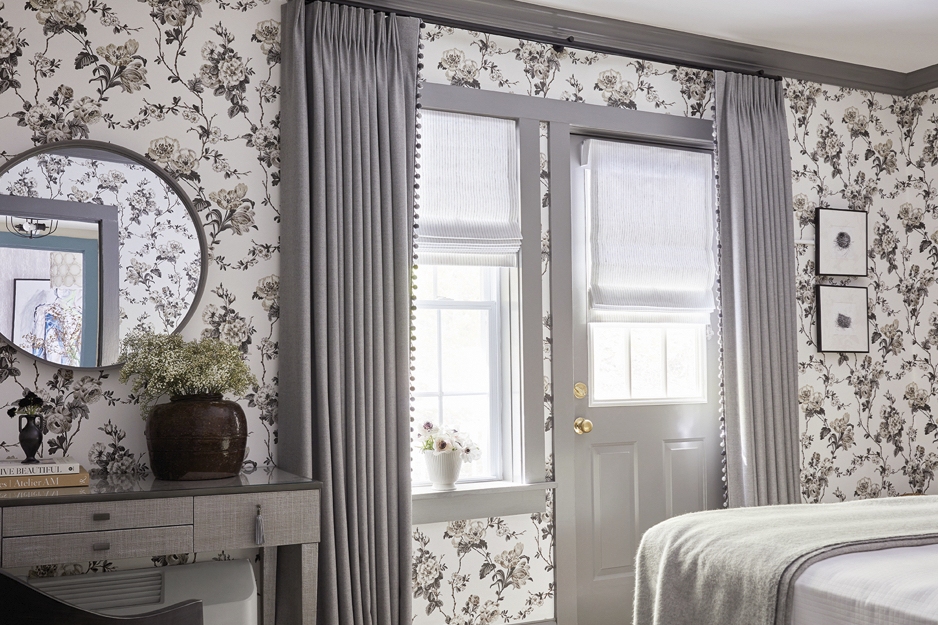 Inner Layer: Flat Roman Shades — Windsor Stripe, Fog / Outer Layer: Tailored Pleat Drapery — Holland & Sherry Wool Flannel, Ash
One of the best ways to add beautiful depth and texture to your home is by layering Roman Shades with Curtains, or Drapery. Not only does this draw the eye toward the window, but it also gives you another way to control the natural light in your home.
Cordless Roman Shades
At The Shade Store, we are proud to offer the ultimate in smart home solutions. Our advanced motorized window treatments let you synchronize multiple cordless Roman Shades, set your favorite positions and schedule timers — all from your remote, smartphone, tablet or home automation system. You can even open and close your cordless Roman Shades with the sound of your voice with Google Home, Amazon Alexa and more.
Have Questions About Roman Shades? We're Here to Help.
If you have any questions regarding our custom Roman Shades or would like a little help selecting the perfect styles for your home, we're here for you! Just give us a call at 800.754.1455 or visit your local showroom. We're here to help you find something you'll love.