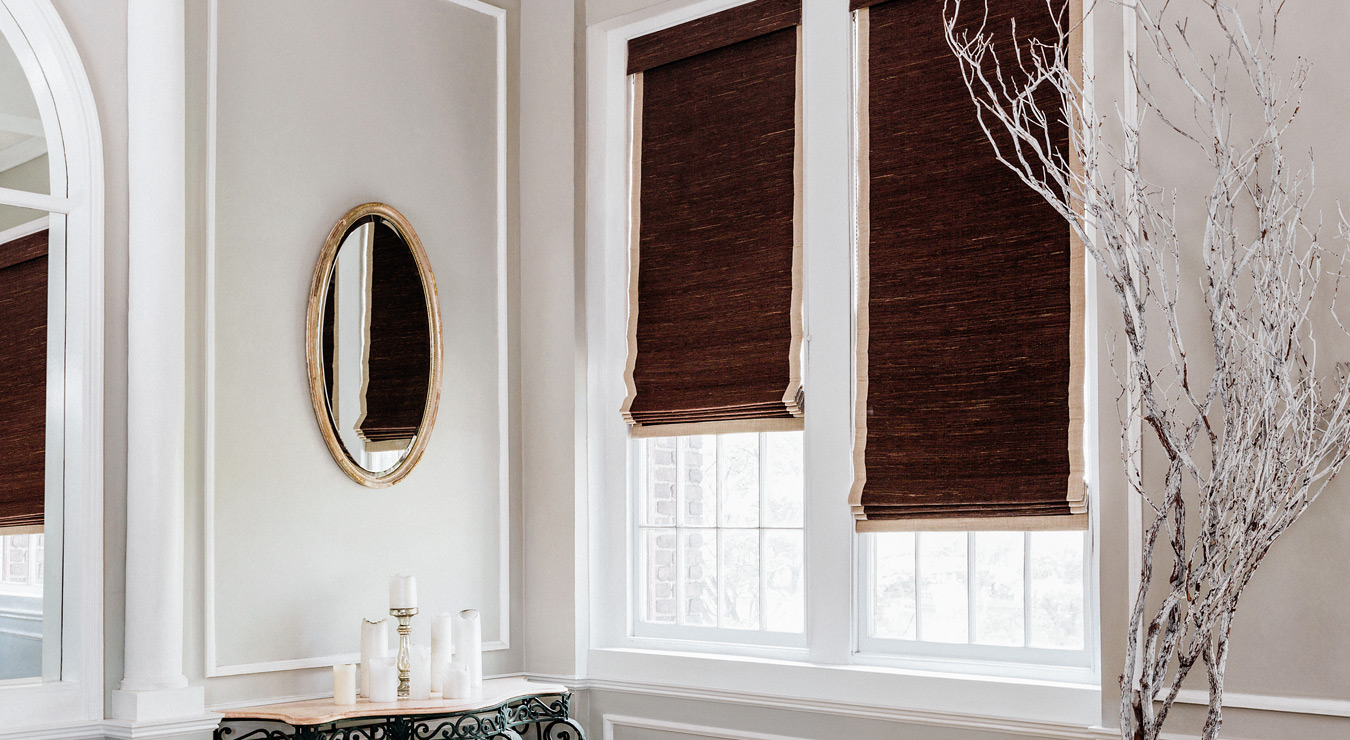 Woven wood shades add immediate visual interest to any room's décor with their rich organic texture. They provide a relaxed feel, bringing the outdoors in. Woven woods layer perfectly with drapery panels on either side, or can easily stand alone for a simple, natural look. If you've decided on woven wood shades for your home, bravo! You've chosen a versatile, enduring window treatment style.
At The Shade Store, we offer four styles of woven wood shades. Three of these styles, the Waterfall, Standard, and Cascade, can be thought of as roman-style woven wood shades due to the way they stack when raised. The fourth style is the Roller, which operates just like regular roller shades made out of fabric and other materials.
We'll explain the differences between these styles of woven wood shades and help you choose the right type depending on your needs and your style.
Waterfall, Standard, + Cascade Woven Wood Shades
These three styles of woven woods function like roman shades. Choose from 18 different woven wood materials in more than 85 colors.
The Waterfall Woven Wood shade is our most popular style, and embodies a clean, simple look with a neat stack when raised. Standard Woven Wood Shades also provide clean, interrupted lines, but include a custom valance. The Standard style allows for customization with a decorative border, as shown in the photo above.
Finally, for even more visual interest in your shade, the Cascade Woven Wood Shade features hand-sewn aluminum dowels placed every 5"-7" for a beautiful horizontal pattern.
Similar to roman shades, these styles of woven wood shades can be made with blackout and privacy linings. This means they are well suited to bedrooms, bathrooms, rooms facing the street, and other areas where privacy is important. In addition, you can choose the Top Down Bottom Up style, which is not available in the Woven Wood Roller Shades. Top Down Bottom Up allows you to lower the shade from the top, letting in natural light while maintaining privacy where needed.
Woven Wood Roller Shades
Unlike the other styles of woven wood shades, the roller style does not stack in the top of the window when raised. These minimal shades take up only a small amount of space in the window when raised, and so are ideal for windows with attractive views.
Woven Wood Roller Shades are light filtering, meaning your room can still be filled with the ambiance of natural light even when the shades are lowered. These shades are available in 9 materials and more than 40 colors.
The customization options differ from those of the roman style woven woods. With roller shades, you can choose from 5 finishes for the metal brackets that hold the shade in place: White, Chrome, Satin Nickel, Bronze, and Black. If you'd still like a valance for the top of your window, you can select an upholstered valance in the same material as your roller shade, or try a metal valance.
To recap, you have lots of options when designing your perfect woven wood shades. For rooms that need privacy, a roman woven wood shade is your best bet due to the available lining options. For a more modern style and a light filtering look, go with the minimalist roller shade.
Our design consultants are always ready to answer your questions about woven wood shades, so please visit us in a showroom, shoot us an email, or give us a call at 800.754.1455.