When you visit a showroom or call The Shade Store, our Design Consultants are ready and waiting to provide expert design advice and help you choose the perfect window treatments for your home. Please welcome back Liz Irwin, a design consultant in our Garden City, NY showroom. Liz will share some of her insights, tips, and answers to frequently asked questions here on The Shade Store Blog.
Over the holiday, I went walking around a particular neighborhood in Brooklyn, famous for its spectacular light displays. During that walk, in a neighborhood filled with stately brick homes, many with bay and bow windows, I was astonished to see how many folks covered those windows in 3 ½" plastic or aluminum vertical blinds. Or arguably worse, they covered the windows with curtains, but didn't go wide enough, cutting off the whole window. I lamented how that must make their living room feel like such a cave.  
Many of my clients come in asking for the same window treatments they already have because that's what they know. There are so many other options you can consider, I promise. Here at The Shade Store, we've got you covered, providing Roller Shades, Roman Shades, Bamboo Shades, Wood Blinds, and more! 
What's The Difference Between Bay and Bow Windows?
Bay and bow windows are actually much easier to dress than most of my clients realize. Though similar, bow and bay windows differ dependent upon the shape of where the windows meet.
Bay windows are typically set up in groupings of three windows: two smaller windows on the sides and one larger window in the middle. They may also appear in groupings of five windows. The windows making up the bay window are angled toward each other.
Bow windows are usually grouped in 4 or 5 skinny windows though you may find some bow windows in groupings of 6. Bow windows are rounded where the windows meet.
Though both window types can have different variations, most of the time, you can update bay and bow window treatments in the same way.
Horizontal Window Treatment with Ceiling Mounted Shades
The preferable application for horizontal window treatments is to mount to the ceiling of the bay or bow itself, individually outfitting each window. Another option you have is to combine the centermost windows into larger treatments. No matter which option you chose, using the ceiling mount inside of the bay or bow gives the appearance of a sleek, clean, inside mount, and won't cut off the window itself. This makes the room seem brighter and larger.
There are a variety of horizontal window treatments including:
Roller Shades

(one of my preferences in a bay or bow window for its clean lines and versatility)

Roman Shades
Bamboo Shades

in either Roller or Roman style

Wood Blinds

(my other personal preference for its classic look and flexibility of function)

Cellular and Pleated Shades
A major benefit of a bay or bow window is to make a room seem larger and brighter than it really is. If you do one giant shade or blind across the entire window, understand that you're cutting off that depth, that visual interest, and the light. This means you are effectively making the room feel smaller and darker. 
Vertical Window Treatment Mounted Outside the Window Opening
You also have the option to cover your bow or bay windows with drapery or another window treatment that moves from side to side. You can outfit your windows in a modern way using side-to-side window treatments, which include drapery, panel track blinds, or verticals.
Drapery is always a gorgeous and luxe option. Just make sure you have one to two feet of space on either side to be able to get the drapery entirely out of the way or you'll end up crowding the window and block it off. 
Panel track blinds provide a cleaner, sleeker line than draperies, the same air of elegance, and an element of modernity. Again, you're going to want a good chunk of empty wall on either side to stack the panels off, or you'll lose that light and depth.
XL Verticals from The Shade Store are a wonderful option if you're not fortunate enough to enough space on either side of your bay or bow windows. XL Verticals are a modernization of the old school 3 ½" vinyl blinds that existed 30 years ago, and the current style is to go to the floor, à la drapery.
The XL Vertical blinds come in many of the same materials and prints that our roller shades do, albeit in an oversized vane of 9 ¾". The XL Verticals give a soft drapery look, but stack much tighter. They have the flexibility of tilting, which is definitely a popular and elegant update.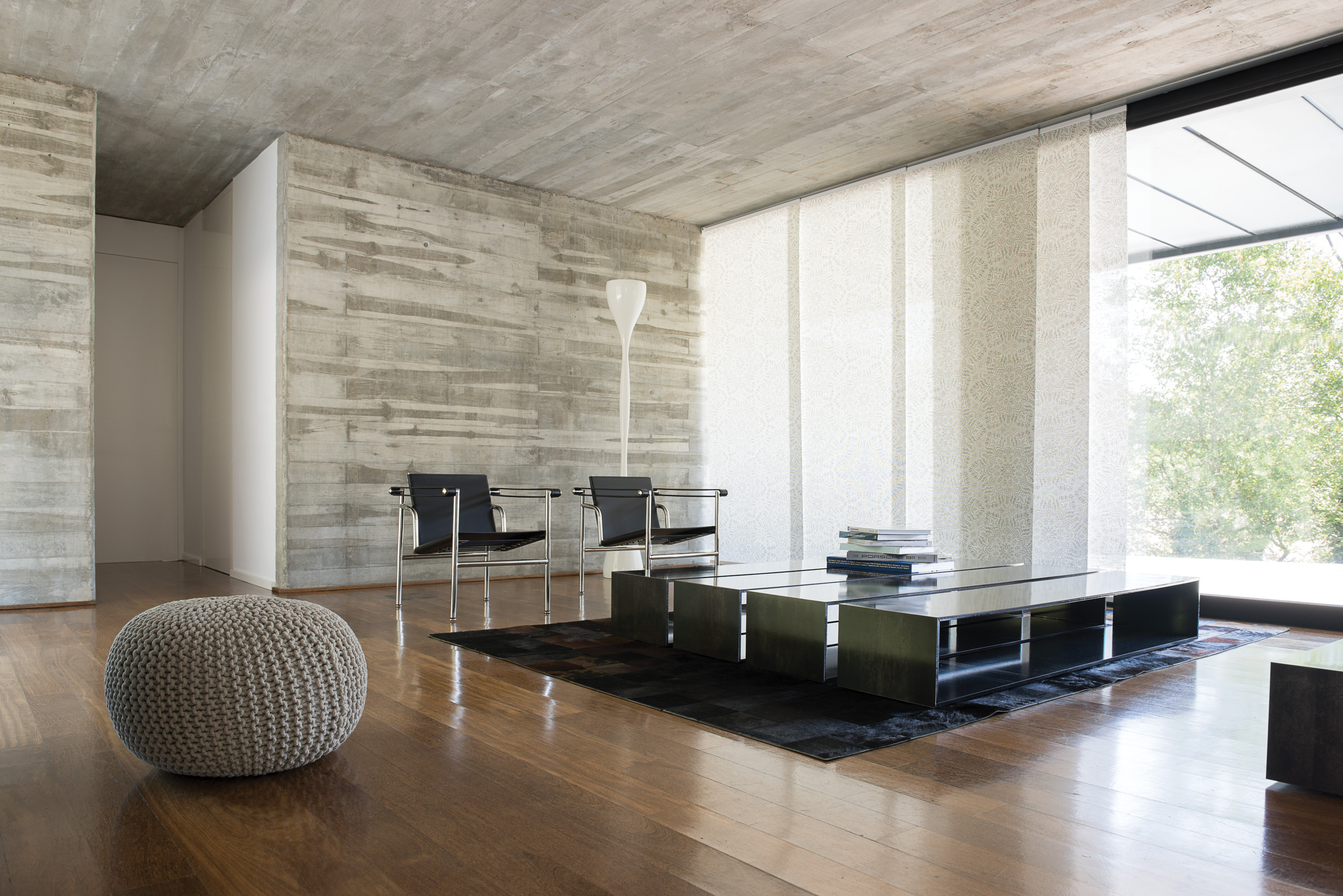 Use Our Expertise
Need an expert's help on how to cover your bay or bow windows? Give The Shade Store a call or stop into one of our 65+ showrooms to speak with one of our design consultants. Our advice, our swatches, our photo renderings, our remote or in-showroom design consultations – they're all free! Let us know what you're after, and we'll take care of the rest.