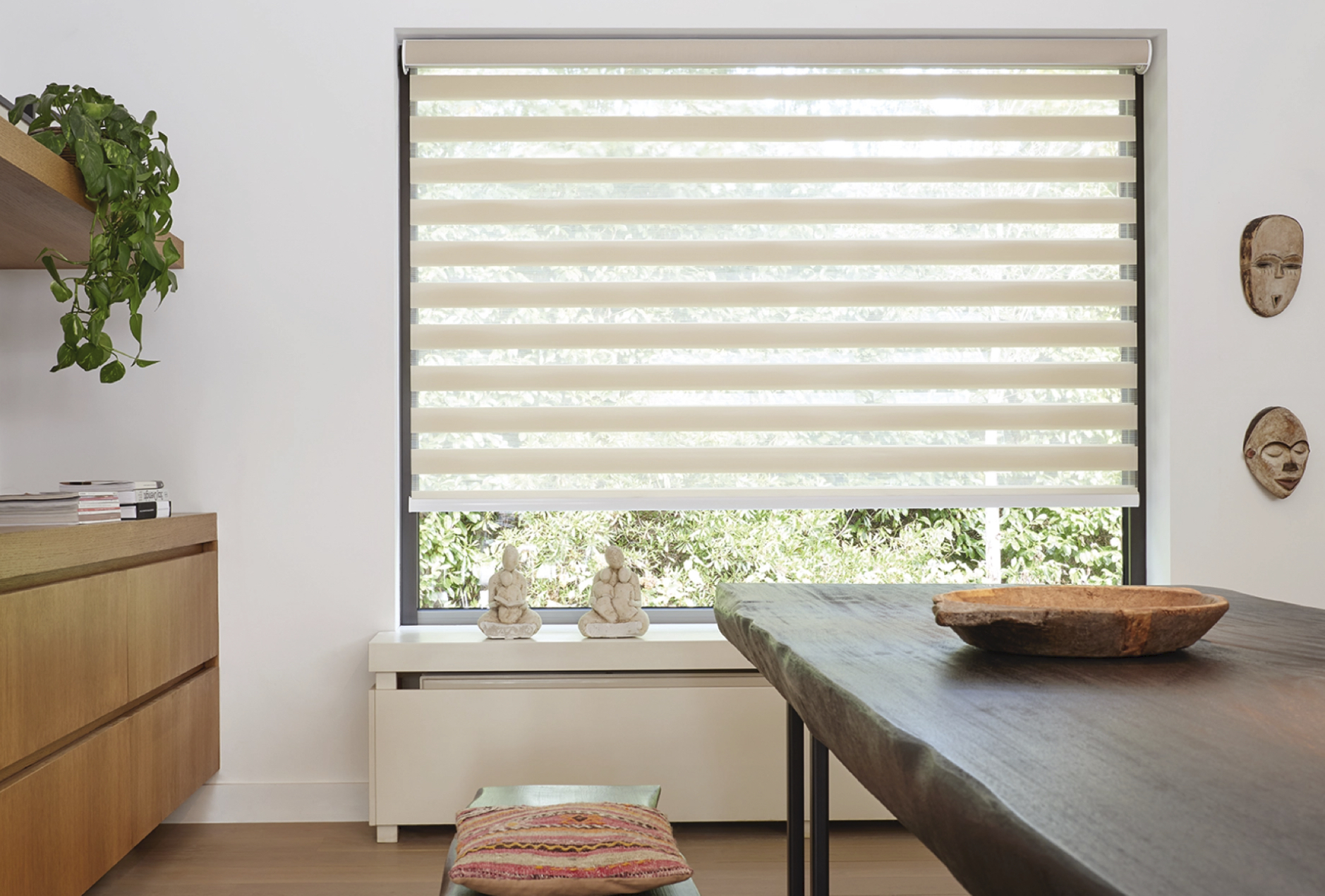 Pictured: Double Roller Shade — Windansea, Canyon
What exactly are Zebra Blinds?
Zebra Blinds — or Double Roller Shades, as we call them at The Shade Store — are roller shades that are specially designed with two layers of alternating sheer and opaque bands. They are a stylish way to effectively adjust privacy and light in one easy pull.
To let light in through your Double Roller Shades' sheer bands, simply pull the included continuous loop (or adjust with motorization). Pull again to line up the opaque bands — this blocks more light and offers more privacy.
Benefits of Zebra Blinds / Double Roller Shades:
​​

Double Roller Shades appear with alternating 2 inch sheer and 3 inch privacy opaque bands of material.

Double Roller Shades come standard with a metal valance and bottom bar.

With 3 materials and 15 colors to choose from, you can customize your double roller shade look to match the rest of your space seamlessly.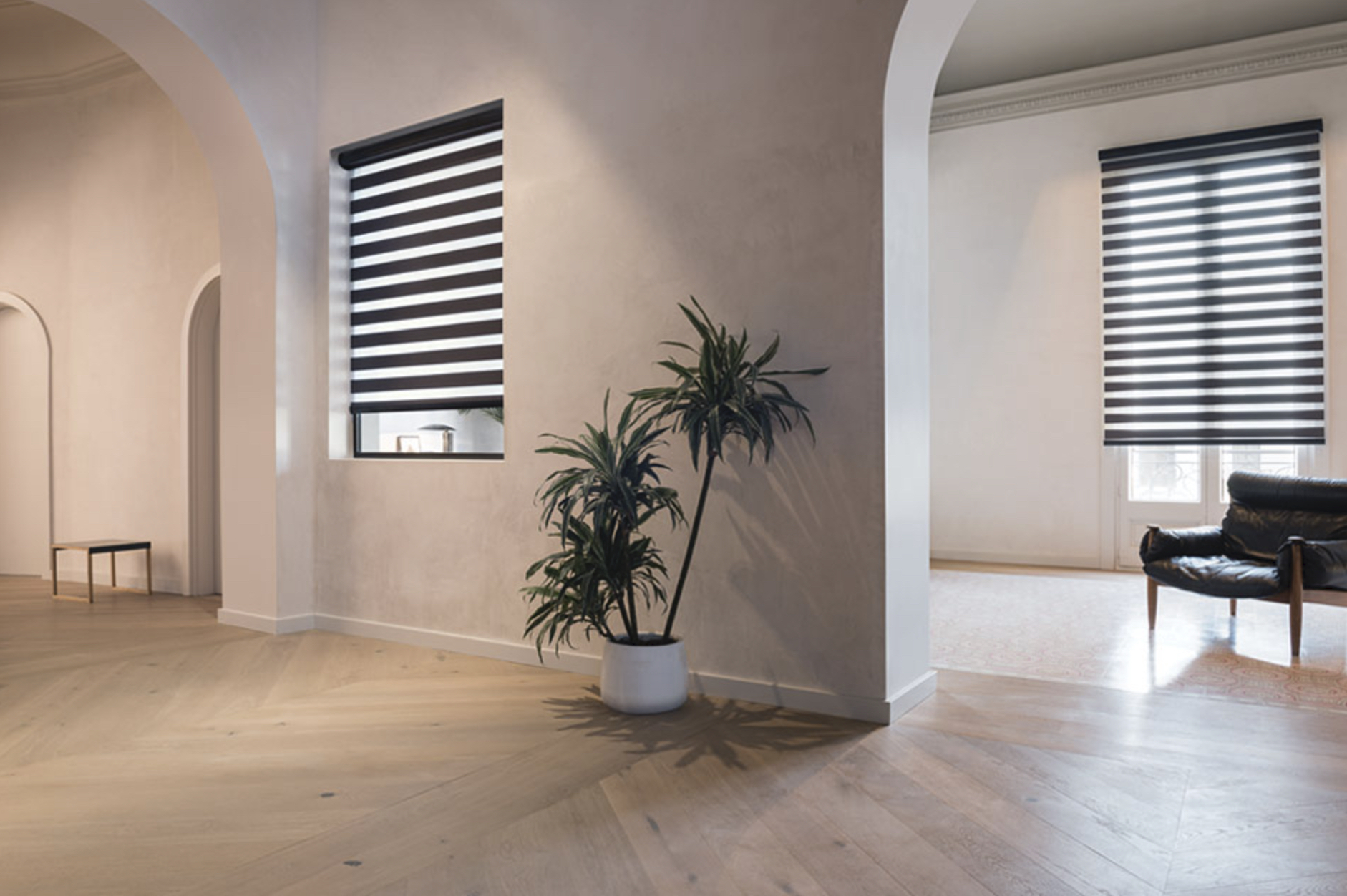 Pictured: Double Roller Shade — Pacifica, Char
How many Zebra Blind materials does The Shade Store offer?
The Shade Store offers three materials in 15 beautifully neutral colors for Zebra Blinds — or Double Roller Shades. We invite you to find the perfect Double Roller Shade materials for your windows by ordering as many free swatches as you'd like.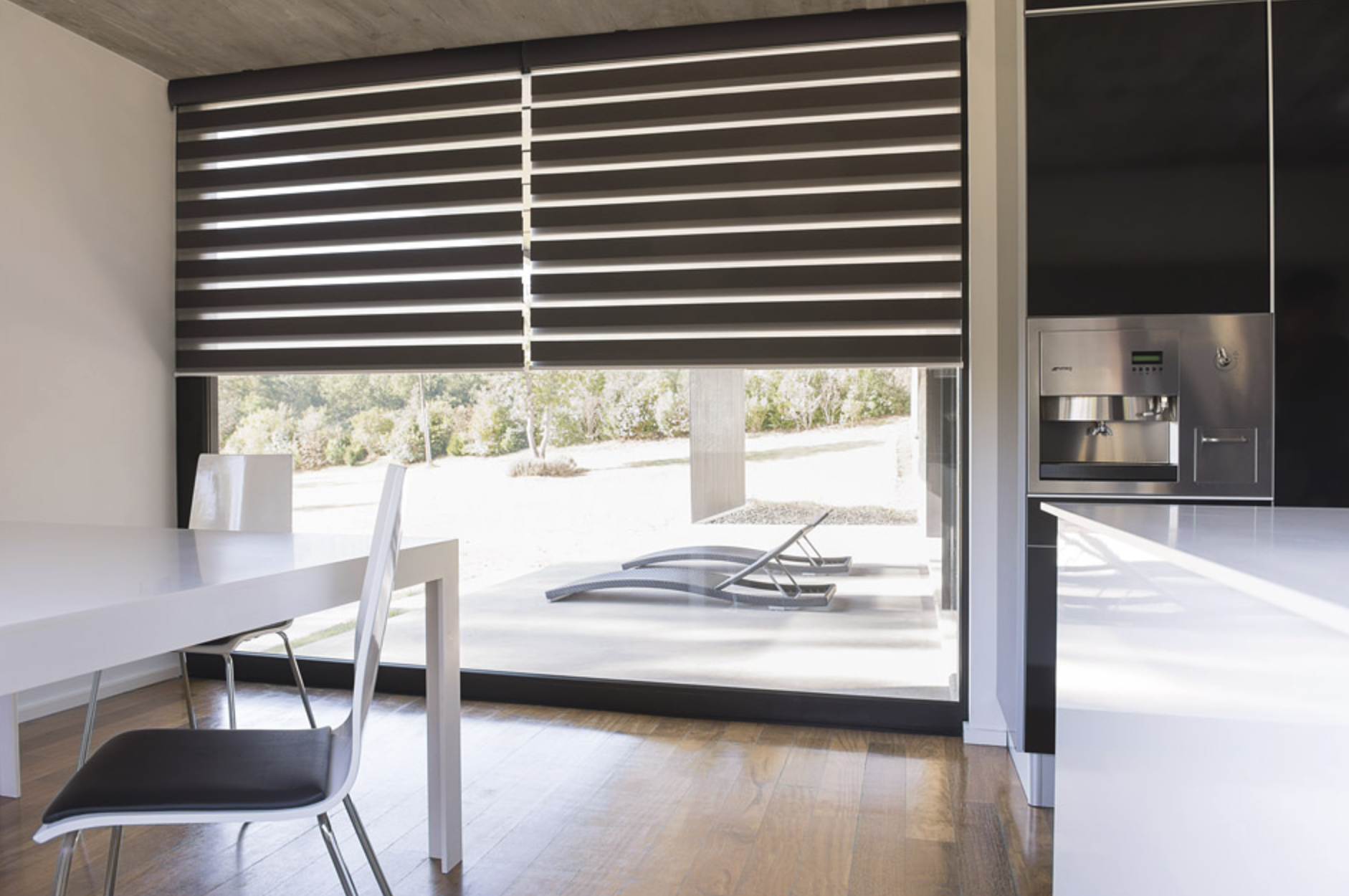 Pictured: Double Roller Shade — Catalina, Beechwood
Have questions about Zebra Blinds? We're here to help.
If you have any questions about Zebra Blinds (aka Double Roller Shades) at The Shade Store or need assistance finding your dream window treatments, we're here to help. The Shade Store offers expert services every step of the way — from inspiration to installation. Our team of Design Consultants is available to assist you with material selection, color coordination, measurement & installation scheduling and more, however you choose to shop. To get started, stop by your local showroom, visit us online or give us a call at 800.754.1455.
About The Shade Store
The Shade Store is a premium custom window treatment company with a rich heritage in luxury textiles and interior design. Its exclusive collection of more than 1,300 in-stock fabrics and materials provides customers with an unparalleled amount of style and customization options. Every window treatment is proudly handcrafted in the USA, hung and tested for quality assurance and ships free in 10 days or less. With showrooms nationwide, The Shade Store offers a complete range of in-person and virtual design services for consumers and design-trade clientele, including swatches, complimentary professional window measurements and photo rendering. Additionally, the company is an advocate for environmental sustainability: For every purchase made, the company provides the 'Gift of Shade' by planting a tree in partnership with the Arbor Day Foundation. For more information about The Shade Store, please visit theshadestore.com.