How to Hang Curtains in an Apartment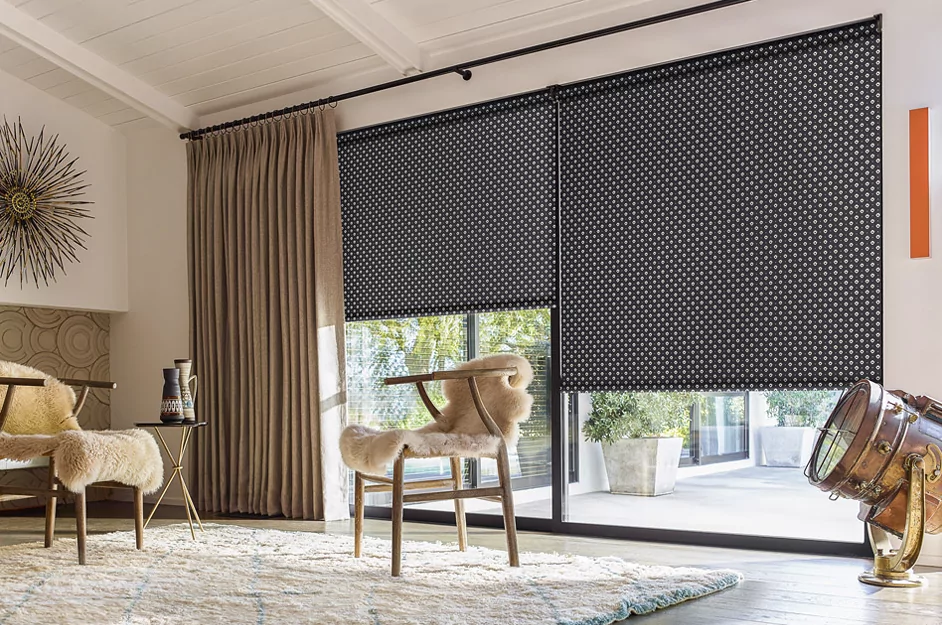 Tailored Pleat Drapery — Herringbone, Toast / Roller Shade — Nate Berkus Raffi Blackout, Onyx
If you're renting an apartment, the last thing you want to do is make changes that will require extra time and money to repair if/when it's ever time for you to move out. Luckily, The Shade Store has beautiful window treatment options that require little to no alterations to your living space. In this blog post, we'll go over how to hang curtains in an apartment.
When in Doubt About Hanging Curtains in an Apartment, Keep It Simple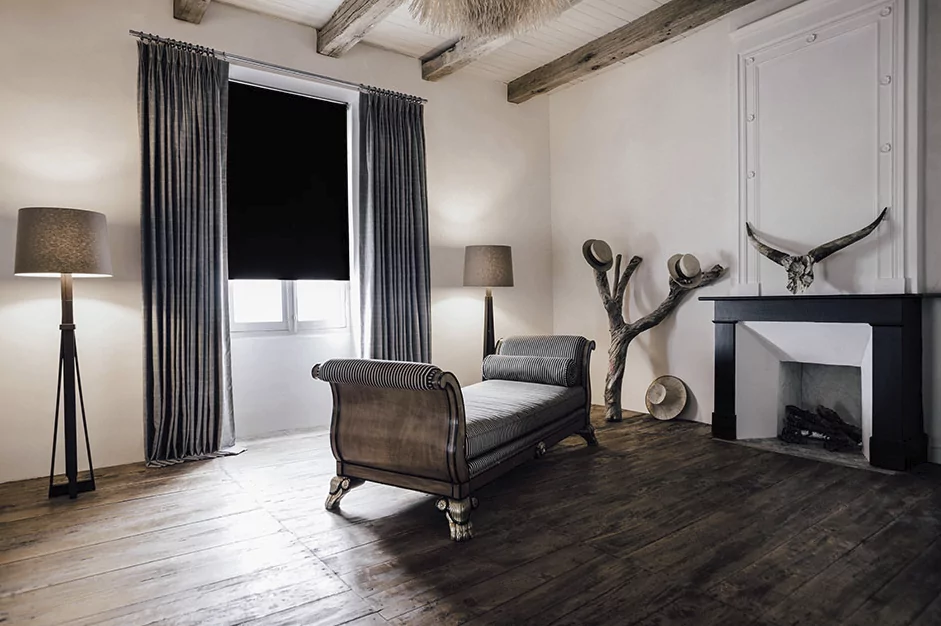 Pinch Pleat Drapery — Manor, Desert / Roller Shade — Bond, Black
Hanging curtains in an apartment is effortless if you have existing hardware — and if you don't, we offer a variety of premium hardware, or you can find great options at most home furnishing stores.
The best way to hang curtains in an apartment is with Rods & Rings hardware, which is simply a rod that attaches to the wall or window frame at a few points. Because the drapery isn't connected to a specially measured and installed track system, these hardware options allow you to simply take down your curtains if the time comes to move out and hang them back up again at your next apartment!
The types of window treatments that work perfectly with Rods & Rings hardware are:
Tailored Pleat Drapery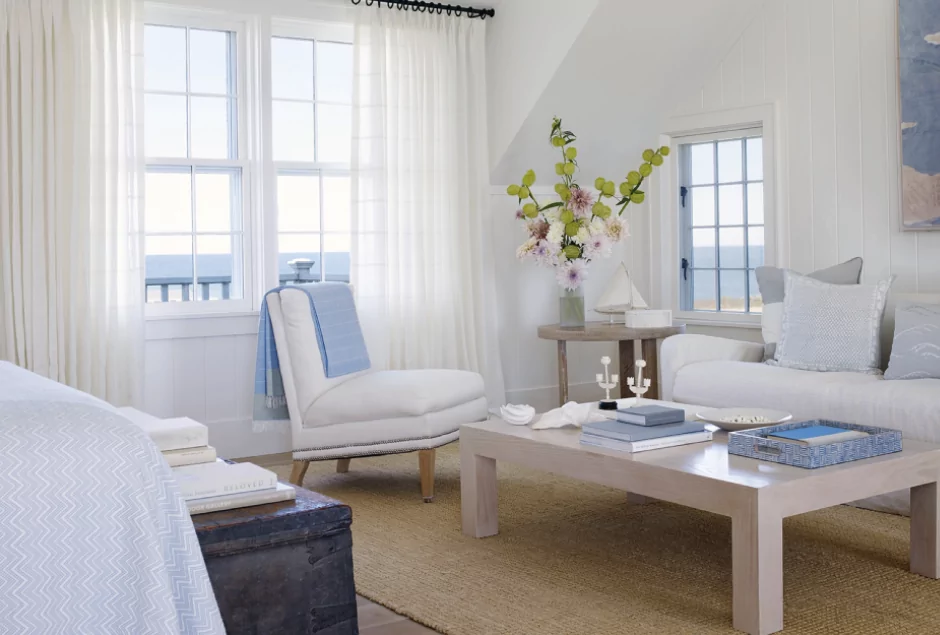 Tailored Pleat Drapery — Victoria Hagan Sankaty Stripe, Moon
If you're hanging curtains in an apartment, one of our favorite window treatment styles is Tailored Pleat Drapery. Effortlessly beautiful with a neat drape, it features our signature waterfall pleat.
Pinch Pleat Drapery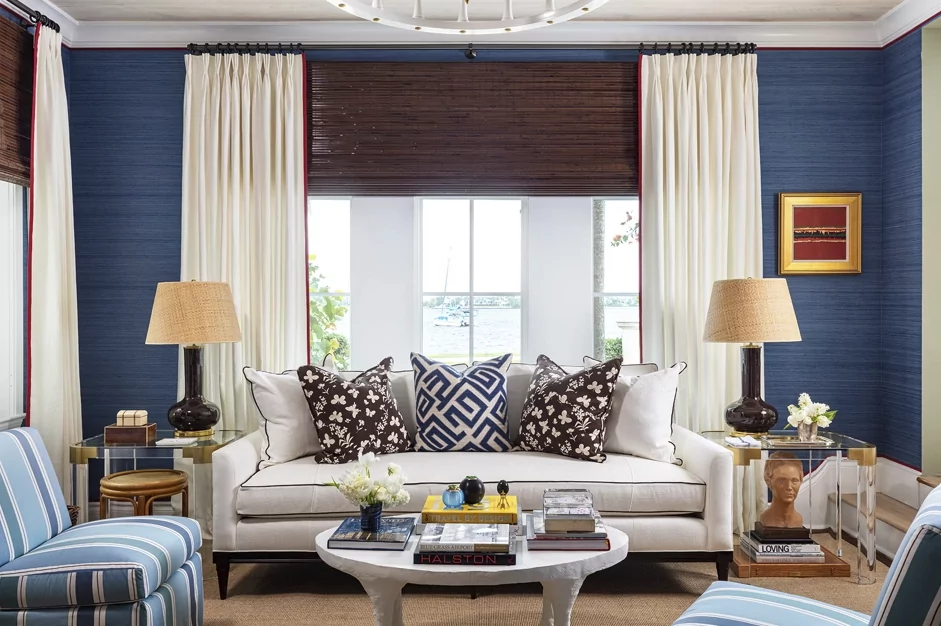 Pinch Pleat Drapery — Linen, Ivory / Waterfall Woven Wood Shade — Artisan Weaves Breakwater, Brown
Continuously fashionable, our Pinch Pleat Drapery is a perennial classic that elevates every window in the home. Hanging curtains in an apartment has never looked better!
Inverted Pleat Drapery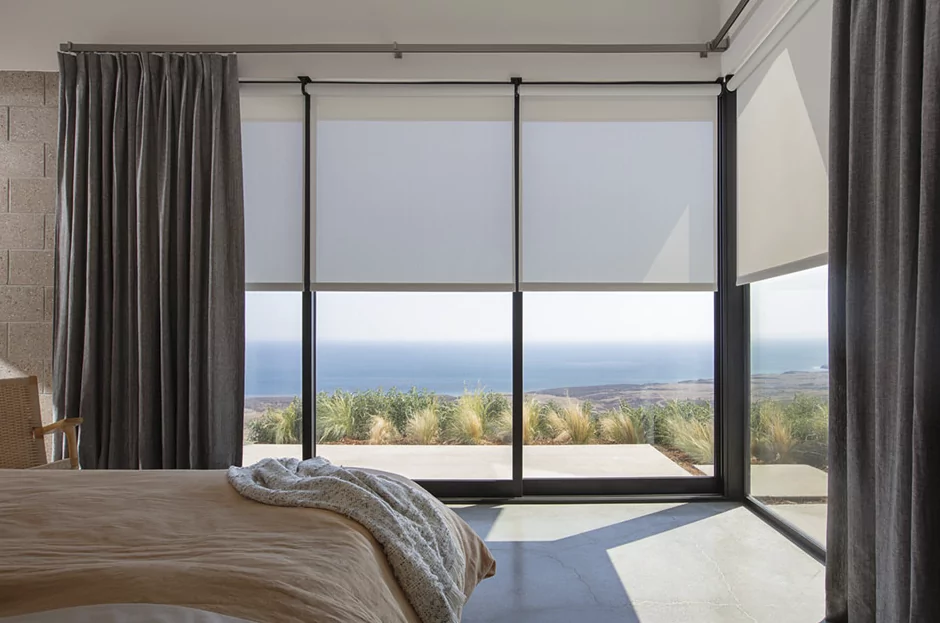 Inverted Pleat Drapery (Shown with Track System) — Herringbone, Onyx / Solar Shades — 5%, Grey
Our Inverted Pleat Drapery is designed with hand-stitched inverted pleats for a relaxed look and simple elegance.
Grommet Drapery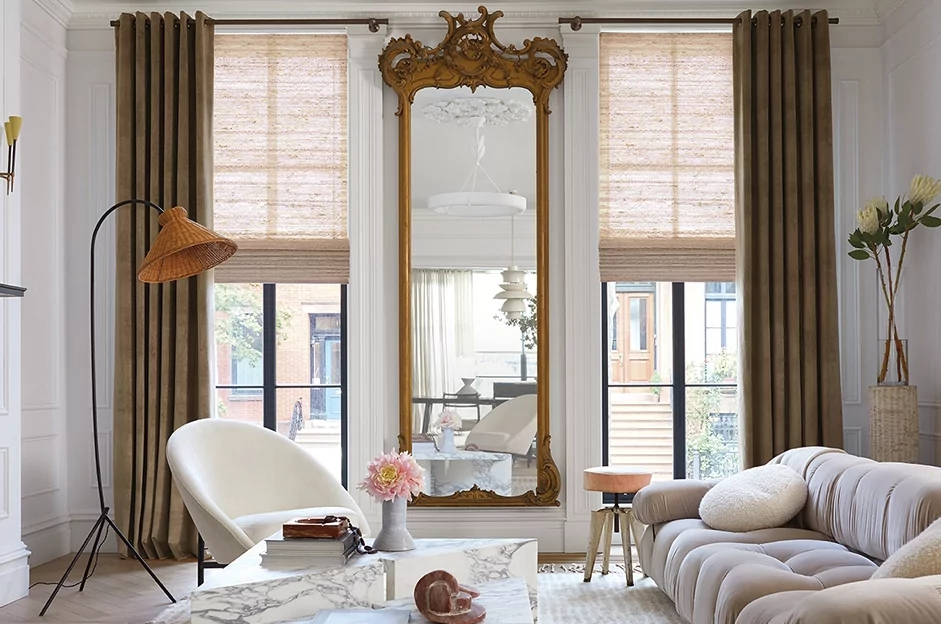 Grommet Drapery — Velvet, Camel / Waterfall Woven Wood Shades — Artisan Weaves Cove, Ash
Add a touch of sophistication to your apartment with our Grommet Drapery. Designed with hand-pressed grommets, it's perfect for stylish and modern interiors.
Goblet Drapery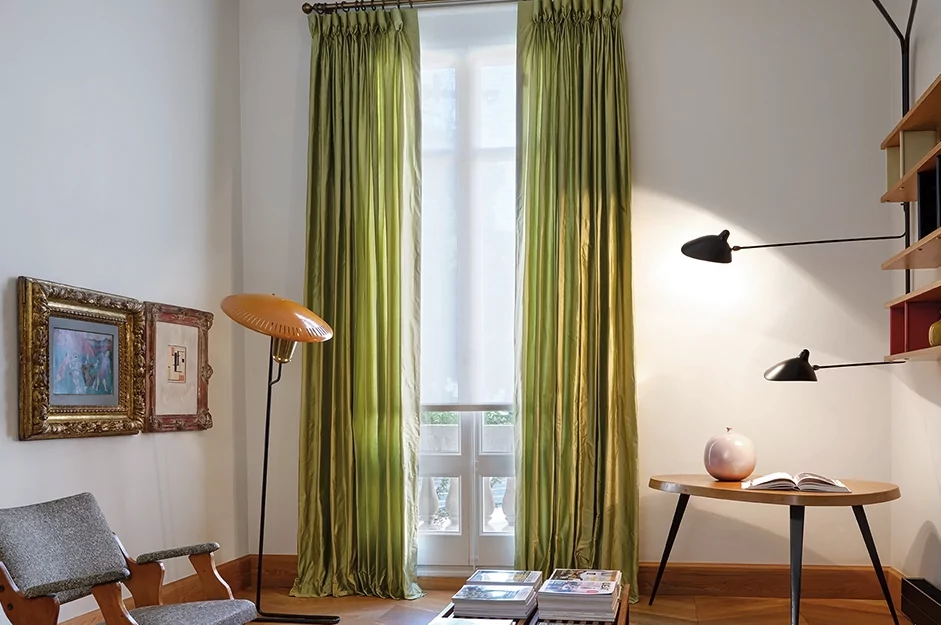 Goblet Drapery — Silk Dupioni, Leaf / Roller Shade — Prince, Ivory
Time-honored style and sophistication combine in our Goblet Drapery collection, featuring carefully handcrafted pleats. It's an easy way to transform your apartment into a sophisticated retreat.
Rod Pocket Drapery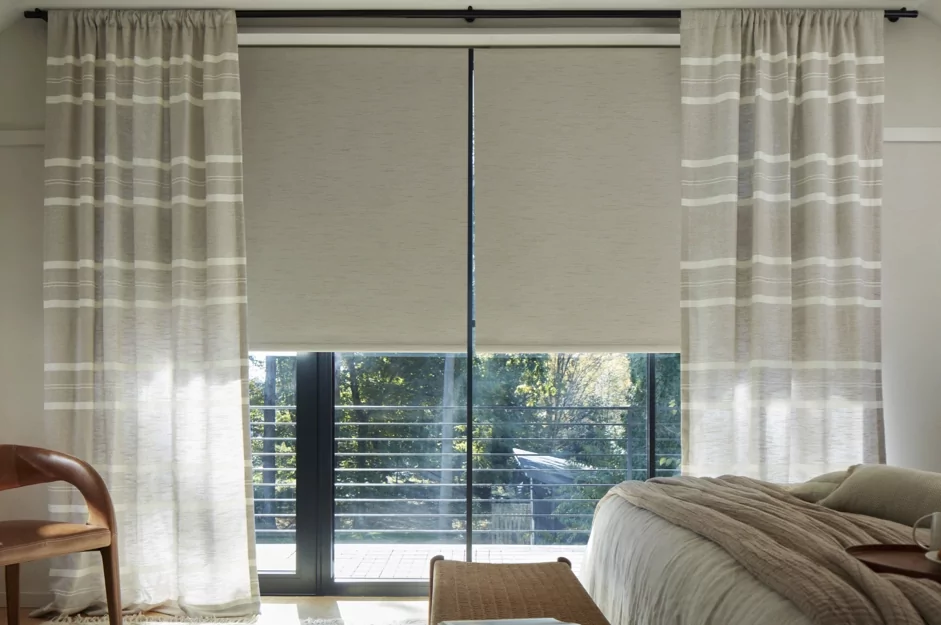 Rod Pocket Drapery — Shoreham Stripe, Oatmeal / Roller Shade — Cora Blackout, Shell
A traditional and charming window treatment style, our Rod Pocket Drapery is perfect for creating a soft casual look. They're a simply beautiful curtain option for apartments.
Have questions about how to hang curtains in an apartment? We're here to help.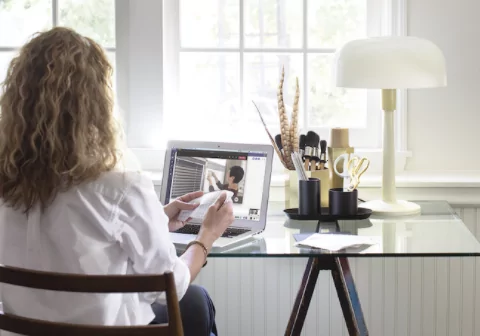 If you have questions about whether you can hang curtains in an apartment — or if you need assistance finding your dream window treatments, we're here to help. The Shade Store offers expert services every step of the way — from inspiration to installation. Our team of Design Consultants is available to assist you with material selection, color coordination, measurement & installation scheduling and more, however you choose to shop. To get started, stop by your local showroom, visit us online or give us a call at 800.754.1455.
About The Shade Store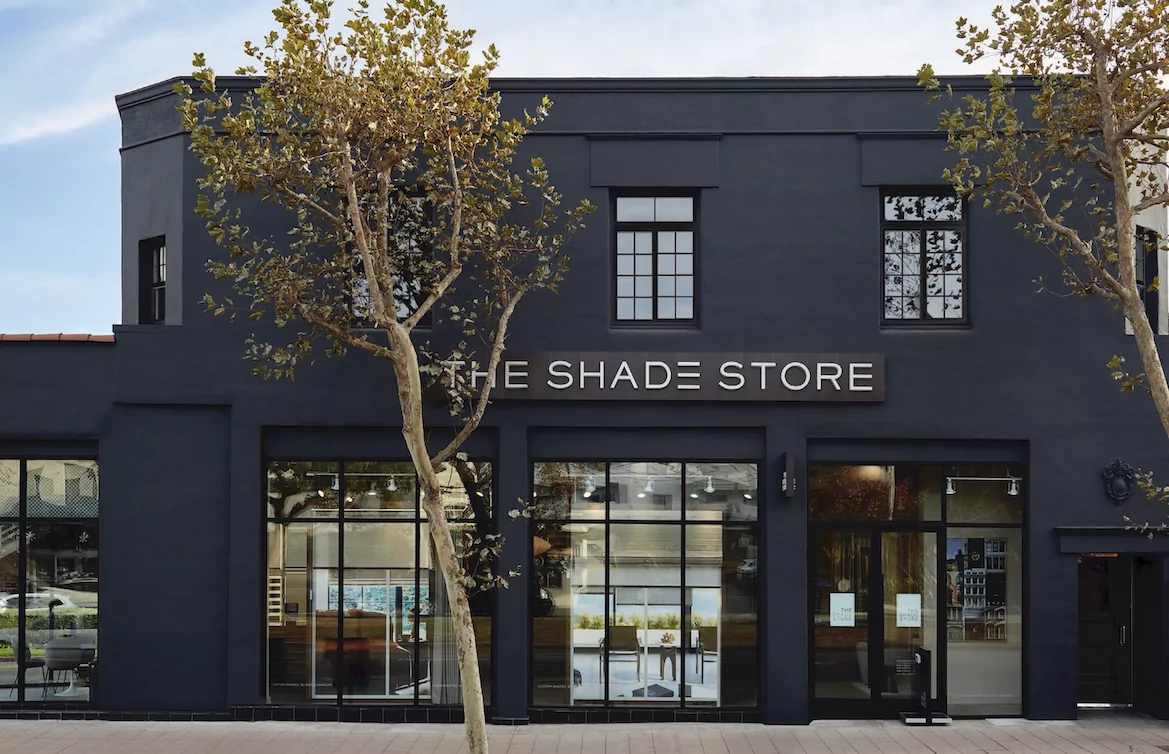 The Shade Store is a premium custom window treatment company with a rich heritage in luxury textiles and interior design. Its exclusive collection of more than 1,300 in-stock fabrics and materials provides customers with an unparalleled amount of style and customization options. Every window treatment is proudly handcrafted in the USA, hung and tested for quality assurance and ships free in 10 days or less. With showrooms nationwide, The Shade Store offers a complete range of in-person and virtual design services for consumers and design-trade clientele, including samples, complimentary professional window measurements and photo rendering. Additionally, the company is an advocate for environmental sustainability: For every purchase made, the company provides the 'Gift of Shade' by planting a tree in partnership with the Arbor Day Foundation. For more information about The Shade Store, please visit theshadestore.com.