Born from the idea of making life beautiful, Studio McGee helps bring clients' dream homes to life. Explore the custom window treatments wife-and-husband design duo Shea and Syd McGee chose for their very own dream home.
Luxurious Layers
For the bedroom window treatments, Studio McGee put together a layered look with Tailored Pleat Drapery — Luxe Linen, Beige — and Waterfall Woven Wood Shades — Seaview, Dune. These versatile neutral window treatment materials effortlessly introduce sophistication and texture to windows of all types. Studio McGee wanted privacy but didn't need the maximum amount, so they chose Waterfall Woven Shades with a privacy lining instead of a blackout lining.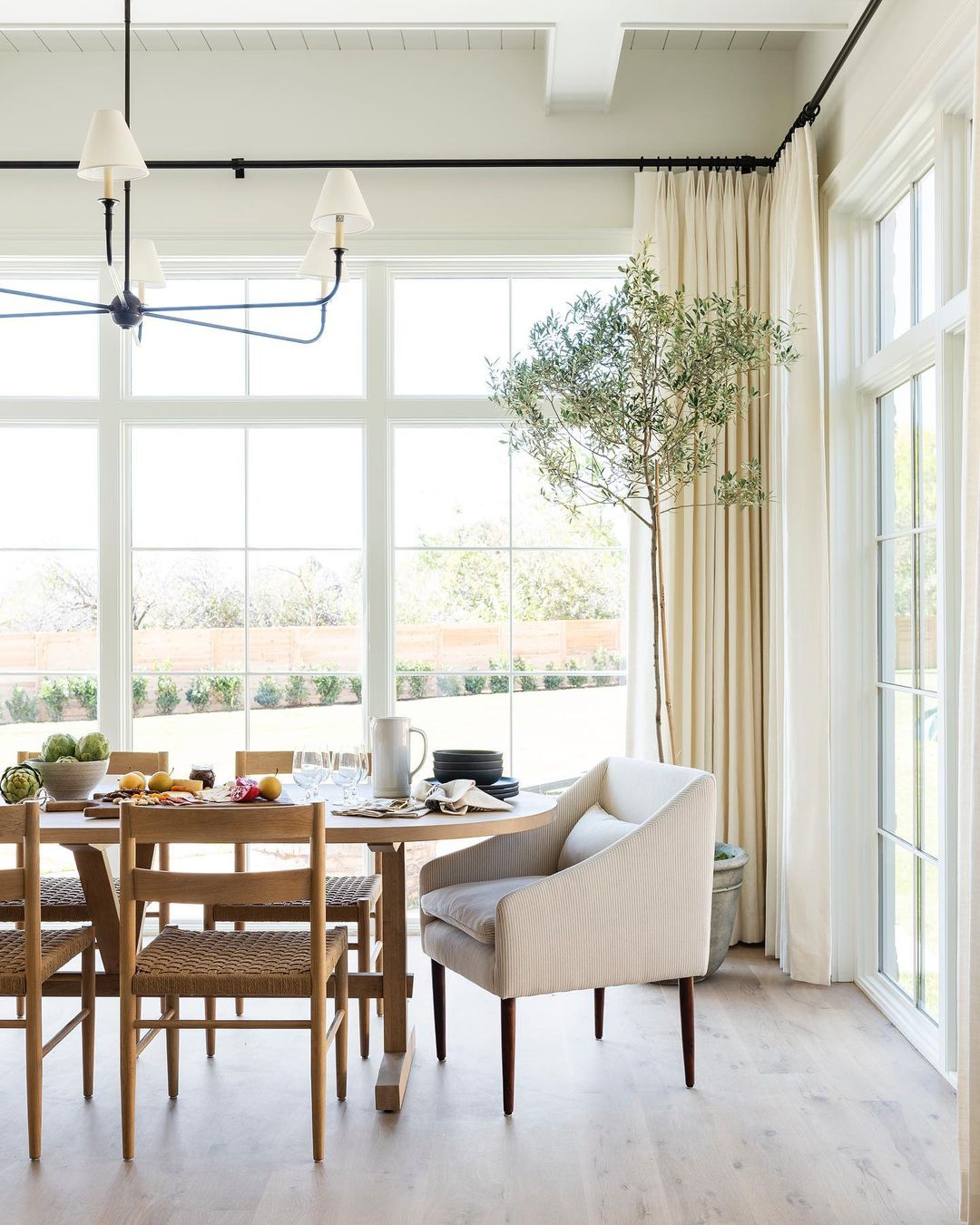 Lead with Light
In the dining room, Studio McGee softened corners and framed the view with floor-to-ceiling Tailored Pleat Drapery — Luxe Linen, Oyster. They wanted to allow as much natural light into the space as possible, so they skipped shades altogether. This crisp, neutral window treatment palette is the perfect way to achieve understated elegance in the home.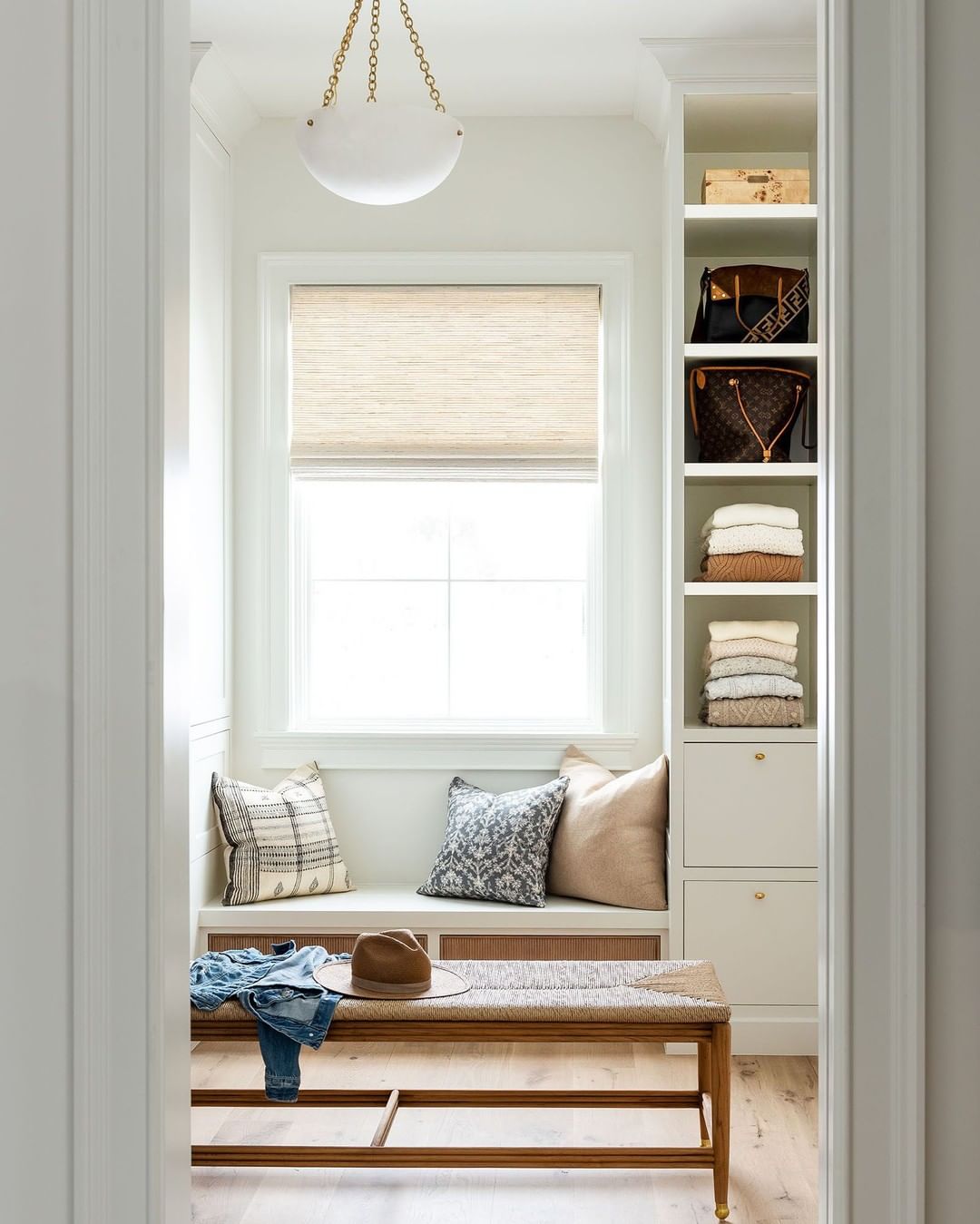 Livable Luxury
Studio McGee combined a textural Waterfall Woven Wood Shade — Seaview, Dune — with timeless patterns to make the closet a comfortable place to start the day. Elevate your everyday living spaces with custom window treatments by The Shade Store.
Designer Tip from Studio McGee
To make sure the window treatment looks Studio McGee created in their home were cohesive, they used repeating textures and tones throughout the space. They typically repeat either the color, material, or, in some cases, both. Every time they used a Waterfall Woven Shade window treatment, they chose the material Seaview in the color Dune, and every time they used Tailored Pleat Drapery window treatments, they chose Luxe Linen but in different, complementing colors for each room.
Find Your Dream Window Treatments
If you have any questions about custom shades, blinds or drapery at The Shade Store or need assistance finding your dream window treatments, we're here to help. The Shade Store offers expert services every step of the way — from inspiration to installation. Our team of Design Consultants is available to assist you with material selection, color coordination, measurement & installation scheduling and more, however you choose to shop. To get started, stop by your local showroom, visit us online or give us a call at 800.754.1455.
About The Shade Store
The Shade Store is a premium custom window treatment company with a rich heritage in luxury textiles and interior design. Its exclusive collection of more than 1,300 in-stock fabrics and materials provides customers with an unparalleled amount of style and customization options. Every window treatment is proudly handcrafted in the USA, hung and tested for quality assurance and ships free in 10 days or less. With showrooms nationwide, The Shade Store offers a complete range of in-person and virtual design services for consumers and design-trade clientele, including swatches, complimentary professional window measurements and photo rendering. Additionally, the company is an advocate for environmental sustainability: For every purchase made, the company provides the 'Gift of Shade' by planting a tree in partnership with the Arbor Day Foundation. For more information about The Shade Store, please visit http://www.theshadestore.com.