The Shade Store 101: Decorative Drapery Pleats
With drapes, the decorating possibilities are seemingly endless. These versatile window treatments can instantly change the mood of a room, adding luxury, comfort, or lightness depending on the style and material. Settling on the right combination for your space can feel a bit daunting.
This is the first in a new series of posts in which we will offer in-depth explanations of our eight styles of drapery, focusing on how they are made, how they function, and what spaces they are best suited for. We'll begin with two decorative drapery pleats: Grommet and Goblet Drapes. When we say decorative, this means these styles work best as stationary drapery panels that are not often open and closed.
Sophisticated Goblet Drapes
Goblet Drapes are so named because the pleat at the top resembles a goblet with its cylindrical shape. They are handcrafted with 4" of buckram stiffener, which maintains the shape of the pleat over time. This style is sumptuous and sophisticated, and makes an impeccable choice for traditional homes.
As shown in the photo above, Goblet Drapes look stunning when accentuated with a drapery tieback, making them a great choice for single panel designs. A single panel means that only one panel of drapery sits at each window, typically drawn to one side.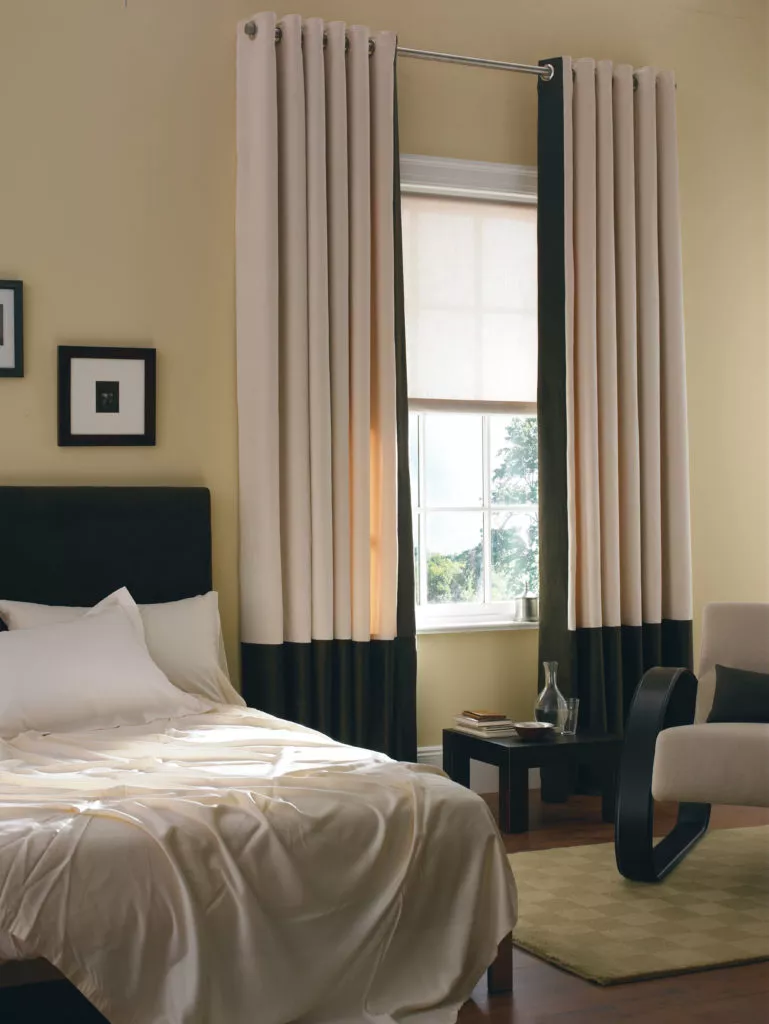 Modern Grommet Drapes
For contemporary interiors and subtle touches of metal, Grommet Drapes are just what the designer ordered. Hand-pressed grommets allow these drapes to hang in neat, deep folds from the rod, emphasizing strong lines and serving as an excellent accent in modern spaces.
Grommet Drapes fit on four of our designer hardware collections: Steel, Acero, Gramercy, and Wrought Iron. The metal grommets at the top are available in five finishes, so you can coordinate the grommets to the drapery hardware and the rest of your decor.
To create a truly finished look, left and right side panels include an additional 4" flap of fabric at the outside end to ensure complete coverage and a clean hang on either side of your window. If your design includes center panels across a wall of windows, the center panels do not include the extra flap.
If you are looking for the perfect decorative drapes to frame a window that already has shades, or if privacy is not a concern, Goblet Drapes and Grommet Drapes are statement-makers that will continuously "wow" you and your guests. If you have any questions about customizing these styles of drapery, talk to a Design Consultant at one of our showrooms or shoot us an email at design@theshadestore.com.