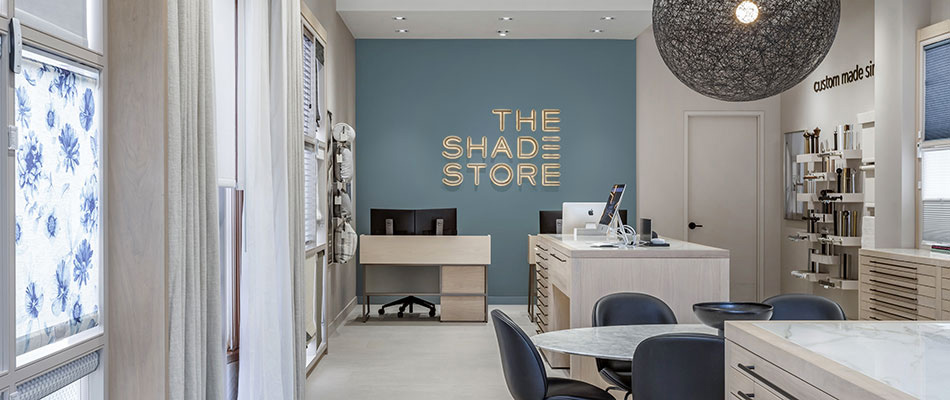 Address
The Shade Store
23501 Cinco Ranch Blvd
Unit #A120
Katy, TX 77494
Directions
Virtual Tour
Exit Tour
Latest
CUSTOMER TESTIMONIALS
Dianne K | Katy, TX |
September 15, 2023
Love, love the shade!! It looks wonderful in the master bath. The installer was very cordial and efficient. My entire experience with your store has been great!! I shared a picture of the installed shade and all the responses were WOW!
Rosanna B | Campbell, CA |
July 12, 2023
The install went well and the shade looks great! So far so good!
Linda L | Houston, TX |
July 11, 2023
We traveled to Cinco Ranch back in the Summer of 2022 for shades for our new build. The Design Consultant was AMAZING and incredibly knowledgeable of all the options available. Fast Forward to June/July 2023 - we needed to add some more shades to our upstairs living area. I contacted the Design Consultant and told her I wanted to use the same details as another room. She was quick to set us up! Incredibly happy with her service.
Jeanelle and David G | Fullshear, TX |
July 1, 2023
We love our shades.
Kim T | Katy, TX |
May 19, 2023
Install turned out great.
Carla C | Richmond, TX |
May 10, 2023
It went great. I love the new blinds. It gives my house a whole new look.
Tanisha C | Cypress, TX |
April 10, 2023
The installation went perfectly!
Scott M | Katy, TX |
April 6, 2023
The window treatments look great - we are very happy with them!
Blake W | Cypress, TX |
March 8, 2023
All went great. The install team was fabulous and exceeded my expectations once again. We are very happy!
Lauren L | Sugar Land, TX |
March 2, 2023
They are absolutely perfect!
Daniele M | Cypress, TX |
February 25, 2023
We LOVE the new shades!!!! What a huge difference they make and I just love the materials too.
Andrew R | Richmond, TX |
February 23, 2023
Shades look great!
Kelly L | Fulshear, TX |
February 9, 2023
We love the shades! They look great, perfect upgrade!
Ken and Molly H | Metairie, LA |
February 1, 2023
They are just perfect. Great tech support and easy installation. Did the install ourselves. Thank you for the great assistance in selecting the right shade. Love the motorized shades.
Youlan Y | Missouri city, TX |
July 7, 2022
It was great!
Patricia M | Katy, TX |
October 2, 2022
The installation went well and I love the shades.
Nora S | Katy, TX |
November 16, 2022
The living room drapes are amazing, I'm so glad.
Maria S | Cypress, TX |
October 17, 2022
Install was good. The shades look good.
Jazmine G | Fulshear, TX |
November 3, 2022
Everything went well. I was told by the installer that the issue was the way the curtains were rolled in the factory. No adjustments to the brackets were necessary. Both look good now. Thank you so much for addressing my concerns right away!
Gail B | Katy, TX |
August 30, 2022
All went very well. Love the shades they are perfect for the windows.
Donna P | Katy, TX |
December 31, 2022
The window coverings look really good!
Danyell P | Houston, TX |
July 14, 2022
It went GREAT.
Carolina M | Richmond, TX |
September 28, 2022
We were delighted with our new curtains! They look spectacular, quality, well made, elegant and give the room a warm and welcoming atmosphere. The installation was excellent. Super grateful and very happy with the final work and with attention, dedication and patience during the selection process.
Carley S | Ledbetter, TX |
August 22, 2022
Everything went great!
Brent & Lynn S | Manvel, TX |
January 13, 2023
The Installer showed up early and finished the job in 50 mins, just as the appointment said. He was professional and showed me how to work the remote. The top notch service was refreshing. I'm very happy with how it turned out.
Jessica M | New Orleans, LA |
January 9, 2023
I will never go anywhere else for window treatments. The process was easy and exactly what I wanted. I worked with a person who was responsive, helpful, and professional. My shades are gorgeous!
Linda G | Wallis, TX |
January 4, 2023
The Shade Store has been our go to place for blinds and shades for 2 homes now! The quality and service is excellent. Our newest experience is The Shade Store in La Centerra. The Design Consultant did an exceptional job helping pick and design specific colors. We had shades and cordless blinds installed for our entire house.
Lynda W | Katy, TX |
December 31, 2022
Love my new room divider. Awesome work from The Shade Store!
Beth G | San Mateo, CA |
January 24, 2023
Everything is wonderful and we love the shades!
Tanisha C | Cypress, TX |
December 10, 2022
Everything went well.
Linda L | Houston, TX |
August 29, 2022
We had a great experience working with you as well as the install process.