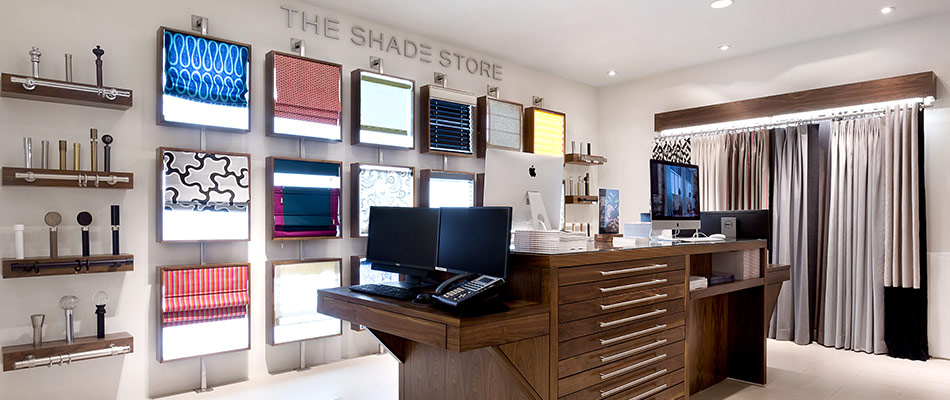 Address
The Shade Store
Galleria Design Center
101 Henry Adams Street, Suite 120
San Francisco,CA 94103
Directions
Store Hours
Mon-Fri 9am - 5pm
Latest
CUSTOMER TESTIMONIALS
Katie O | San Anselmo, CA |
October 11, 2019
I just wanted to compliment you and Carlos on how well the project turned out. My client and I are so please with all the Shade Store fabrics we selected, the automation of the solars, the fabrication of the romans and long panels. The measure and installation by Carlos was so impressive as well. He arrived on time, efficiently and carefully hung all the drapery and even reviewed use of them as well. We look forward to getting the master panels installed in a few weeks as well.
Kate W | Truckee, CA |
July 8, 2019
We really appreciate the customer care!
Catherine B | Catherine Harper Design | Incline Village, NV |
May 31, 2019
Thank you so much for all of what you and your team are doing to help! I greatly appreciate everything you have done!
Roger M | San Francisco , CA |
May 29, 2019
The installation went very well this morning. Danny & Willy were both very good.
Cecily H | San Francisco, CA |
May 15, 2019
The beige electronic shade was installed this morning, and our whole experience with your company has been stellar. A handsome product, expertly installed, with professional care along the way. Even a tree has been planted in the process! Thank you Anna and associates, for this flat-out great experience.
JoAnne S | San Francisco, CA |
May 9, 2019
You have been great Jocelyn! Thank you so much for planning ahead! I love dealing with the Shade Store and know I can always get help! Thank you so much!
Lisa S | Portola Valley, CA |
March 14, 2019
I appreciate all your help.
Chelsea B | Novato, CA |
February 26, 2019
Thank you so much! I can't tell you how appreciative I am.
Marisol S | New York , NY |
December 14, 2018
Everything looks beautiful. The installers were quick and professional.
Susan | Woodson and Woodson | Peidmont , CA |
March 13, 2018
So far so good! Thanks so much for your help throughout the process. Thanks,
Laurie P | Hana-Motl | San Francisco, CA |
January 29, 2018
Everything looks great and we are very pleased with the results. Anna is a very patient and knowledgeable showroom consultant!
Marilyn F | Marilyn Fogel Interiors | Los Altos Hills, CA |
November 29, 2017
Thank you for helpful service and to The Shade Store for tree planting. Wishes for a lovely holiday season,
Adeline C | San Francisco, CA |
September 6, 2017
We are absolutely thrilled with our Shade install..!! They look beautiful and are so elegant in our space. Thank you for all the help and finalizing those last details with me for our order. The installation crew were also extremely attentive and customer oriented. We are so happy with our order, I would work with you again in a heartbeat! Best
Katie O | Katie O'Neill Design | Mill Valley , CA |
August 4, 2017
Thank you for all your help and patience with my project! It's been such a pleasure working with you.
Ron S | RH SCHAER AND ASSOCIATES | San Francisco, CA |
July 31, 2017
Thank you so very much for all of your help. it is so GREATLY appreciated. Best Always,
Allison B | The Classy Broad | Walnut Creek, CA |
June 16, 2017
My client is SO happy with her windows and I've been raving about The Shade Store to everyone!! Just wanted to send you a huge thanks for the many answers to our questions, the calls, your attention to detail, basically just EVERYTHING that you provided. You are the best and I hope we can work together soon!
Denise L | San Francisco, CA |
June 13, 2017
Thanks again for your help and wonderful service and I will no doubt be back for more window treatments soon!
Gina P | Soledad Alzaga | San Francisco, CA |
April 20, 2017
We LOVE our new front door roller shade. It was installed today. It's perfect. Let's light in and we can see out through it to the outside just enough but people can't really see in unless right up close. It's exactly what we wanted.
Barbara W | San Francisco, CA |
February 2, 2017
The shades worked out great. Thank you for all your assistance. I am very pleased with the efficient way the Shade Store handles orders and installation. Regards
Christine C | San Francisco, CA |
February 2, 2017
Thank you so much for all your help! The shades look great and the process was flawless! I will for sure reach out to you again for any future shade purchases. Thanks,
Darrell L | Emeryville , CA |
December 29, 2016
Love love love the blinds! Install was effortless and quick! The remote shade control is the best thing since sliced bread! Your guidance, patience, and consultative approach made my experience at the Shade Store complete! Thanks again!
Barbara W | San Francisco, CA |
December 9, 2016
The shades have been installed and they are great. The Shade Store does a very efficient job.
Darrell L | Emeryville , CA |
September 26, 2016
Thank you! Just placed the order! You make it so easy, it's greatly appreciated! Will certainly call if I've got any questions, etc. Have a great rest of the week!
Brent H | 07 STUDIOS | San Francisco, CA |
September 15, 2016
We had our shades installed yesterday. They look great! And the light was well blocked this morning. Thanks for your help. The process was easy and efficient. I look forward to working with you in the future. Cheers,