Imagine your bedroom drapes sweeping open to wake you with sunshine in the morning. Picture raising and lowering shades with the push of a button. Envision office shades automatically lowering when the sun's glare is the brightest.
All of these are now possible with our Motorization Made Simple™ collection. With state-of-the-art motors, whisper quiet operation, and The Shade Store's 100% satisfaction guarantee, there's no better time to make your home a little smarter and your life a little easier.
Why Motorize?
There are many instances where motorized window treatments just make sense. If you have shades or drapes that you open and close every morning and evening, motors can take care of that automatically and save you a few minutes each day.
Motorization allows you to program settings to control multiple window treatments in several rooms. If you have a large wall of windows, wide windows, or tall hard-to-reach windows, motorized treatments simplify their operation. In bathrooms and bedrooms, you can close your shades for privacy before entering the room, all with the simple click of a button on a hand-held remote, or even your smartphone. Best of all, motorization allows you to streamline not only the operation of your window treatments, but their appearance as well. The absence of cords and chains offers a clean, sleek aesthetic.
How to Control Your Window Treatments
There are several options available when it comes to controlling your motorized window treatments, each with its own set of unique benefits depending on your lifestyle.
Remote Control
The Shade Store's 15-channel handheld remote is a touch-sensitive, slim wall mount that allows you to:
Operate all shades at one time
Set each shade to a different channel or group shades by channel
Add additional channel groupings any time after installation
Smartphone Control
Smart blinds and shades can be controlled using a smartphone or an app, which allows you to control your window treatments straight from your phone.
The Shade Store's app, coupled with a WiFi bridge allows you to:
Raise and lower window treatments

Set up to 30 shade configurations

Position shades or groups of shades

Control window treatments up to a 60 foot range

Set your shades to raise or lower on a timer

Control your shades while you are away from home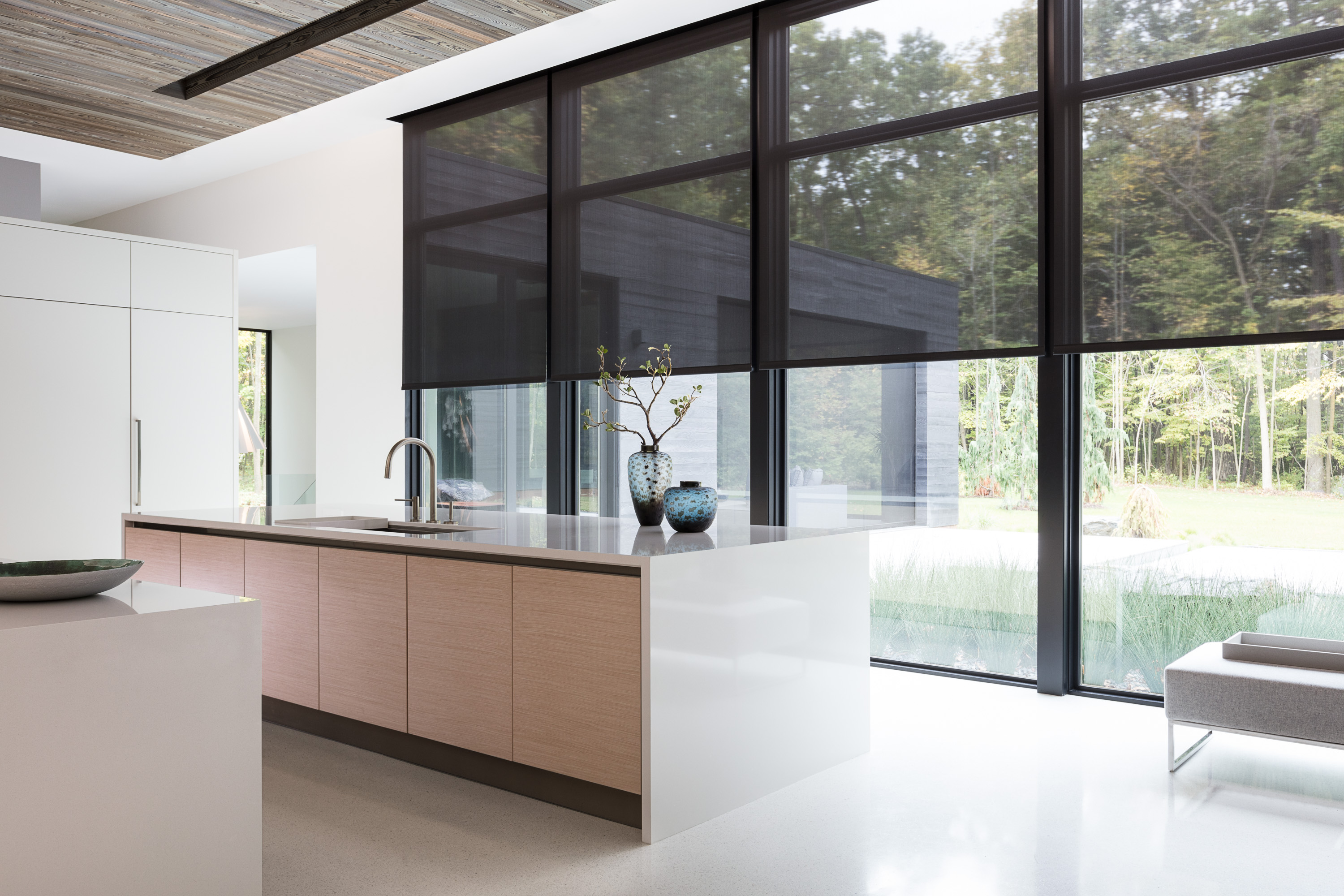 Motorized Window Treatment Options
The Shade Store offers 10 custom motorized window treatment products including shades, blinds, and drapery. With so many styles to choose from, you'll be sure to find a motorized treatment that seamlessly complements any decor.
Motorized Shades
Our motorized shades offer state-of-the-art control for large windows and sliding glass doors, making them ideal for living rooms, kitchens, and bedrooms.
The Shade Store offers motorization for several shade styles including Roller, Solar, Roman, Cellular, and Pleated Shades.
Motorized Wood Blinds
Motorized blinds are a convenient option for controlling light and privacy in your home, especially in rooms such as an office, bedroom, or bathroom.
The Shade Store's motorized wood blinds cover the tilt of the blinds only, making it easy for you to control the light and privacy in your home.
Motorized Drapery
Motorization gives you the ultimate control for your drapery, allowing them to effortlessly glide along the track with just the push of a button.
The Shade Store offers motorization for Ripple Fold Drapery and our pleated styles, Tailored Pleat, Pinch Pleat, Inverted Pleat, and Goblet Drapery. Drapery motorization can accommodate tracks up to 25' long, making it an ideal solution for large windows or glass doors!
How to Install Motorized Blinds and Drapes
The Shade Store offers nationwide measure and install services. Let our team of experts take care of everything. Start with a free professional measurement to guarantee the perfect fit.
Motorized Blinds and Shades FAQs
How do our motors communicate?
Motors communicate via radio frequency remote controls.
How quiet are the motors?
In order of quietest to loudest: Plug-In – 45 decibels (similar to a refrigerator hum) Battery – 52 decibels (similar to a table fan) The lower the decibel number the quieter the motor.
Can I operate different products on the same remote?
Yes. Any motor can be operated by any remote within the same motor brand. Different products that have the same motor can be programmed on site by the installer or the customer.
How much are motorized window treatments?
Since The Shade Store specializes in custom products, the total cost of motorized window treatments depends on a number of factors including the style of window treatment, the type of motor, and the size of the window.
How are motorized window treatments powered?
We have two types of motors: Battery and plug-in. Each option offers several benefits. Here are a few things to consider when choosing your motor option:
A battery motor can be recharged using a standard outlet, and charges in 6-8 hours. Since the battery serves as the power source, window treatments with a battery motor do not need to be located near an outlet. In addition, a battery motor will continue to function even if a power outage occurs.
Plug-in motors never need to be recharged, and are quieter than battery-powered window treatments. However, it is important to consider that since the motor needs to be plugged in, the window treatments must be located near an outlet to operate.
How long do batteries last in motorized window treatments?
The size of the window treatment and the frequency of use will determine how long the battery will last. On average, motorized window treatments that raised and lowered once a day will last over a year before needing to be recharged.