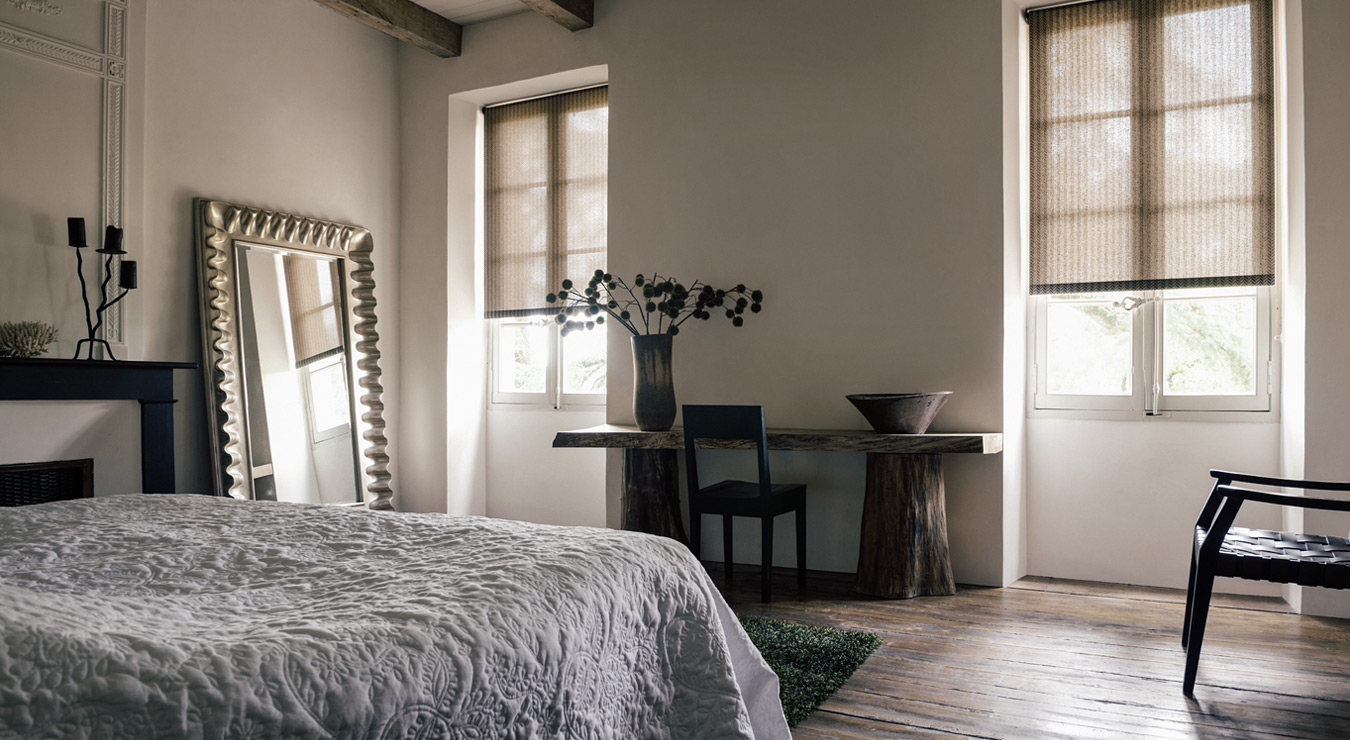 When you stop into a showroom or call The Shade Store, our design consultants are ready and waiting to provide expert design advice and help you choose the perfect window treatments for your home. Please welcome back Liz Irwin, a design consultant in our Garden City, NY showroom. Liz will share some of her insights, tips, and answers to frequently asked questions here on The Shade Store Blog.
Roller Shades are our most sought-after product; they have an understated elegance about them, and we offer a choice of over 270 gorgeous exclusive materials. Roller Shades are competitively priced, and are sure to make a statement in your home. Here are a few tips to help you decide if Roller Shades are the right treatment for your space.
You're Looking for Sleek and Modern Window Treatments
Roller Shades evoke a sense of modernity, which you can appreciate at first glance when you browse our catalog or walk into one of our beautiful showrooms. Their clean, straight lines are an excellent complement to any space, and they make a phenomenal canvas if you want to go big with a bold color or print. On the other hand, with a little bit of texture or a neutral tone, they can be incredibly subtle, letting other pieces in your space be the focal point.
Some may still associate Roller Shades with the old vinyl spring-loaded shades with scalloped borders – but rest assured, The Shade Store's Roller and Solar Shades are updated, stylish, and contemporary. If you need some Roller Shade inspiration, check out our online photo gallery. The Roller and Solar Shades are as breathtaking and modern as the spaces where they are photographed.
Bonus: Roller Shades play well with others, and make wonderful layering pieces under Draperies or Roman Shades.
You're Looking For Quality
At The Shade Store, our shades are handcrafted in American workrooms. We are a family owned company with 70 years of experience in the industry, and we strive give you the highest quality product at the lowest price point possible. All of our shades are hung and tested before leaving our workroom. If you want a durable shade that can last through years of being raised and lowered often, our Roller Shades are perfect for you.
You're Looking For Something Inconspicuous
Roller Shades have a function that very few other treatments can compare to: regardless of almost any height, they roll up to a super-tight three-inch diameter. If you're looking for something that won't impede your view, or is nearly invisible when raised, you've chosen to the right treatment. I have a client who chose a bright, bold print for her sunroom, but only lowers the shades at night for privacy. For the majority of the day, the room is an open atrium filled with stunning views and sunshine pouring in from all sides. At night, she has a statement piece on each window, almost like a mural; the best of both worlds!
Use Our Expertise
Still not sure whether Roller Shades are the right "fit" for you? Give us a call, or stop into one of our nationwide showrooms and speak with one of our Design Consultants. Our advice, our swatches, our photo renderings, our remote or in-showroom design consultations – they're all free! Let us know what you're after, and we'll take care of the rest.  
See Liz's advice on how to decide if Roman Shades are right for you.