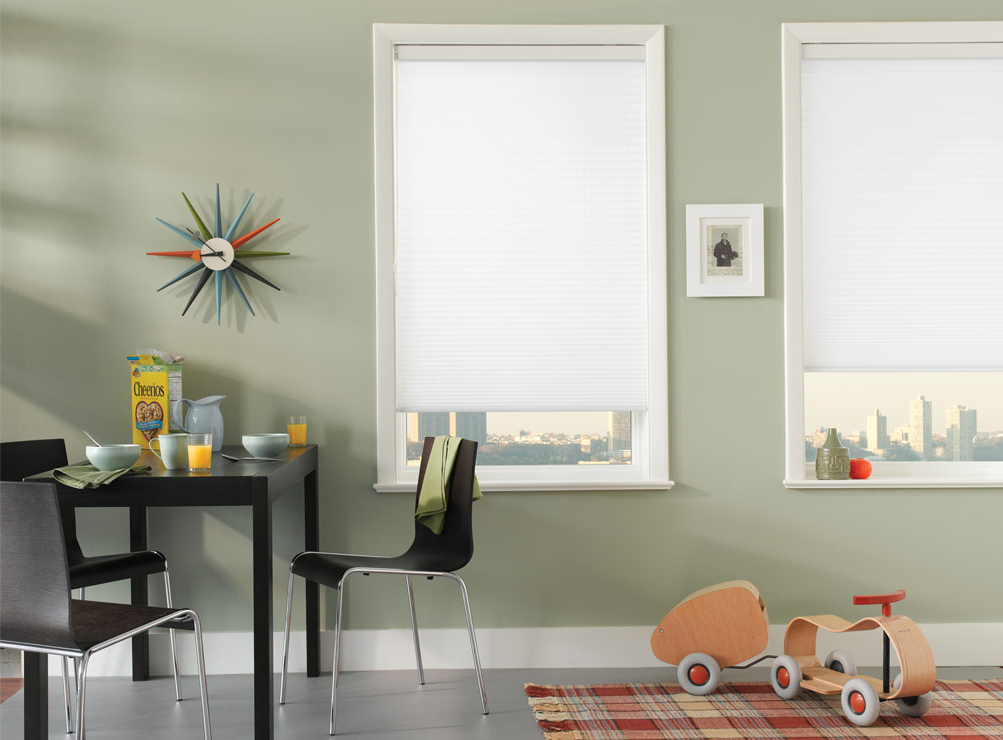 Cellular shades, also known as honeycomb shades, are truly high performance window treatments. Not only are these shades stylish and functional, they are also the best option for insulating your windows. If you're looking for the ultimate shade in light blockage, privacy, and energy efficiency, try a blackout cellular shade.
All About Blackout Cellular Shades
Blackout cellular shades are incredibly versatile, and go far beyond the simple white shade you've probably seen many times before. To start with, we offer 16 eco-friendly blackout materials in both solids and prints, from Mocha to Midnight to Mirage Blackout. View all the cellular shade swatches here.  
You can also choose from two sizes of cells for your blackout shades, which provide differing levels of insulation. Our 3/4" Single Cell blackout cellular shades, shown in the photo above, feature one layer of cells. This larger size cell is well suited for big windows. The 3/8" Double Cell cellular shades have two layers of cells, and create a smaller pleat as shown below. Double cell blackout cellular shades grant the highest level of insulation.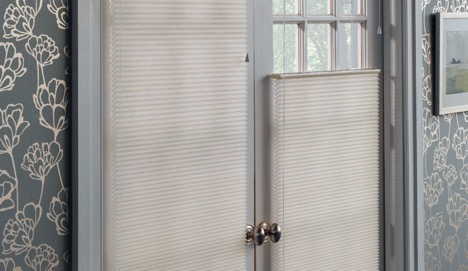 Cellular shades can be raised and lowered with the standard cord lock, but continuous loop and cordless options are available, too. With the standard cord lock, you can opt for the Top Down Bottom Up style (shown above) which allows you to lower the shade from the top, as well as raise it from the bottom.
If you're planning on using cellular shades in a child's bedroom, our cordless shades have been certified Best for Kids in association with the Window Covering Manufacturers Association (WCMA).
Energy Efficient Window Treatments
Blackout cellular shades are an excellent choice for energy efficient window treatments. With windows accounting for 25% of heat loss in homes, these insulating shades can make an impact on your home's energy consumption.
How do they work? Cellular shades are made up of cells created by folds in the shade material, and these cells can trap air, providing a layer of insulation over your windows. Blackout cellular shades go even further and block heat, light, and damaging UV rays when closed during the day, making it easier to maintain a constant temperature indoors.
Choosing blackout cellular shades is a smart decision for your home. Customize your cellular shade online, or visit a showroom to see them in person. We can't wait to help you find the perfect shade.