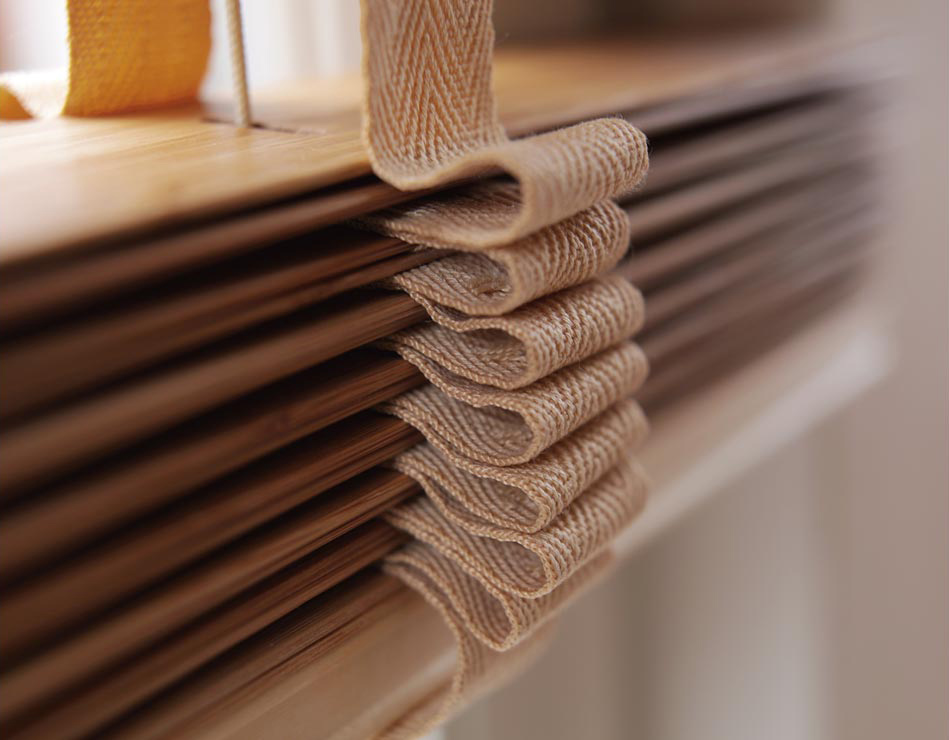 With the vast number of fabric and material options available for window treatments, it can often be hard to choose the one that's right for your home. We're here to suggest an option that can add richness and warmth to any room, and act as an accent or a feature in its own right: bamboo.
We'll talk about Wood Blinds and Woven Wood Shades, our two window treatment styles that can be made with bamboo materials. We've also enlisted Patrick J. Hamilton, a New York City-based interior designer, to share his favorite features of bamboo blinds and shades.
1. Versatility in Design
Bamboo is an incredibly versatile material. At The Shade Store, bamboo is available in Wood Blinds, which are traditional slatted blinds (also known as venetian blinds), and it can also be woven into a fabric-like material for use with Roman Shade and Roller Shade designs.
2" Blinds
At The Shade Store, our 2" bamboo blinds come in 5 stain options ranging from white to black. The wide slats provide a clean and modern look to the blinds, showing off the handsome grain of the bamboo. "I love the instant architecture wood blinds give a room. The whole place just snaps to attention when the blinds go in, especially on floor-to-ceiling windows. They create a pavilion," Patrick reports.
These blinds are durable and moisture resistant, and therefore are well suited to high-humidity areas such as bathrooms.
Woven Wood Shades
In our Woven Wood Shades collection, choose from 39 bamboo-based materials to bring a natural look indoors. Choose from the clean simplicity of Roller Shades in a woven wood, or try a Standard Woven Wood Shade that includes a custom valance for a polished look. See all four options here.
2. Bamboo is On Trend
The look of natural wood and organic materials is in. Many designers are incorporating unique uses of wood in their designs, including paneled feature walls, exposed beams, and in window treatments.
The natural texture in bamboo blinds can also fit in with any style of décor. "Blinds can straddle styles. They can be modern, tapeless in black or gloss white, retro with fabric tapes, or totally traditional, especially when the blinds' wood color ties into the room's moldings," explains Patrick.
3. Warmth + Texture
The variety of colors and stains available allow you to add texture in a multitude of ways: choose a lighter bamboo blind to blend in with light walls and white trim for a subtle look, or go with a bold dark stain or woven wood to make a statement.
Try Patrick's tips for choosing your bamboo colors:
"I spec woven, natural shades a lot. They give a room texture, and an organic ease. My trick, too, is to relate the tone of the base layer of woven shades to the tone of the wood floor. It really pulls the space together, adds something new without cluttering up the plan, and provides the perfect rougher layer beneath a great drapery side panel. Rustic and refined, as a combo, wins every single time!"
4. Eco-Friendly Material
If you're looking for a low-impact, sustainable material, bamboo is an excellent choice. We are committed to protecting the environment, and all of our wood blinds and woven wood shades are sourced from eco-friendly materials.
5. Light Filtering + Blackout Options
Finally, the last reason bamboo blinds and shades are so versatile is that you can choose light filtering and blackout options depending on the needs of your particular room.
Woven wood shades have both privacy and blackout linings available. These styles work well in bedrooms or bathroom, where light blockage and a high degree of privacy are a priority.
Bamboo blinds will allow light to filter through them when tilted open, and can be raised to leave the window completely open to the light. "I'm in love with the shadows window blinds throw… so graphic, and a great way to add texture to a neutral scheme. Those shadows really become a player in the room," Patrick says.
Woven woods with no lining can also allow light in, providing some privacy without blocking the sun.
Bamboo blinds can provide a captivating touch of nature and texture to any room. To talk to one of our design consultants about using bamboo in your home, stop in one of our showrooms or give us a call at 800.754.1455.

To read more of Patrick's design insights, head over to his blog at Ask Patrick.