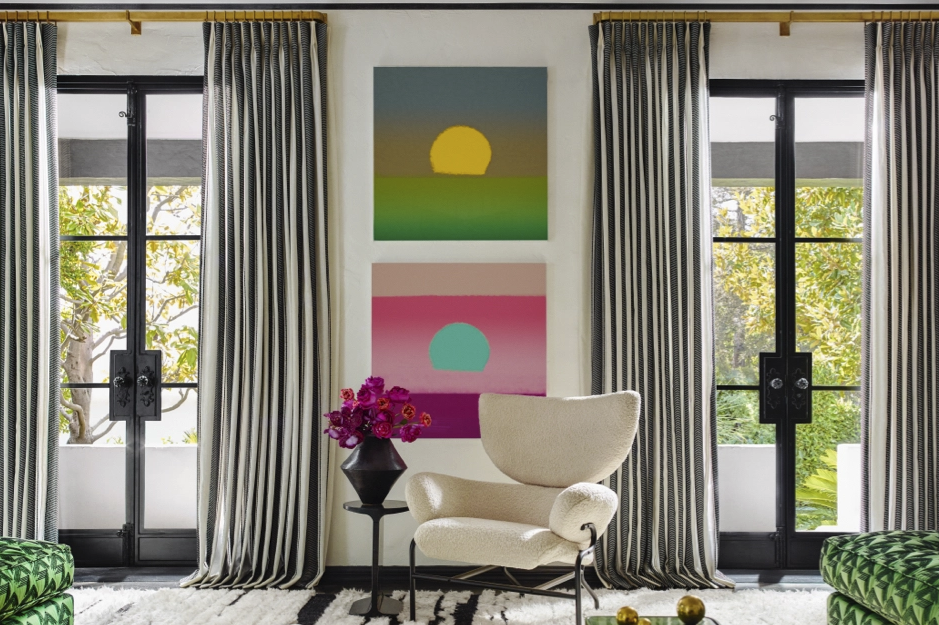 Tailored Pleat Drapery — Martyn Lawrence Bullard Nomad Stripe, Onyx
With so many options available, choosing draperies and curtains for your home may seem a bit overwhelming. There are many decisions to consider when it comes to form and function, so in this post we'll go over the eight distinct drapery styles The Shade Store offers — each with its own design aesthetic and list of benefits. We are here to help you understand the different types of draperies and curtains and how to choose the perfect style for your windows.
Ripple Fold Drapery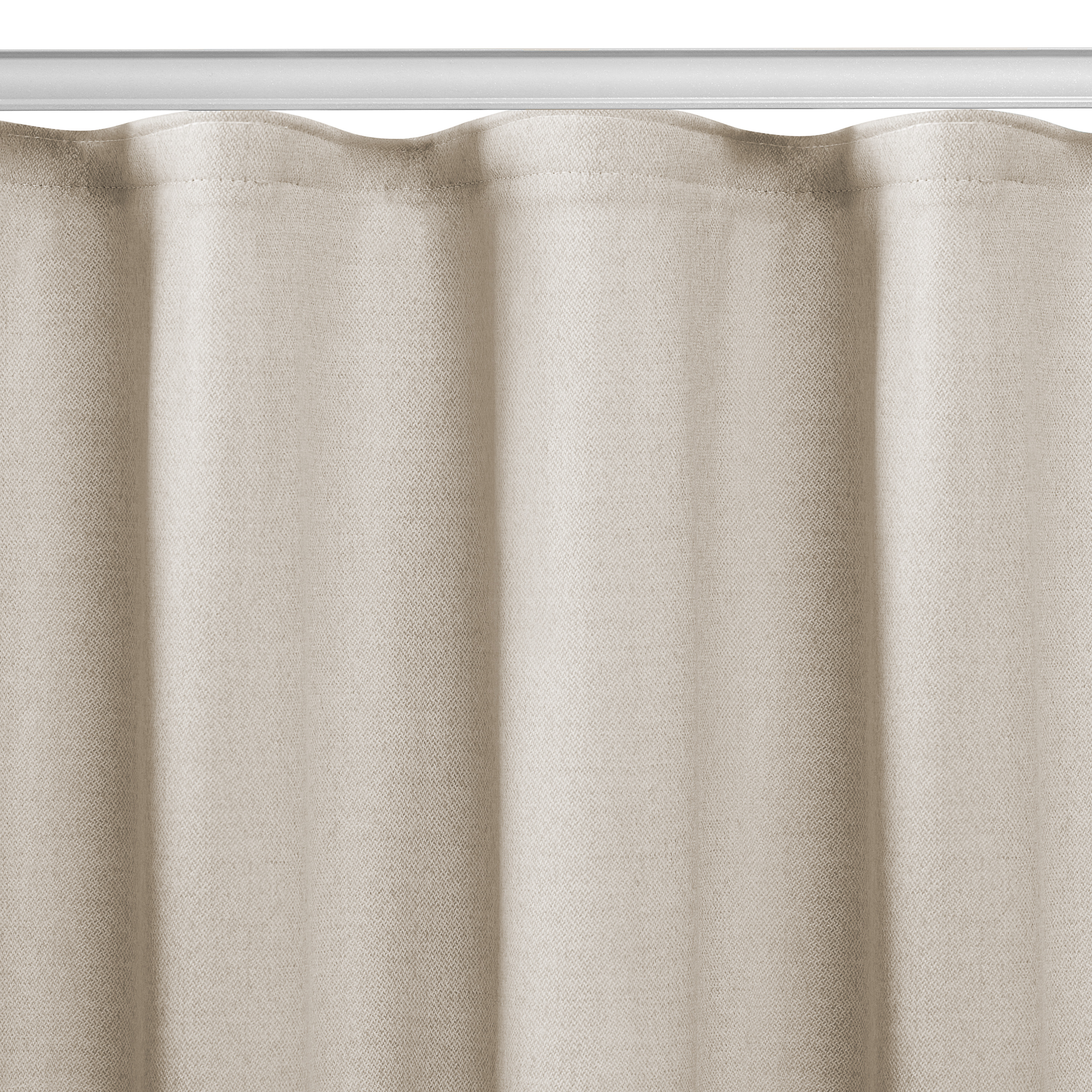 Ripple Fold Drapery is one of our best-selling curtain styles. It's sleek and modern, but also functional and easy to operate. This drapery design is a great selection if you plan on opening and closing your draperies and curtains every day, as it glides effortlessly along a track. It's also a particularly popular choice for sliding glass doors because of its ease of movement along the track.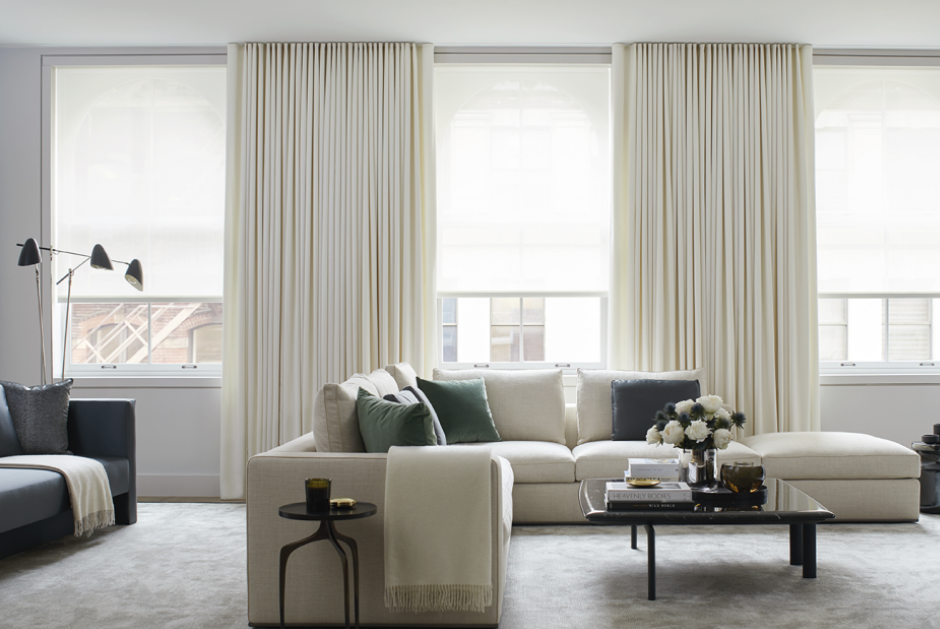 Inner Layer: Solar Shades — 10%, White / Outer Layer: Ripple Fold Drapery — Holland & Sherry Wool Flannel, Glacier
We are also seeing a layering trend with draperies and curtains, where sheer, solar or light-filtering materials are layered under a heavier drapery fabric as shown in the image above. This technique adds depth and dimension to your windows and enhances the visual appeal of the space.
Tailored Pleat Drapery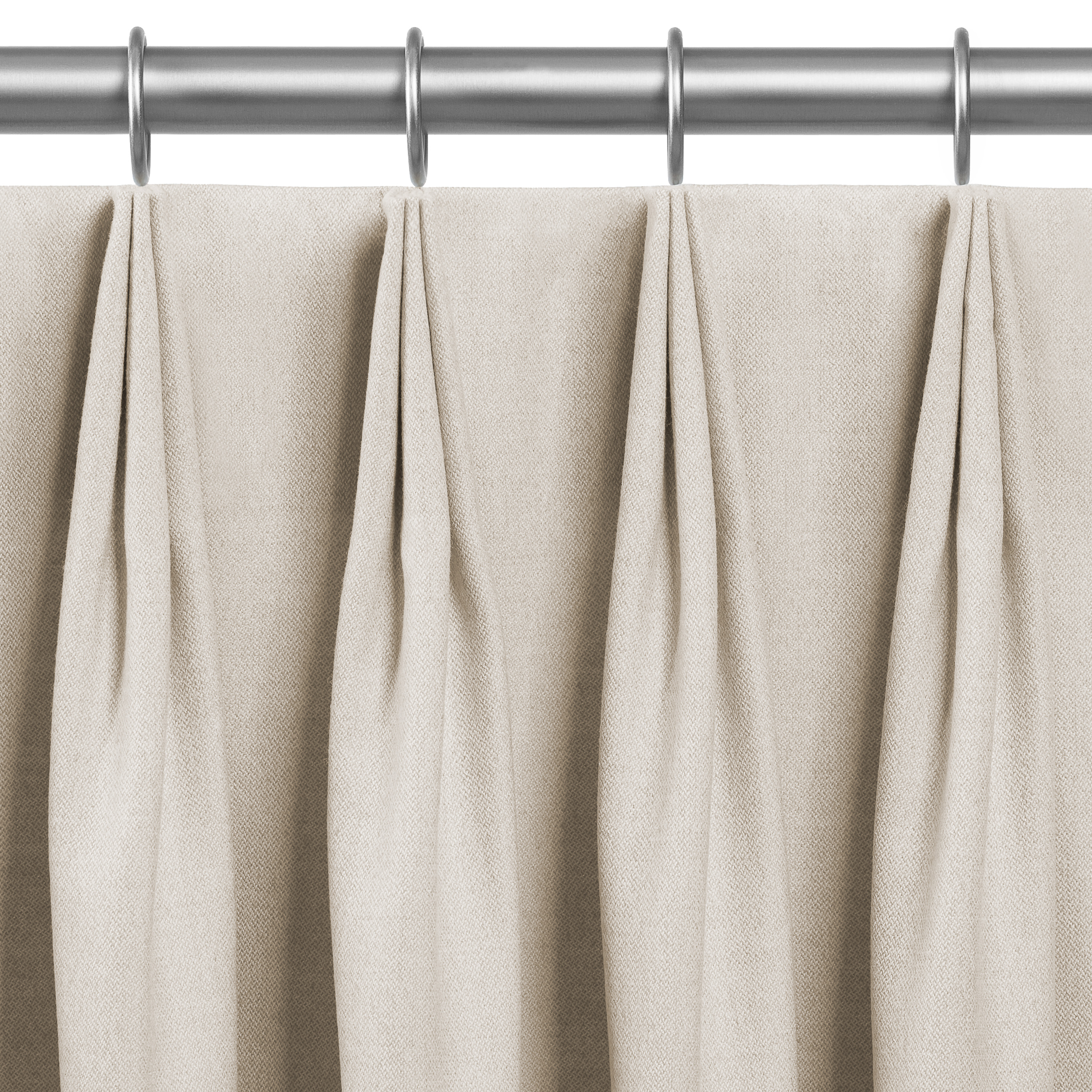 Tailored Pleat Drapery is another best-selling drapery design at The Shade Store. It's fuller and has an understated elegance. Its waterfall pleats are held stiff with a buckram stiffener, allowing this type of drapery to be functional and easy to operate. Similar to our Ripple Fold style, our Tailored Pleat draperies and curtains are available in many different colors, patterns and materials.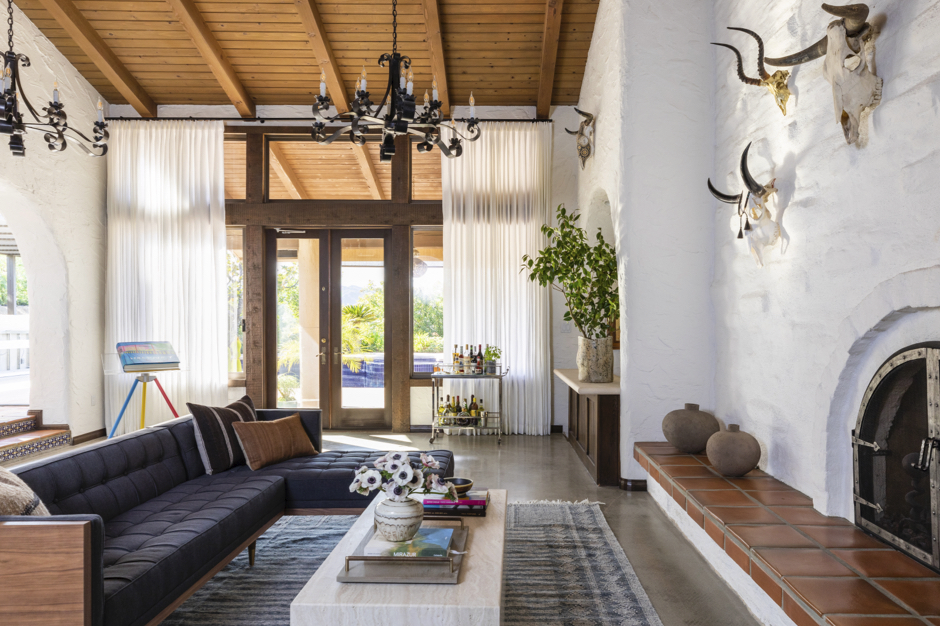 Tailored Pleat Drapery — Linen Sheers, White
If you are looking for a lighter material, our Linen Sheers may be a good solution for you. Alternatively, if you need something more substantial to help block a drafty window, our wools and blends collection is worth consideration for your draperies and curtains.
Pinch Pleat Drapery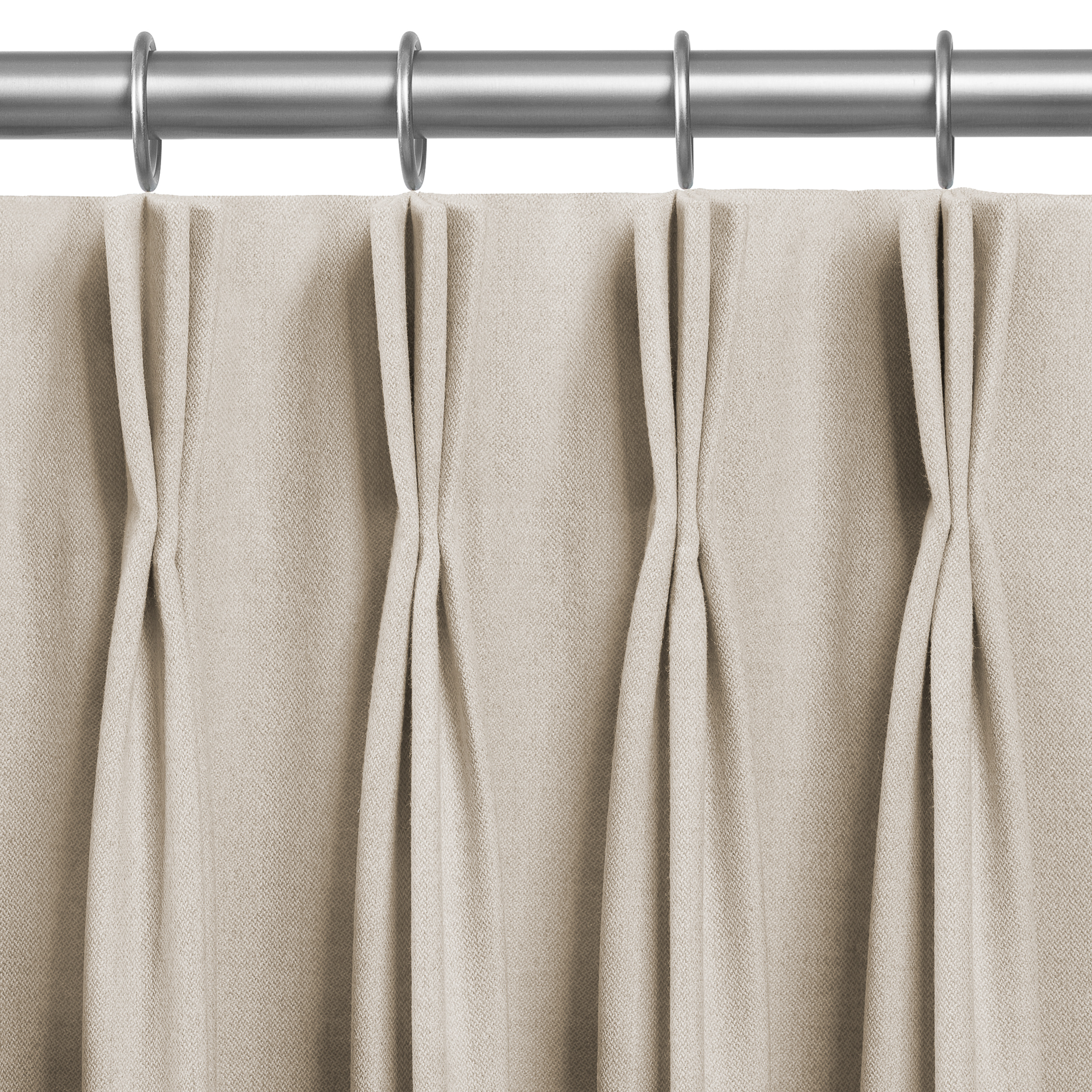 Our Pinch Pleat Drapery is classically beautiful. The pleats are pinched 4 inches from the top of the curtains, creating a simple but stunning shape. Similar to Tailored Pleat, this drapery style is held stiff with buckram fabric, making it easy to operate and functional.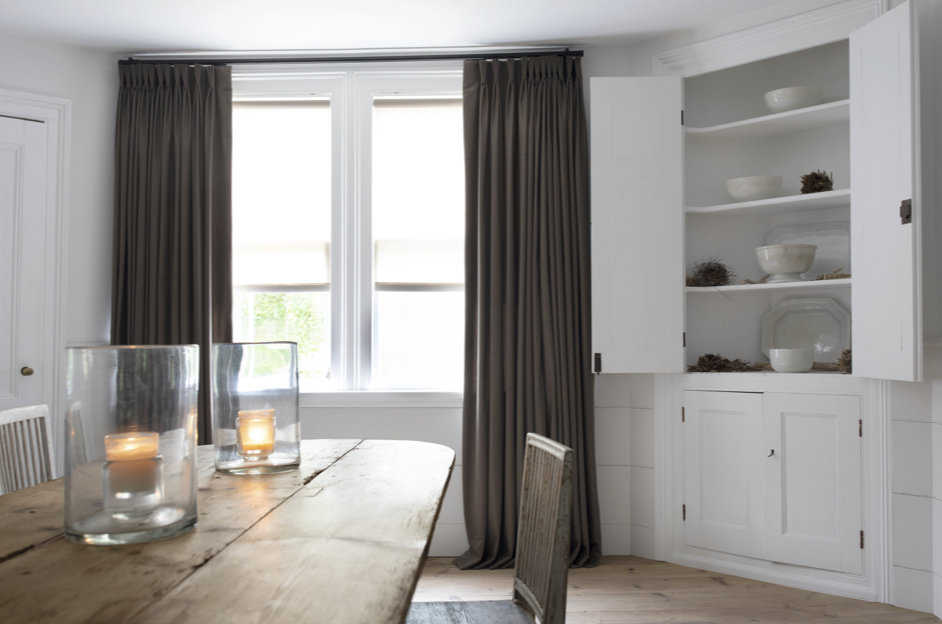 Inner Layer: Roller Shades — Sullivan, Sand / Outer Layer: Pinch Pleat Drapery — Holland & Sherry Wool Flannel, Walnut
While the pinch pleat drapery style is more traditional, it's easy to give it a contemporary upgrade with layers.
Inverted Pleat Drapery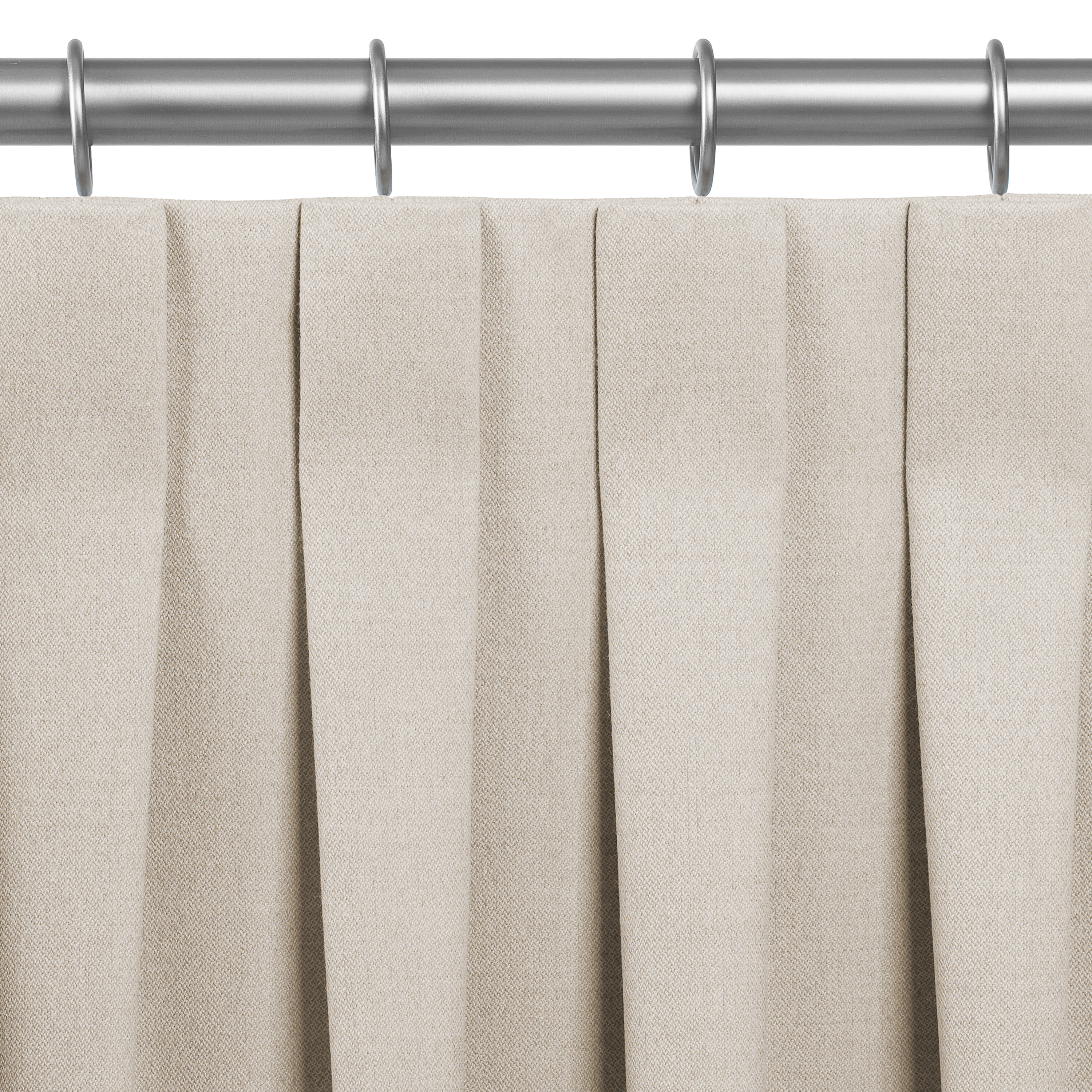 Inverted Pleat Drapery is a unique curtain design in that while it's neatly pleated, it still has a casual and relaxed character.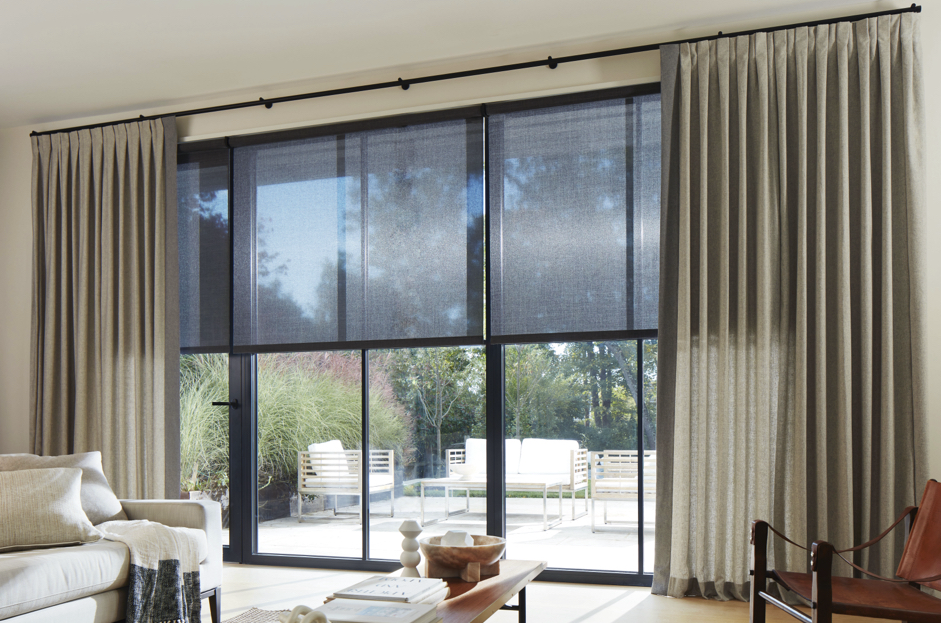 Inner Layer: Solar Shades — 10%, Black / Outer Layer: Inverted Pleat Drapery — Wool Blend, Fleece
This drapery style is better suited for decoration — not ideal for frequent opening and closing. If you need to control light, we suggest layering it with a roller or solar shade.
Goblet Drapery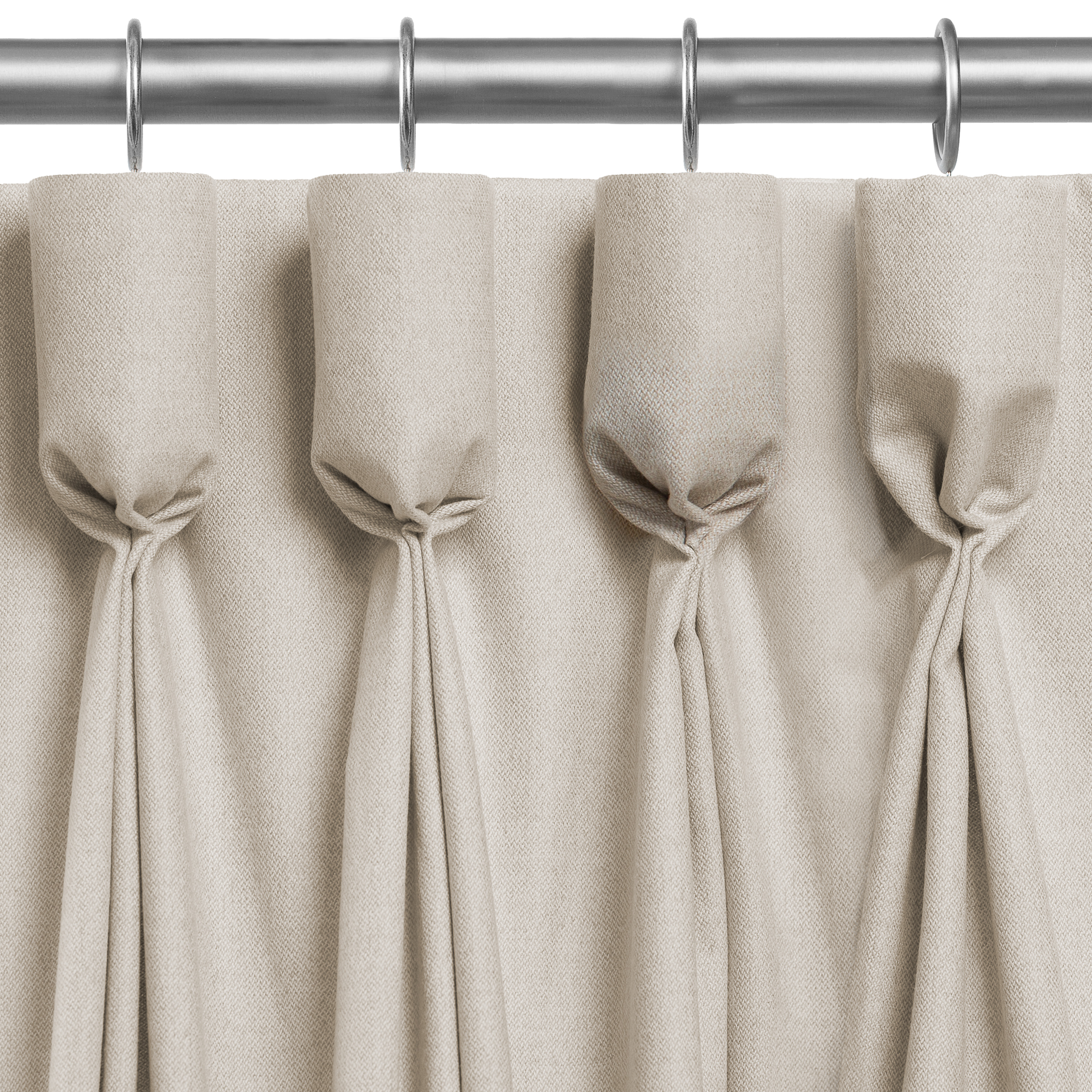 Goblet Drapery is designed with a sophisticated shape, showcasing large goblet pleats along the top of the panels.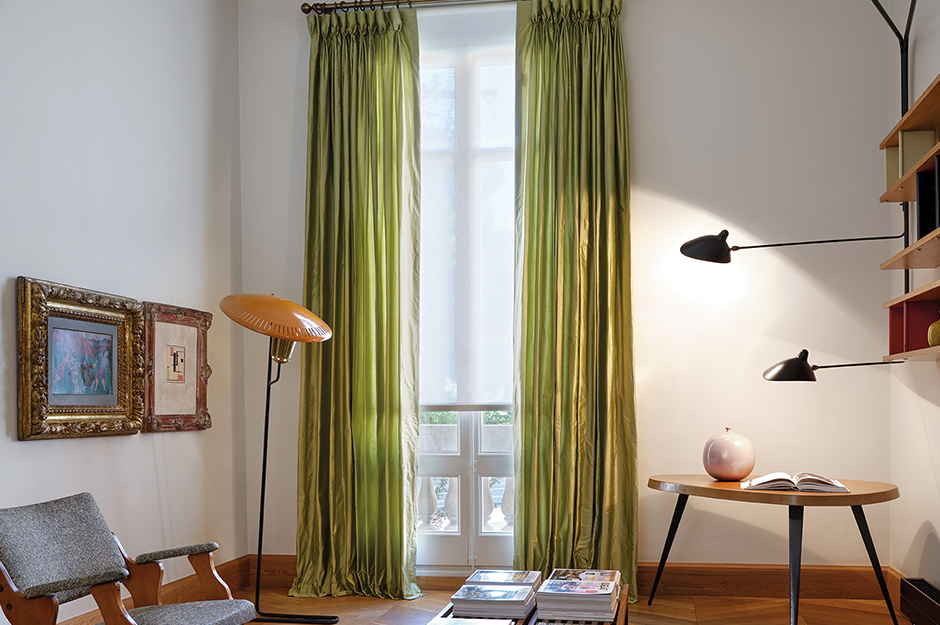 Inner Layer: Roller Shade — Prince, Ivory / Outer Layer: Goblet Drapery — Silk Dupioni, Leaf
Similar to our Inverted Pleat Drapery style, our Goblet Drapery is best used as a decorative accent and is not ideal for frequent use. Goblet Drapery has a large stack, which means that when open, more fabric will cover your windows.
Grommet Drapery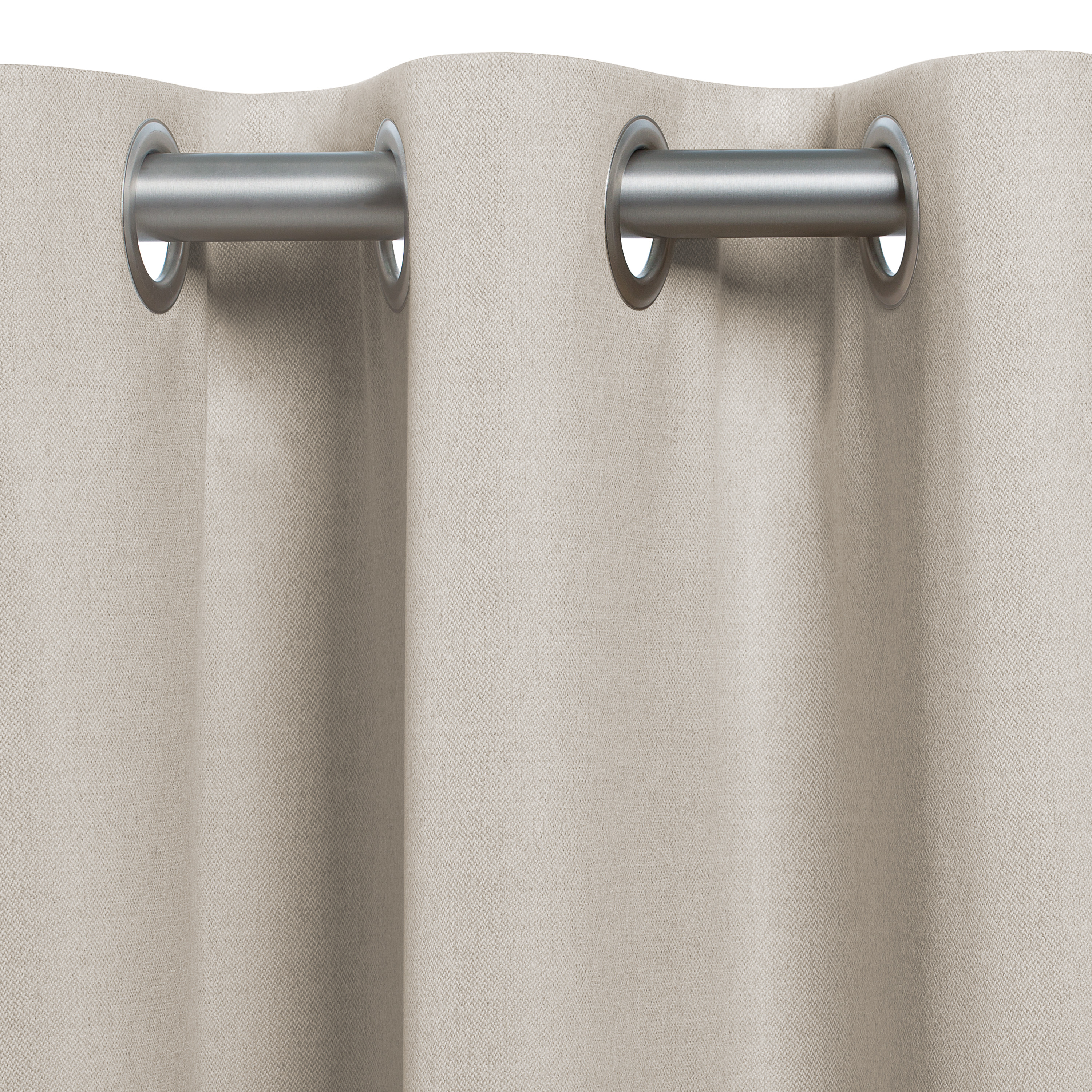 Grommet Drapery, as its name suggests, is hung from a rod with grommet rings. In addition to the many material and color selections at your fingertips, our grommets come in attractive finishes. We recommend matching the color of the grommet to the drapery rod and hardware.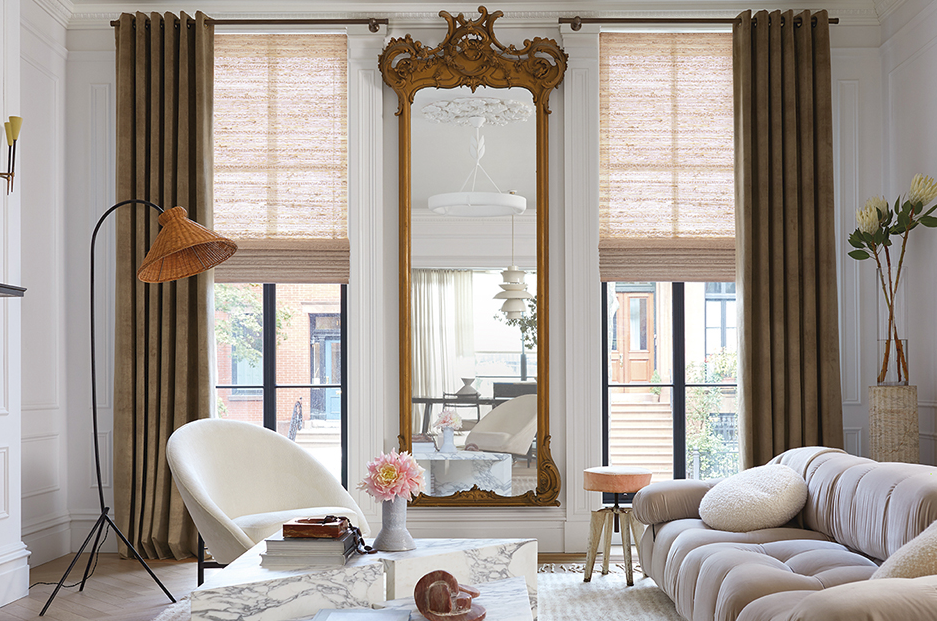 Inner Layer: Waterfall Woven Wood Shades — Artisan Weaves Cove, Ash / Outer Layer: Grommet Drapery — Velvet, Camel
Grommet Drapery has a dramatic appearance, thanks to its deep folds. It's primarily a decorative curtain style — not ideal for frequent use. It's important to note that the fabric of the grommet drapery measures one inch above the actual rod, due to the grommet inlay within the fabric.
Rod Pocket Drapery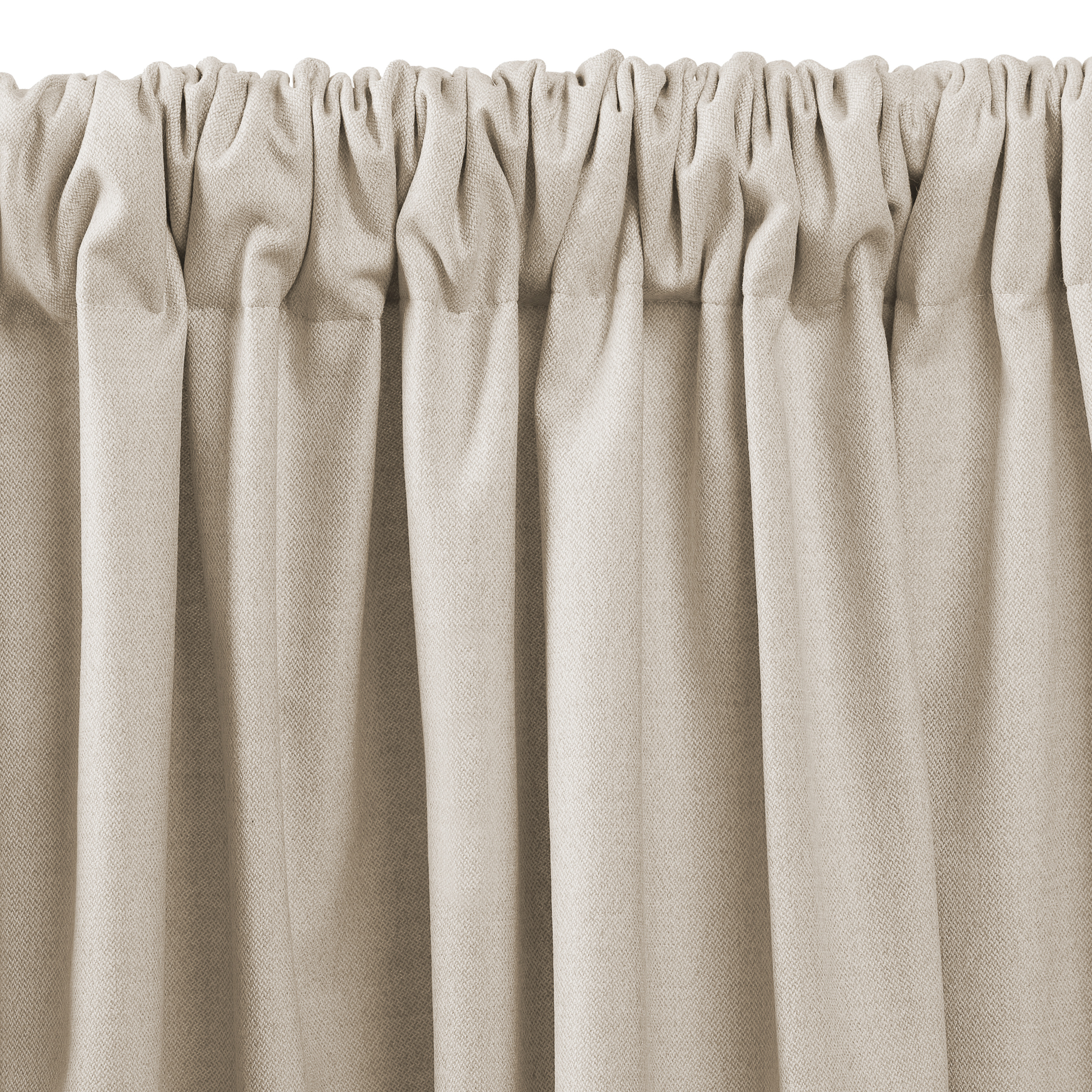 Our Rod Pocket Drapery is a classic, casual and traditional choice. The fullness of this drapery design is created by the gathered fabric near the rod pocket. Rod Pocket Drapery works best as stationary panels, as they're not ideal for frequent opening and closing.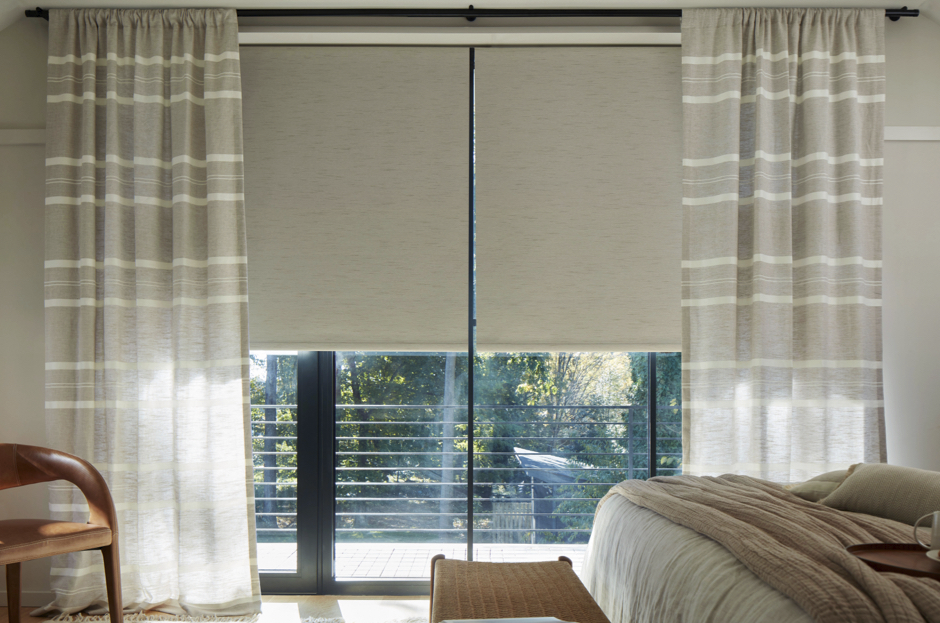 Inner Layer: Roller Shades — Cora Blackout, Shell / Outer Layer: Rod Pocket Drapery — Shoreham Stripe, Oatmeal
The pocket for the drapery rod is able to accommodate up to a two-inch diameter pole. In contrast to the goblet and inverted pleat drapery styles, our rod pocket draperies and curtains have a medium stack.
Cubicle Drapery
Our Cubicle Drapery is a great option if you're looking something a little more budget-friendly. This style is incredibly versatile and functional, making it perfect for everyday use. Small grommets attach to hook carriers, allowing the cubicle curtain to glide easily along its track. The cubicle drapery style has our most minimal stack.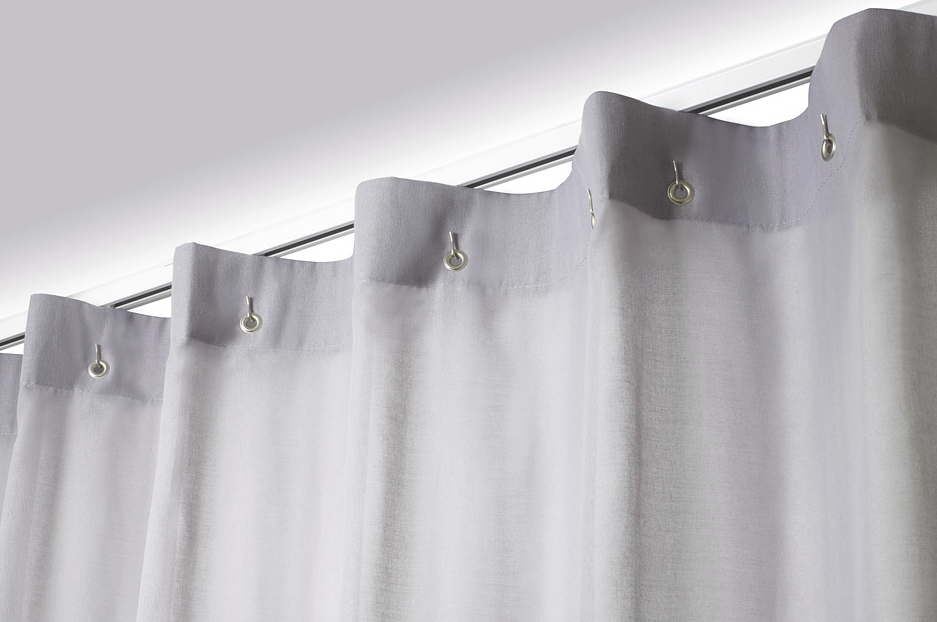 Cubicle Drapery — Sheer Wool Blend, Grey Owl
Want to see how each of our draperies and curtains look installed on your windows? Request a complimentary rendering or explore our inspirational draperies and curtains photo gallery.
We're Here to Help
Know exactly which draperies and curtains you want, or do you still have some questions? Either way, our expert Design Consultants are here to help. Visit one of our nationwide window treatment showrooms, give us a call, or email us at design@theshadestore.com to get started today!