Durable Window Treatments: Sunbrella for The Shade Store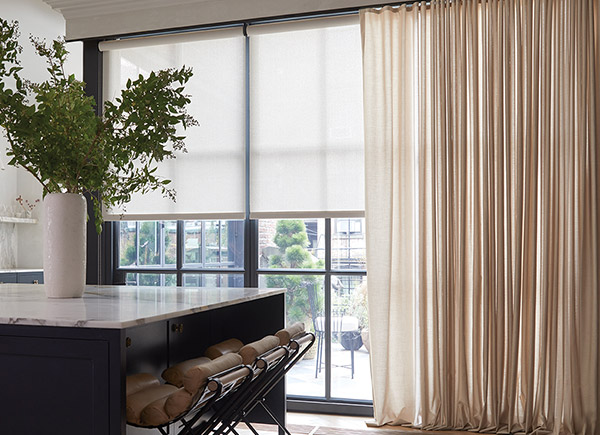 When you're searching for new window treatments for your home, you want to find styles that balance beauty and functionality. With the Sunbrella for The Shade Store collection, you can achieve both style and durability with one fabric option. Learn more about this exclusive line in this guide to Sunbrella fabric.
What is Sunbrella?
Sunbrella home fabrics are fade- and stain-resistant, which make them ideal for outdoor and indoor use. Sunbrella fabric materials are built to withstand wear and tear and will outlast other materials like cotton, silk, and linen. Sunbrella material is created from acrylic and PVC yarns, which are superior to typical nylon and polyester fabrics found in other performance fabric lines. Your Sunbrella curtains will withstand the test of time so you don't have to spend unnecessary money or time on replacement fabric, maintenance, or upkeep.
Sunbrella is a family-owned business with a rich history. The acrylic-based material was introduced in 1961 and was a more durable option than other materials like cotton. Since then, Sunbrella fabric has been perfected over time to create the legendary product we know today. When you choose Sunbrella material for your window treatments, you can rest easy knowing that these durable, high-quality fabrics will last for decades to come.
The Benefits of Choosing Sunbrella Fabric for Your Window Treatments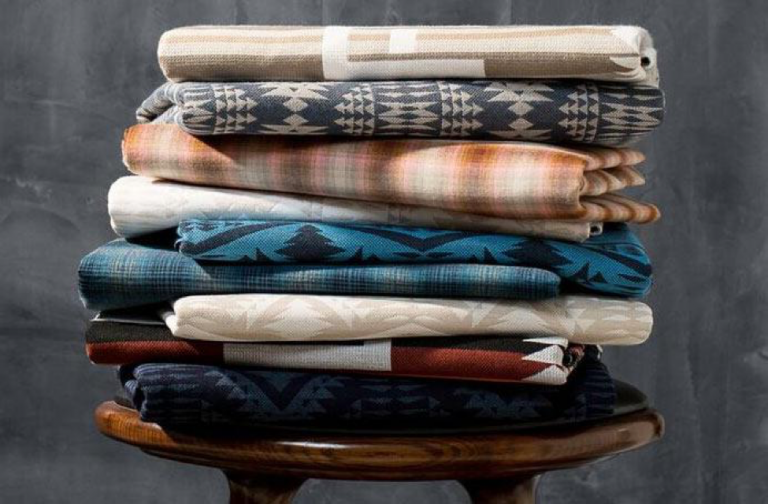 Sunbrella home fabrics are high quality and beautiful, but they're also durable enough for indoor and outdoor applications. Performance fabrics are a great choice for all of your home fabric needs, whether you are looking for Sunbrella curtains for your bedroom or living room or performance fabrics for any room in your home.
Here are the benefits of choosing Sunbrella curtains for your indoor window treatments:
Made of High-Performing Durable Materials
Sunbrella fabrics are made from durable materials that are designed to withstand the elements, like strong winds and harsh sunlight. The unique composition of Sunbrella materials lets you create curtains and drapery that are resistant to stains, fading, water damage, and mold and mildew. Sunbrella indoor fabrics are ideal for bathrooms and kitchens or for families with kids and pets.
Easy to Clean
Sunbrella fabrics are easy to clean and maintain, so you can spend more time enjoying the view instead of cleaning your window treatments. All you need to keep your window treatments in great shape is soap and water and a clean cloth. In the case of major messes, Sunbrella fabrics can also be treated with heavy-duty cleaning materials, like bleach, which makes them great options for bathrooms.
Available in Custom Window Treatment Styles
Sunbrella for The Shade Store window treatments can be customized to suit your unique needs. Since Sunbrella has partnered with The Shade Store, these durable window treatments are custom made for each room and window. With 80+ colors and 15 material options, from solids to sheers, for shades, drapery, and cornices, you can find the perfect fabric to create the ideal combination of style and function. You can choose from ready-made window treatments, or create custom Sunbrella curtains of your choice!
The Sunbrella for The Shade Store Collection
The Shade Store offers three exclusive Sunbrella collections featuring subtle solids, rich textures and iconic patterns. Learn more about each collection so you can choose the best one to complement your personal style.
From subtle solids to bold patterns, fabrics in the Sunbrella Ventana Collection are not only high in style, but deliver the legendary fade-resistant and ease of cleaning qualities that Sunbrella is known for. The Ventana Collection is perfect for crafting custom-made window treatments such as drapery, curtains, Roman shades and cornices.
If you're considering energy efficient solar shades, Sunbrella has a solution for you. The stylish design and trusted performance of Sunbrella fabrics are now available for custom Solar Shades exclusively at The Shade Store.
Pendleton® by Sunbrella celebrates classic weaving traditions, iconic patterns, and the proven performance of Sunbrella textiles. Pendleton is a lifestyle brand recognized worldwide as a symbol of American heritage, authenticity and craftsmanship. If you're looking for a classic, yet durable window treatment, the Pendleton Collection may be your perfect fit.
Order Your Free Sunbrella Material Swatches Today
If you're interested in learning more about Sunbrella window treatments for your home, you have a few options. First, you can always find a showroom near you to meet with one of our design consultants. A design consultant will be able to help you explore different styles and find the best Sunbrella fabric for your home.
If you prefer to shop online, you can search our selection of Sunbrella fabrics and materials for window treatments on our website. Pick your favorite fabrics and order free swatches of Sunbrella fabric right to your door!