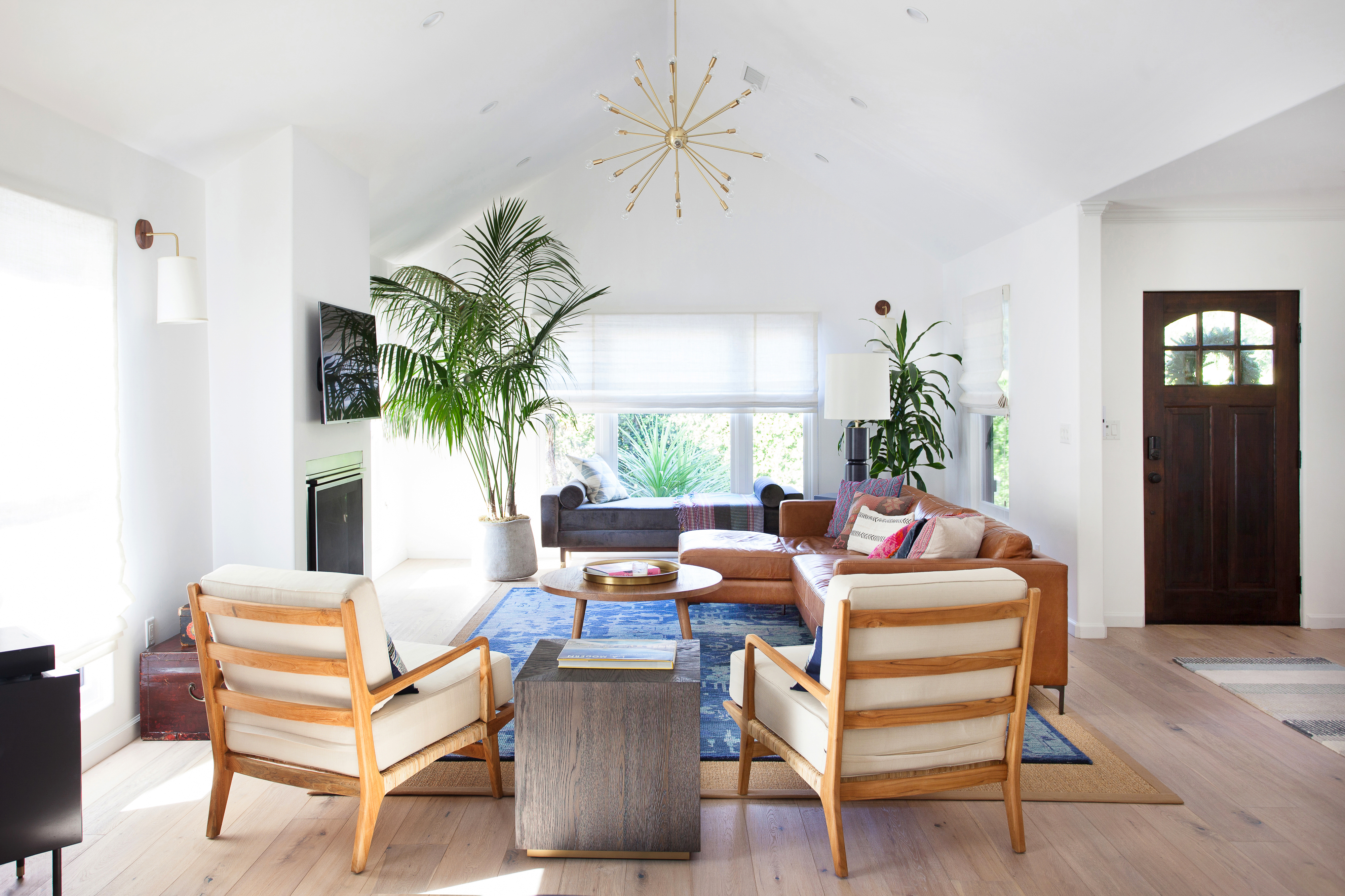 Natalie Myers, the design principal and owner of Veneer Designs, gave us a virtual tour of this beautiful open-concept West Hollywood home that her firm designed. "The house was for a couple who wanted to bring beachy comfort and mid-century Palm Springs style to their new construction Spanish Modern home. An interesting mix for sure but we were up for the challenge."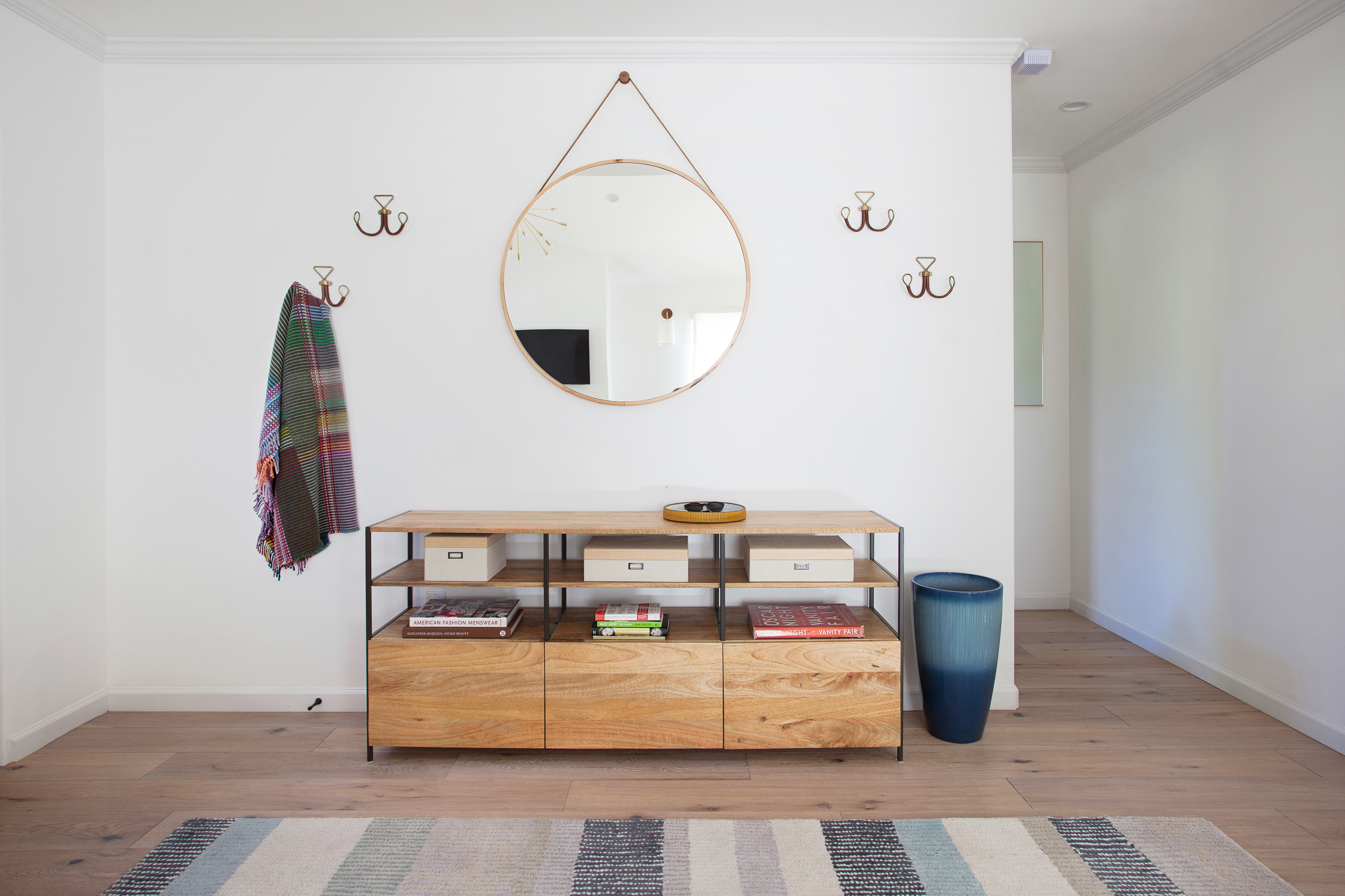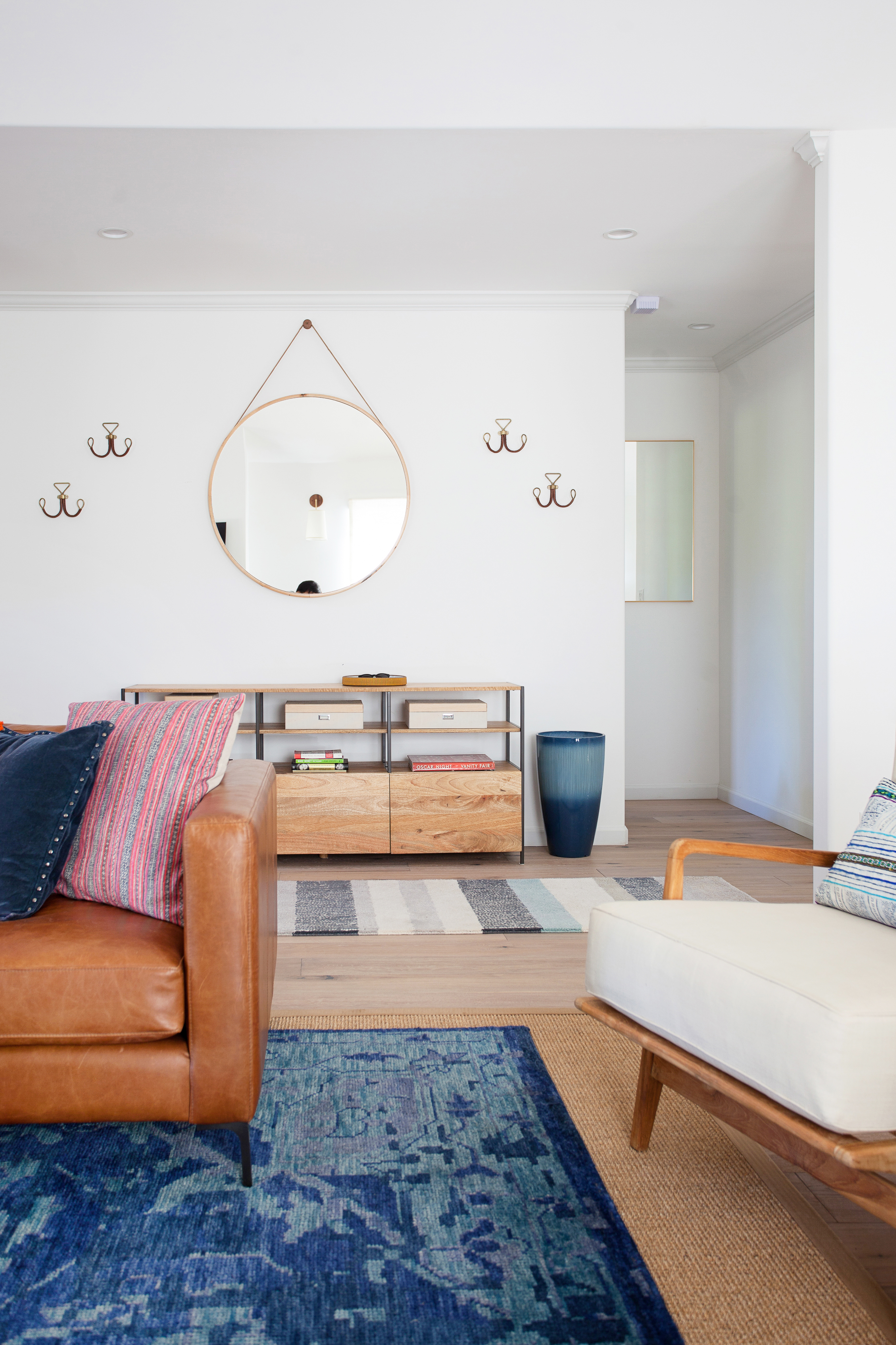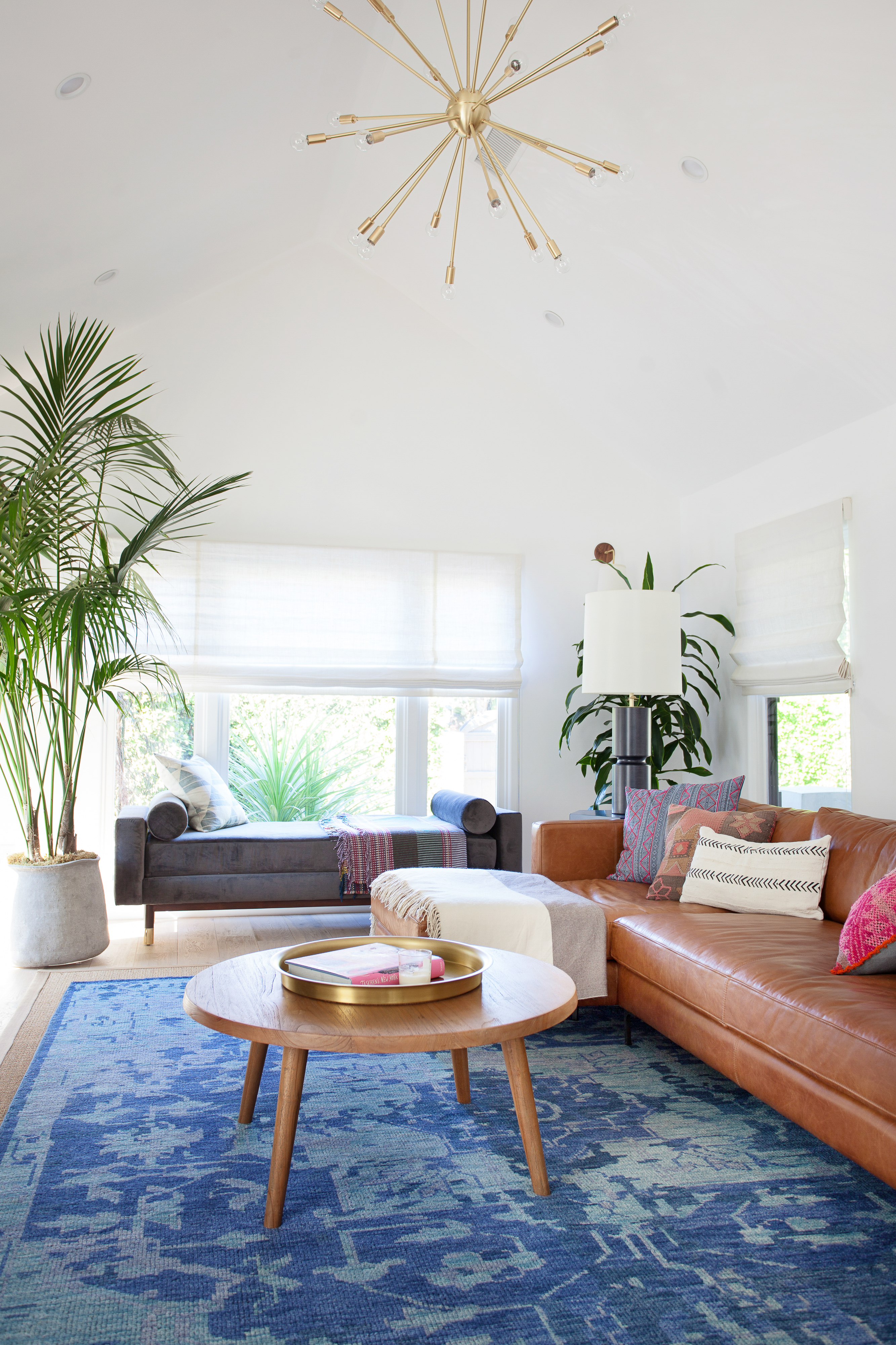 The home has an open entryway, complete with a large console and plenty of hooks for functional storage. This space flows right into the large, light living space which has lots of seating, perfect for hosting! The room filled with mixed textiles and wood finishes, is subtly eclectic, but well-balanced by the white walls. Natalie and team selected our Flat Roman Shades in Luxe Linen Oyster, for a bright and breezy feel.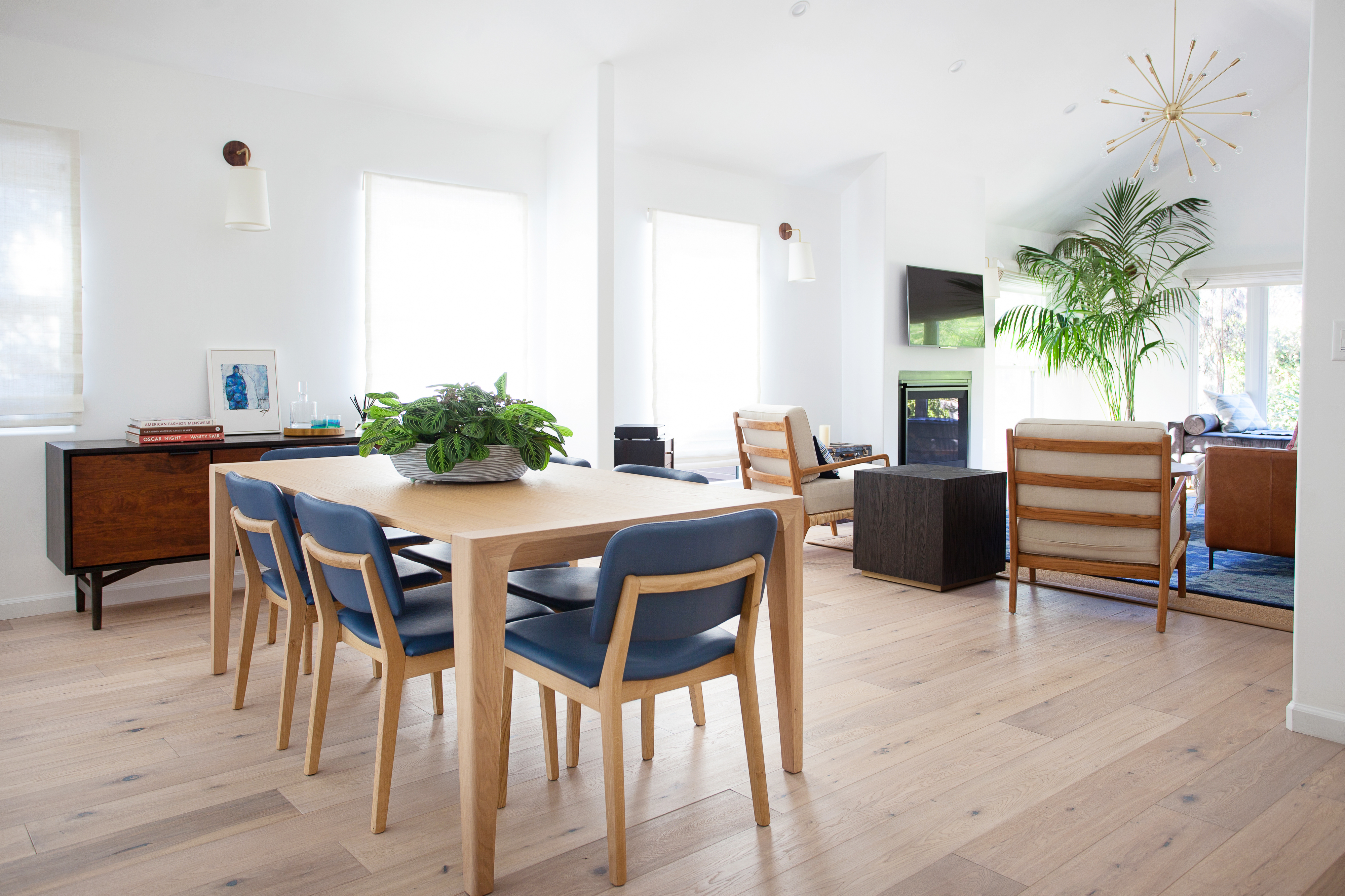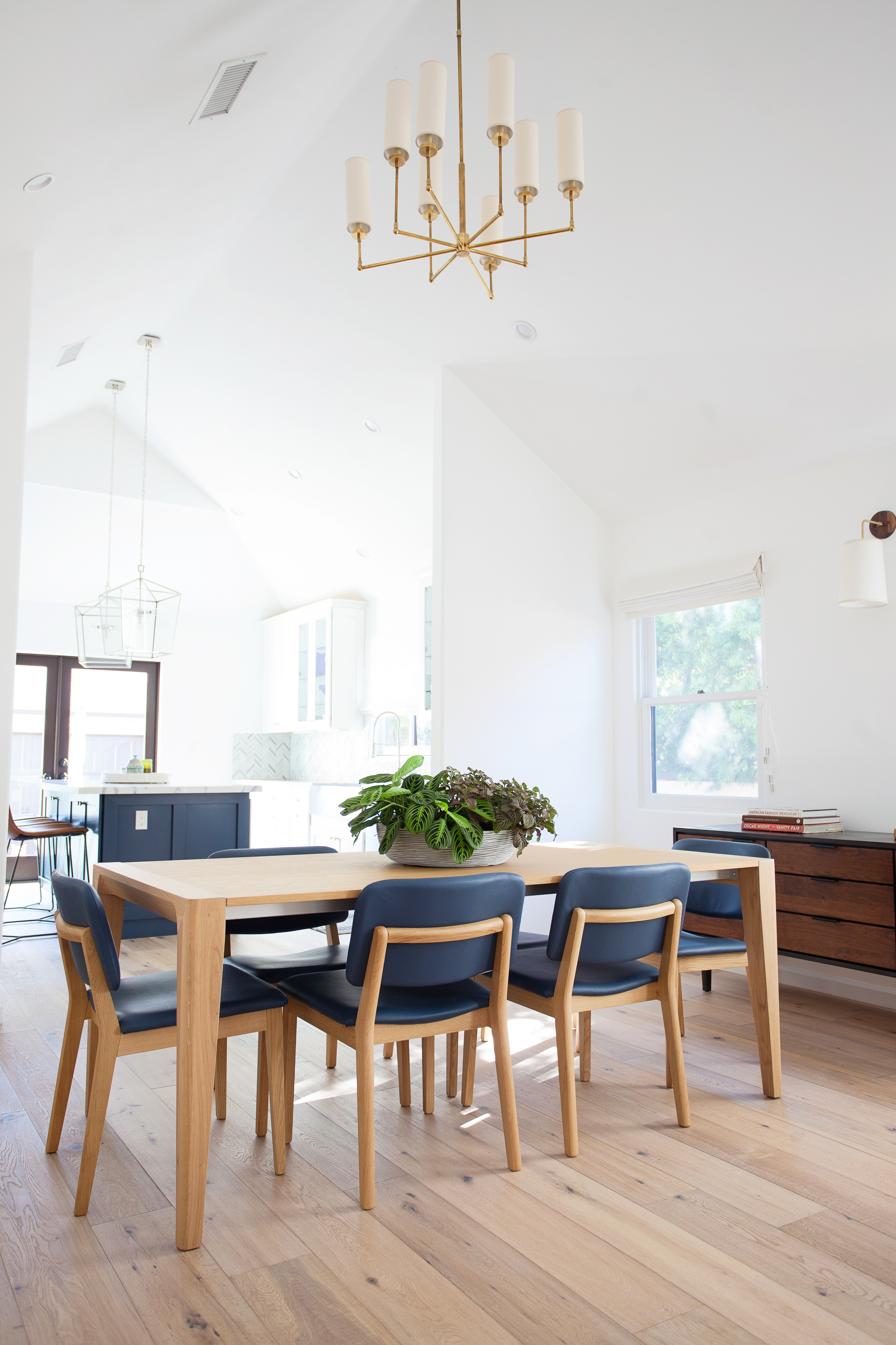 Directly behind the living room is the dining space, which is minimal at first glance, but the high ceilings evoke a grand elegance.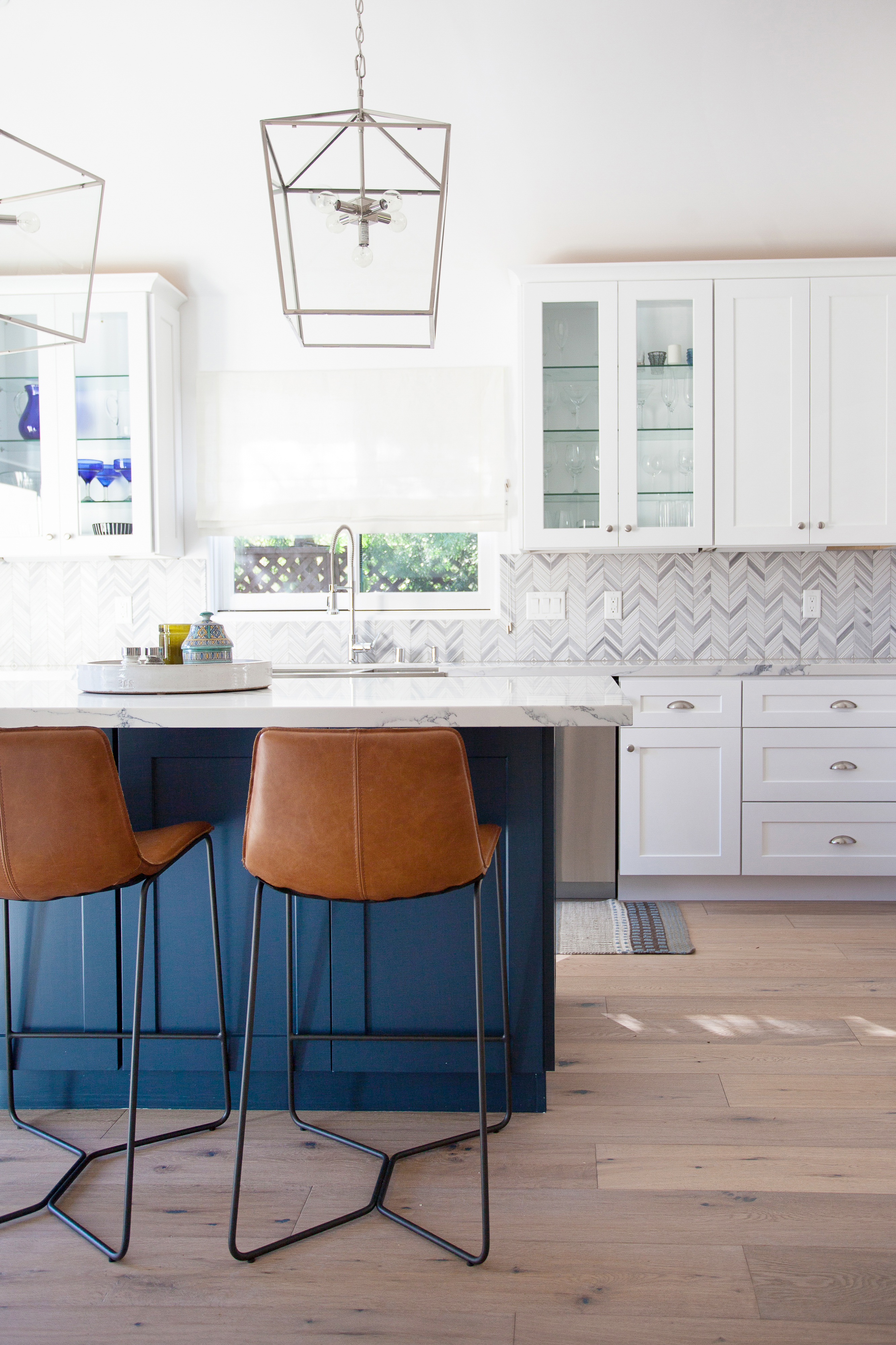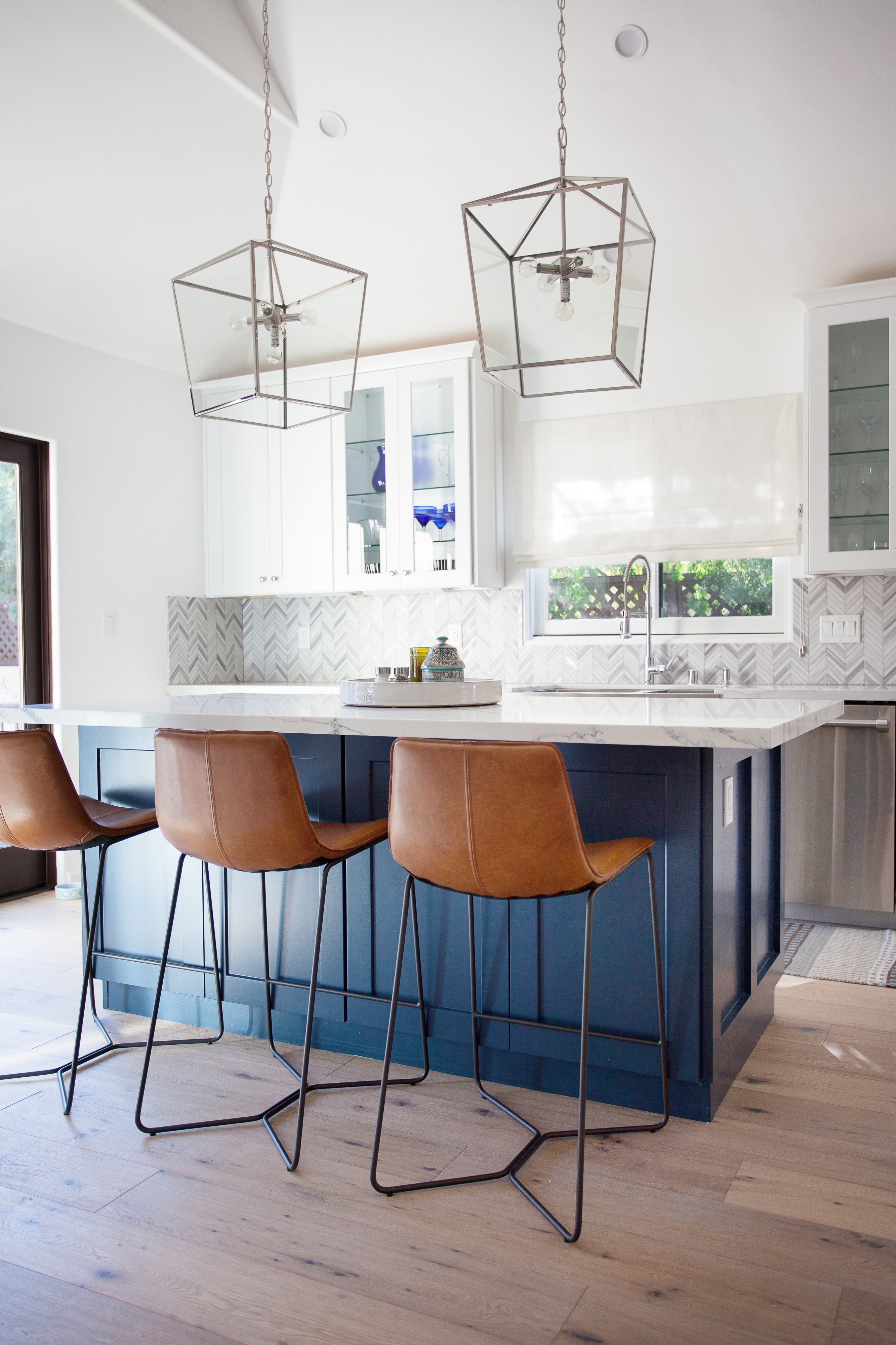 The kitchen is light and airy, but grounded in the rich, leather stools and a deep blue island. Natalie says of this space, "Being that the couple was two men, we integrated plenty of masculine notes like leather, and moody blue greys. This balanced out with the white walls so it feels light and happy."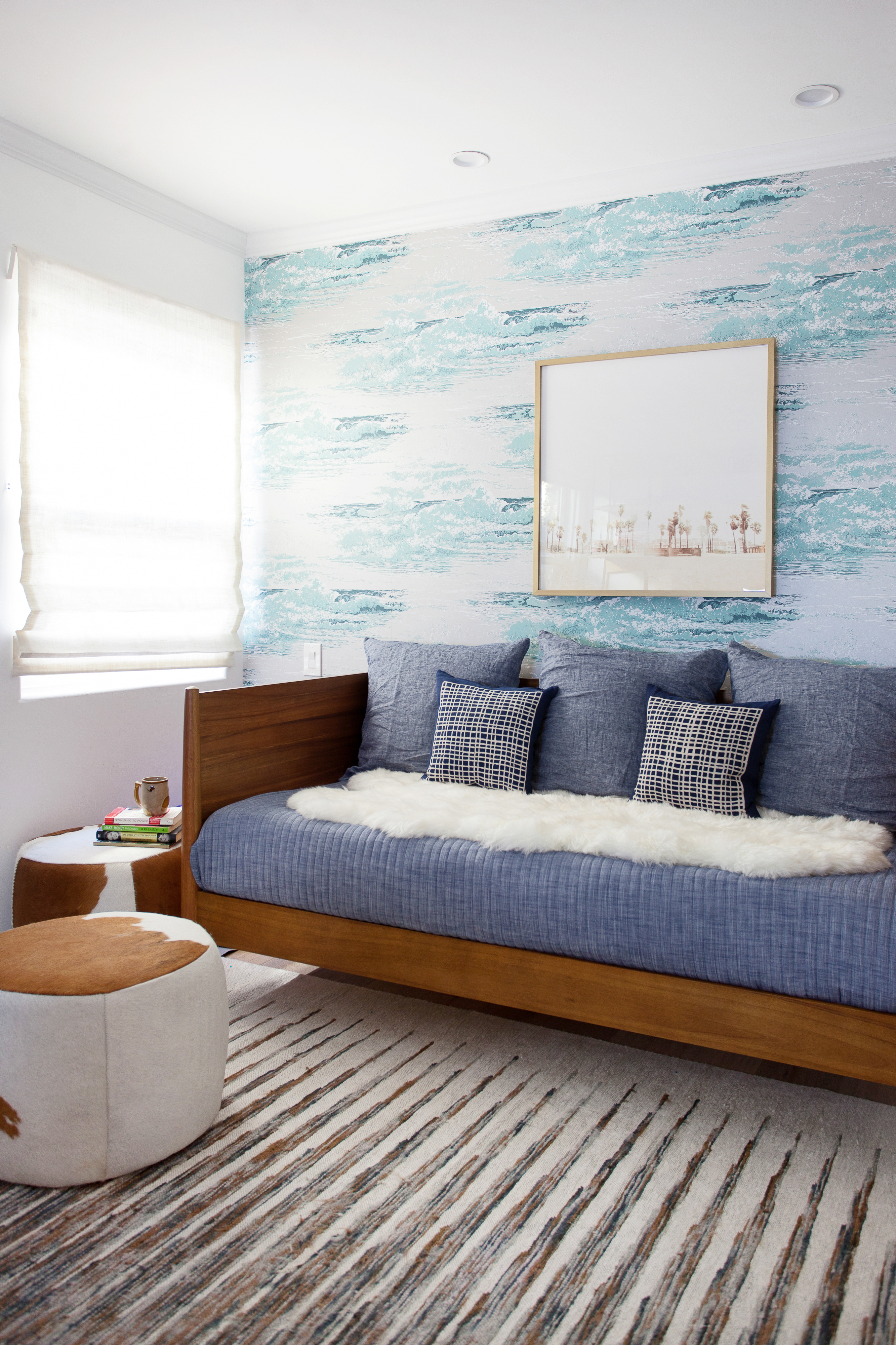 For the guest room, Veneer selected a daybed, allowing the room to also function as a home office space in the daytime. To create a focal point in the room, they chose a beautiful, beachy pattern from Walnut Wallpaper. Our Luxe Linen Flat Roman Shade lets the perfect amount of light into the space.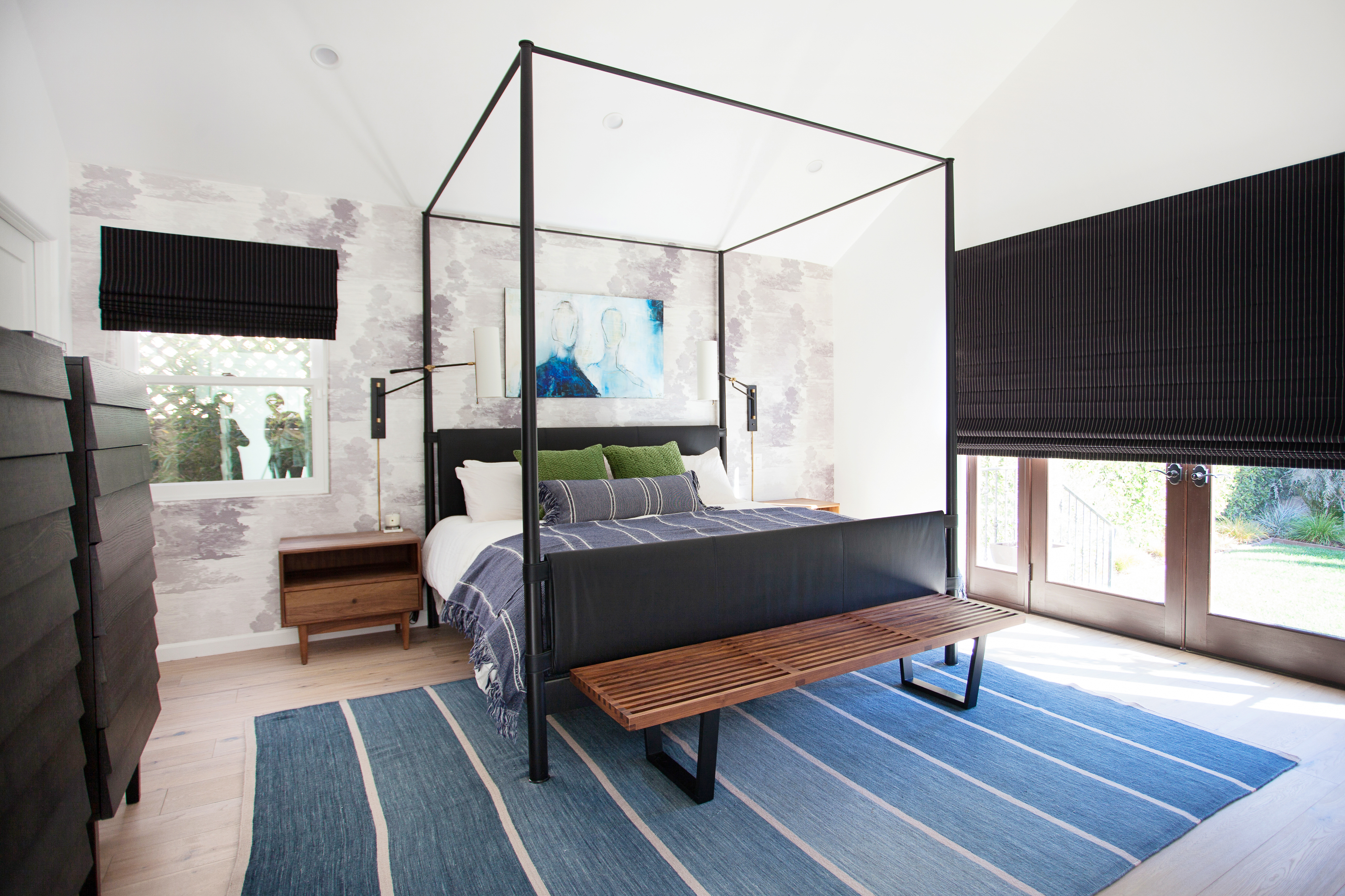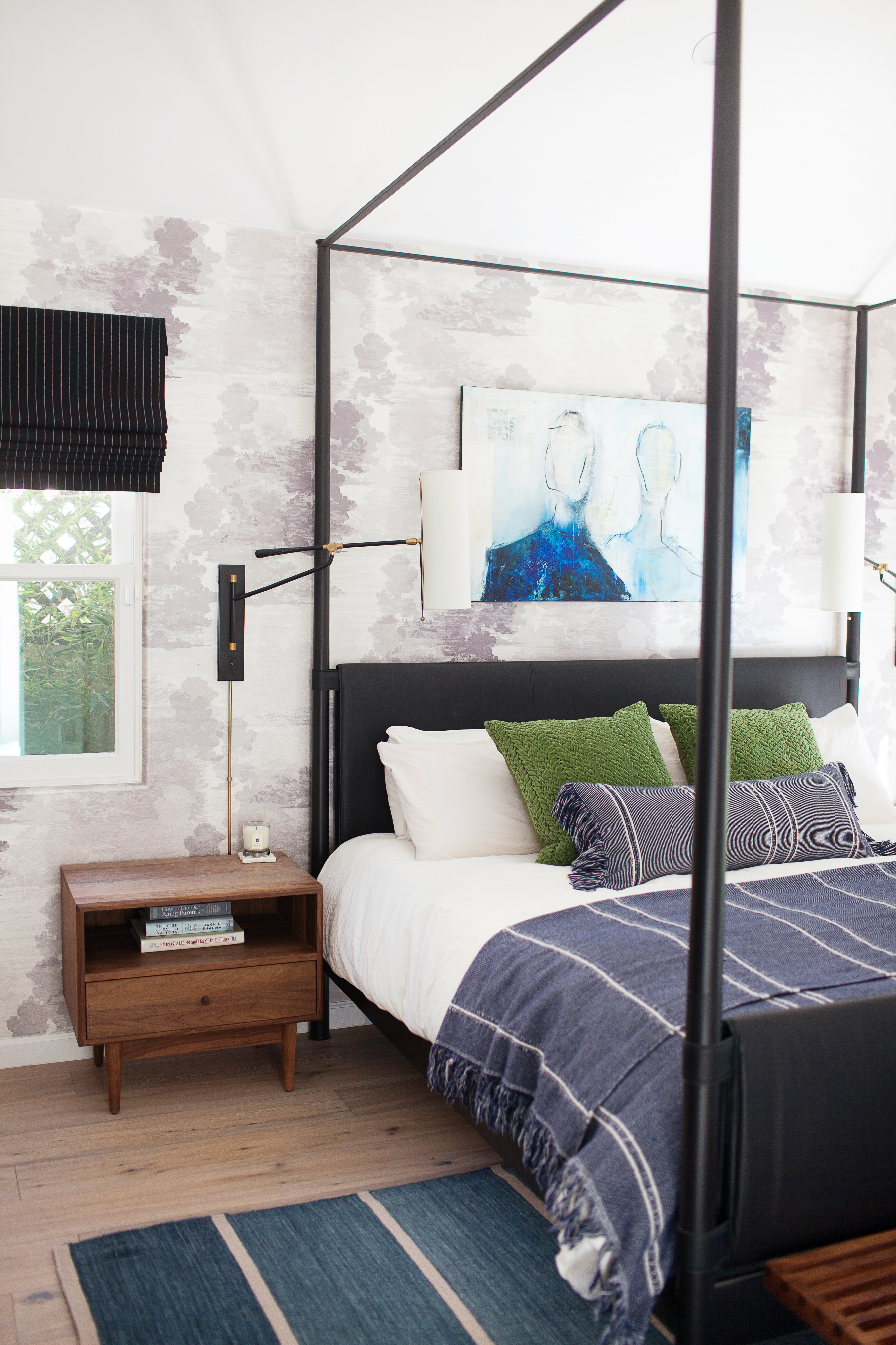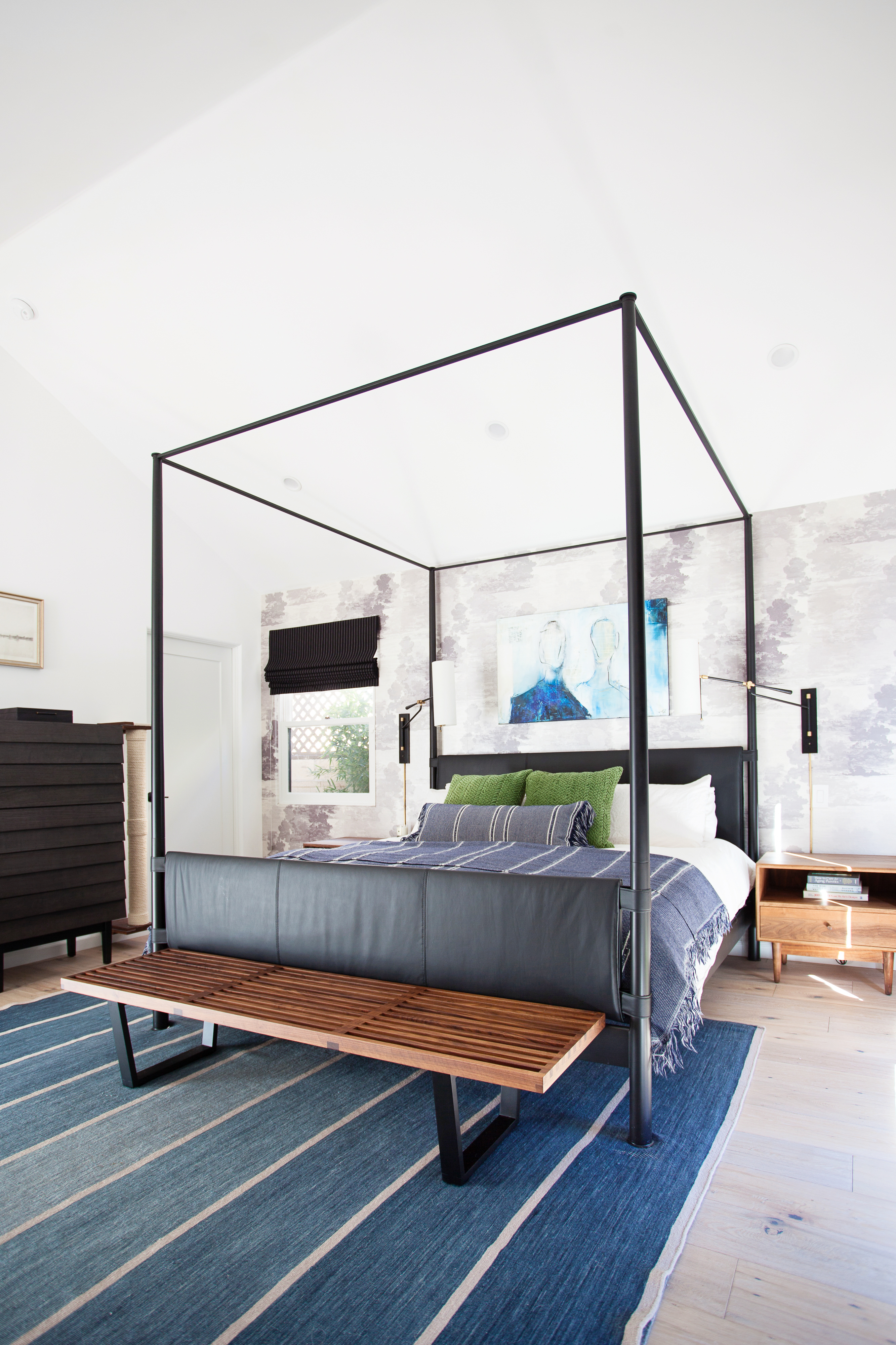 The master bedroom is one of the most impressive rooms in the home. The combination of stripes, large-scale pattern, and modern furniture pieces is unexpected, but works seamlessly throughout the space. Our Flat Roman Shades in Suit Stripe, the Restoration Hardware canopy bed, and the dark, tiered dressers bring that same balanced masculinity into the design.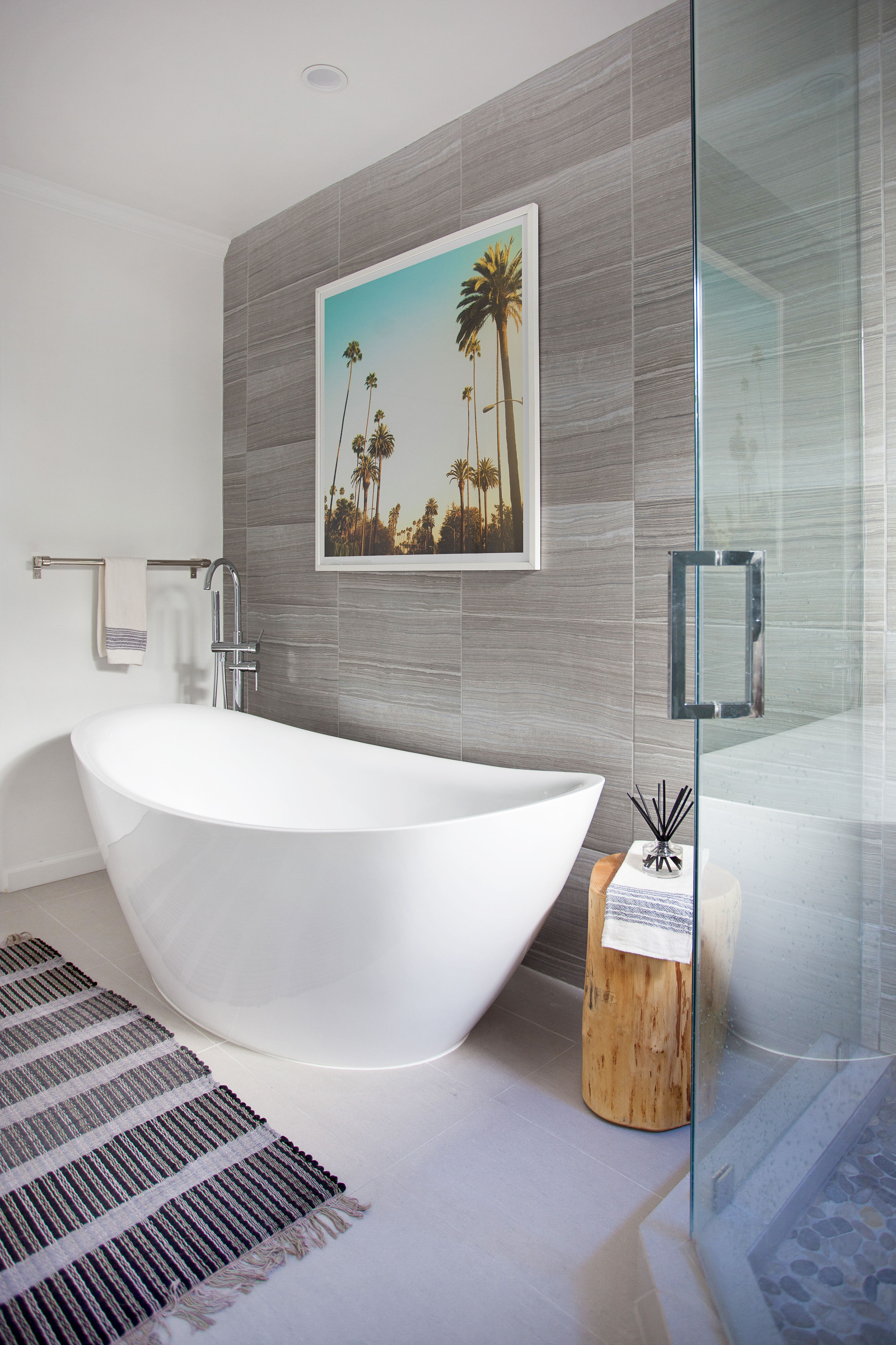 The master bathroom is a coastal-inspired retreat; it's vibe is reflected in the artwork above the large and luxurious bathtub.
Natalie and the whole team at Veneer Designs certainly succeeded in bringing mid-century Palm Springs to West Hollywood, all while playing off of the home's Spanish Modern construction. What a stunning space!
ABOUT NATALIE MYERS
After a decade of developing her expertise in interior design and construction project management in the corporate sector working in-house for LPA Architecture, The Coffee Bean & Tea Leaf, and Cushman & Wakefield, Natalie offers a detailed and highly organized strategic approach to any sized project. Six years after starting her own firm, her ambition remains to bring her vision of uniquely California inspired modern bohemian interiors to normal every day homes and offices, sensibly. Her professionalism and passion for the design process lends itself well to ensuring the project is a success with a proven track record. What sets Natalie apart from other designers is her natural design talent coupled with a detailed understanding of the construction process. She can not only create an organized unique design plan, but also oversee its implementation to completion. A reverence for architectural history, an appreciation for the natural environment, and an awareness of current design innovations marks an award-winning Veneer Designs project.
Natalie holds a Bachelor of Science degree in Interior Design from Cornell University and is a LEED accredited professional. She resides in Los Angeles with her husband and two young children where her eye is restlessly scanning the environment for any and all design inspiration moments.
See more Veneer Design projects here.
Ready to transform your home with some new window treatments? Our expert Design Consultants are ready to help! Visit one of our 55+ nationwide showrooms, give us a call, or email us at design@theshadestore.com.
Photography credit to Phoebe Chuason.