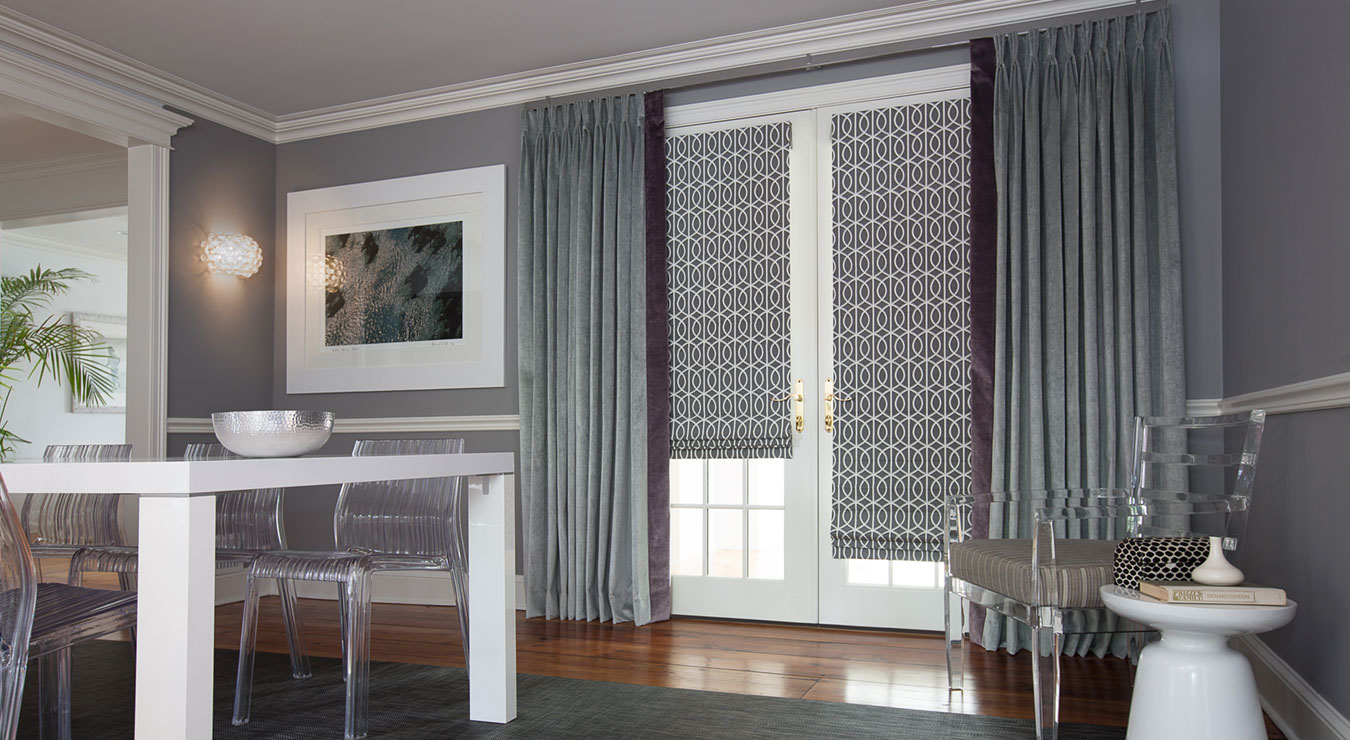 The fabric you choose for your drapery can set the mood of your entire room. Drapes can make a space feel light and airy, formal and stately, or opulent and luxurious. Don't forget functionality though – your fabric choices should also depend on what you wish to achieve with your window treatments, such as insulation, privacy, or light blockage.
We've selected a few drapery fabrics that hang beautifully and perform a variety of tasks. Keep reading to learn more about their characteristics, benefits, and our design recommendations for each one.
Formal Elegance: Velvet Drapes
Velvet – just the word brings to mind sophistication and glamour. The heavy weight of velvet makes for gorgeous, full folds of fabric in your drapery. It is an ideal fabric choice for light blocking window treatments, either as freestanding panels or layered over roman shades (as shown in the image above), roller shades, or other sheer drapery panels. Paired with a lining, velvet drapes can provide insulation for drafty windows.
Although velvet tends to absorb light and has the potential to make a room feel dark, lighter colors of velvet have a shimmery quality. Try velvet drapes in a color similar to the walls for a more understated, but still lush, look.
Velvet drapes look beautiful in more formal spaces, such as dining rooms and sitting rooms. 
Crisp, Clean + Light: Linen Drapes
Linen drapes lend an airy, light feel to living spaces. Perfect for sunny rooms, they allow some natural light to filter through while reducing glare. Linen is soft to the touch, and its woven texture adds subtle interest. Both durable and affordable, linen is a versatile design choice for any style.
Of course, if you love the look of linen but would like more privacy, choose one of our three lining options: privacy, blackout, or privacy + interlining.
The casual feel of linen drapes fits well with family rooms, living rooms, and sunrooms.
Rich Texture: Silk Drapes
Silk offers a rich, lustrous texture to your window treatments. Silk dupioni and raw silk both have heavier textures than a silk taffeta. Silk also has a luminous sheen, reflecting light and creating an elegant look.
Silk is particularly prone to sun damage, so we recommend a lining or accompanying shades under the drapes to preserve the life of the fabric if the window receives a great deal of sunlight.
Silk drapes create a dramatic statement in bedrooms layered over shades or sheer drapes. They also work in more formal settings, and can act as the focal point of a room.
If you're still trying to decide on a fabric for your drapes, order your free swatches today. Sample as many as you like, and you'll receive them in 1-3 days.