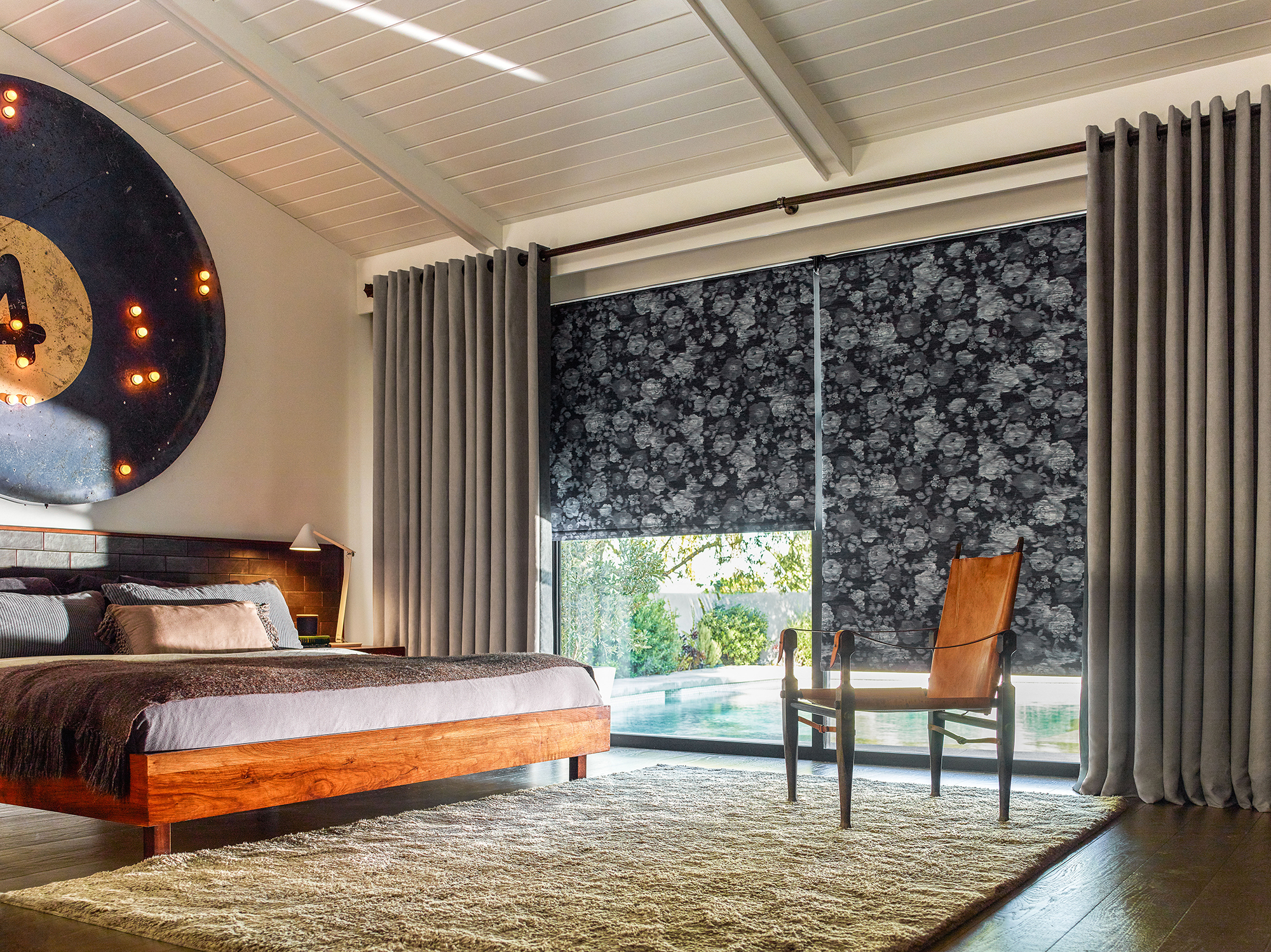 Drapes have the power to give a room a polished, complete feel as well as providing important functions like privacy, light blocking, and insulation. From the rod height to the curtain length, there are many factors that affect the finished appearance of drapery. Follow these five tips that we have compiled over the years of working with window treatment design to achieve the perfect look with your drapes.
Choose Hardware that Complements Your Décor
Drapery hardware offers many opportunities for customization, including material, finish color, finial options, and control type. The Shade Store has 16 designer collections, including traditional rod and ring styles, smooth track systems, and motorized tracks. If the drapery fabric is the star of your treatments, several track systems available in a variety of colors can blend seamlessly into the window frame, wall, or ceiling. You can also choose from finishes like wood, stainless steel, antique bronze, satin brass, and many more. The hardware should complement the rest of your room's décor, although that doesn't mean it has to match exactly. Mixed metals and touches of industrial style are both on trend for 2017.
Consider Light Blockage When Selecting a Fabric
Color and pattern are important, but keep in mind a material's ability to provide privacy and light blockage. More substantial fabrics like wool blends will hang differently and block light and drafts differently than thinner materials like linen. You can always tailor drapery material to your needs with lining options. We offer Blackout, Privacy, and Privacy + Interlining styles that can serve to protect delicate fabrics from sun damage, provide more privacy, and add body and fullness to the drapes. Unlined drapery preserves the natural transparency of the chosen material.
Breaks or Puddles Can Hide Uneven Floors
When measuring for drapery, the finished length is an essential decision. A small break or puddle, meaning that the drapes touch the floor with an additional ¼" to several inches of fabric, can successfully hide uneven floors in a stylish way. Puddles are also recommended for natural materials that can stretch, such as wool and linen. If the drapes will be opened and closed frequently, a ½" floor clearance can help keep them clean and easy to use. When in doubt, our expert Design Consultants are happy to help you decide on the right amount of puddling, and you can schedule a free professional measurement with our nationwide network of installers.
Hang Drapes Above the Window for a Dramatic Effect
When possible, hanging drapery several inches above your window will draw the eye up, making ceilings look taller and the window look larger. This can also serve to show off decorative trim when the drapes are open. For particularly large walls of windows or sliding glass doors, drapes can be mounted from the ceiling for a stunning wall-of-fabric effect.
Layer with Another Window Treatment for Versatility
Layered window treatments not only add luxe dimension and softness to your décor, they also give you more control over light and privacy. Shades can be partially drawn to block the top half of the window while still allowing in natural light below, or transparent shades can reduce glare while keeping the room bright. A combination of blackout shades and blackout lined drapes creates a dark environment perfect for sleeping.
Order free swatches of any of our drapery materials, or visit one of our nationwide showrooms to pick your treatments in person.