More colors. More patterns. More unforgettable style. Maximalist décor is a trending topic in interior design, and The Shade Store has everything you need to find the perfect window treatments for your own maximalist masterpiece. From custom Roller Shades to exclusive designer Roman Shades to luxurious Drapery styles, there's something to suit your style. Keep reading to explore a few of our favorite maximalist window treatments featuring some of our renowned designer partners.
Custom Roller Shades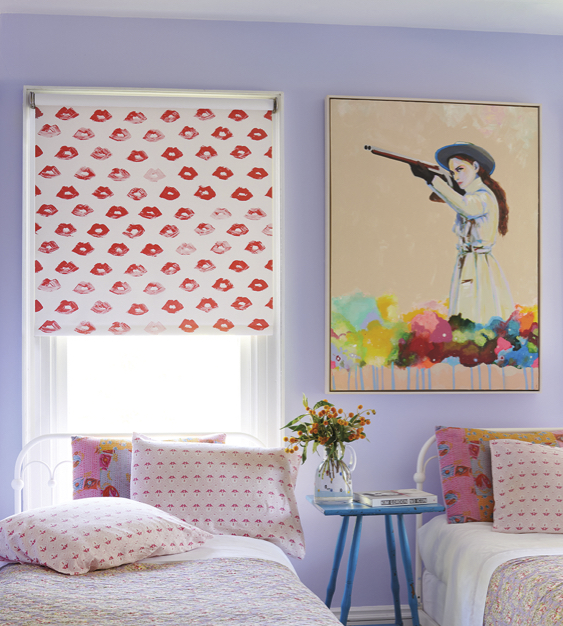 Pictured: Roller Shade — The Novogratz Painted Lips, Red Lips
Created in collaboration with friend of The Novogratz, artist Donald Robertson, Painted Lips is a bold exclusive designer window treatment material that gives windows a lively pop-art feel.
Inspired by family and fun, The Novogratz are known for their adventurous yet perfectly curated aesthetic. "With modern homes, you have to be a good editor and you have to hold back," says Robert Novogratz. "In homes with more color and pattern, you have to edit in a different way so the dots all connect."
Their collection for The Shade Store delivers unexpected patterns and pops of color that work together effortlessly. "We're known for color," says Robert. "And we believe window treatments are a great way to bring color to the house. It sets a tone of happiness, joy and whimsy."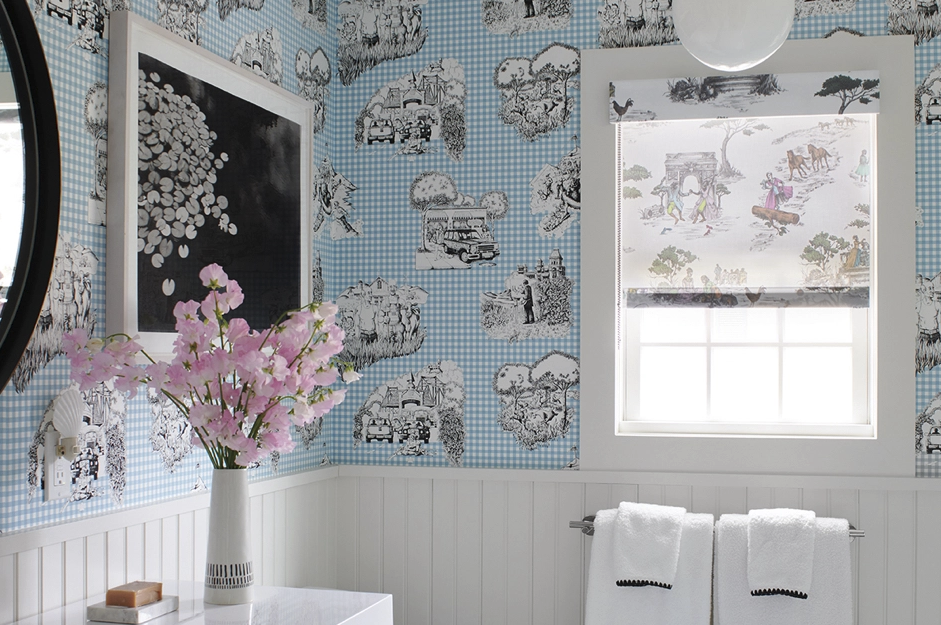 Pictured: Roller Shade — Sheila Bridges Harlem Toile de Jouy, Multi-White
Inspired by the historical narrative of the decorative arts, Harlem Toile de Jouy by designer Sheila Bridges is a custom window treatment material that brings a unique take on the traditional French toile to windows everywhere.
"I'm entertained by the stories traditional toiles tell and the questions they sometimes raise," says Sheila. "But after searching for many years for the perfect toile for my own home, I decided that it quite simply didn't exist. Initially created as a wallcovering, Harlem Toile lampoons some of the stereotypes deeply woven into the African American experience."
Custom Roman Shades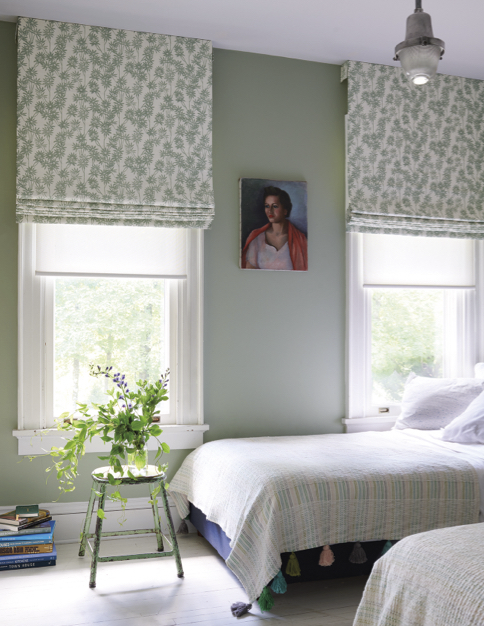 Pictured: Flat Roman Shades — The Novogratz Daisy Bloom, Sage
Like a bouquet of fresh-picked flowers for your windows, Daisy Bloom by The Novogratz is a lightweight cotton-linen blend featuring eye-catching blooms from an original block print by the designers.
Taking a cue from the colors and patterns discovered during the renovation of their newly purchased 200-year-old Greenwich Village home, The Novogratz recently expanded their exclusive collection of window treatment materials — endearingly named the Waverly Collection by the designers — to include six new patterns. "As we peeled back the layers on the walls, we discovered old wallpapers that were reminiscent of old New York," says Robert. "There was so much inspiration in there," says Robert. "So we saved the old wallpapers and paint chips and built our new collection around them."
Custom Drapery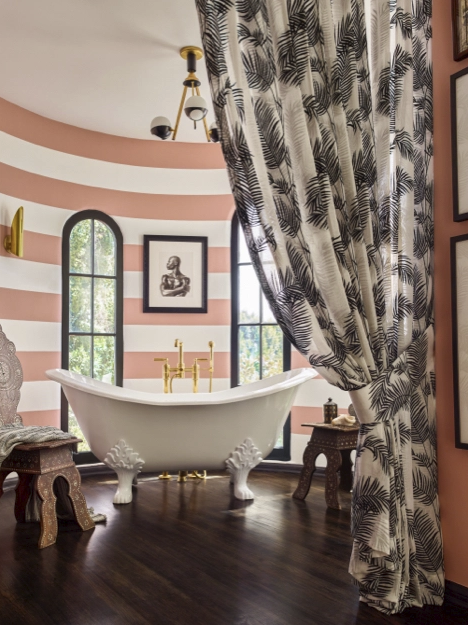 Pictured: Tailored Pleat Drapery — Martyn Lawrence Bullard Palmier, Onyx
Inspired by the nineteenth-century fascination of palm trees and palm design in interiors, Palmier by designer Martyn Lawrence Bullard celebrates the art of embroidery with a sophisticated vine-like palm design that captures a tropical flavor yet carries great elegance that adds a touch of the exotic to any room.
To say that Martyn Lawrence Bullard is well-traveled would be an understatement. In creating his new window treatment materials for The Shade Store, the renowned designer found ideas around the globe — from the streets of Tangier to the runways of Paris. "I was inspired by the memories of my travels to the world's most beautiful and iconic destinations," says Martyn. "I embraced color combinations, patterns and styles that are bright and dramatic, but also balanced and accessible."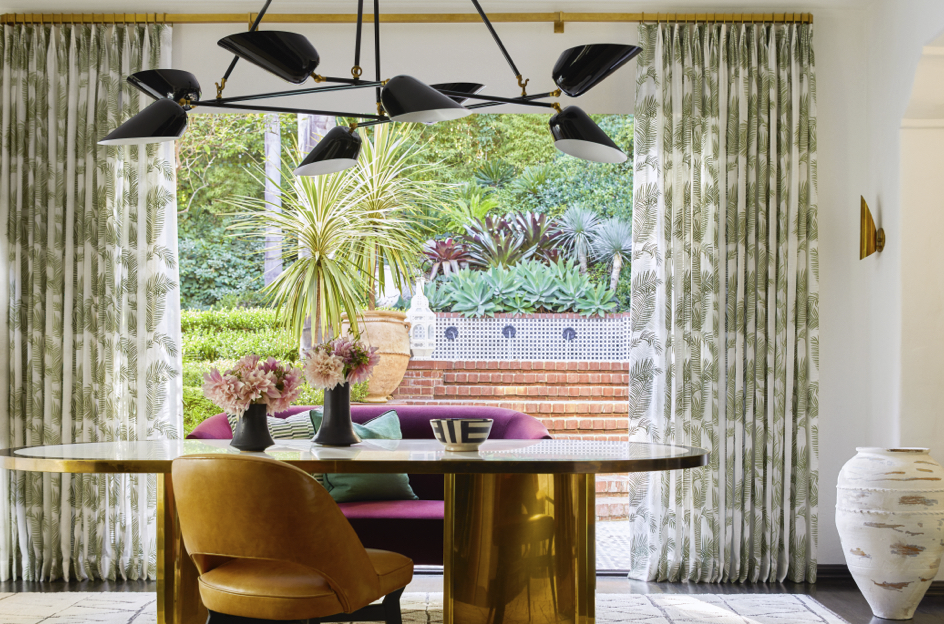 Pictured: Tailored Pleat Drapery — Martyn Lawrence Bullard Palmier, Tropical
In the exclusive collection, bold florals and vines in a fresh color palette join embroidered, textural sheers that have a striking, romantic aura. "Window treatments are the jewelry of a room," says Martyn. "The perfect curtain or shade enhances a space, providing it with its own identity. From creating a cozy environment to making a bold statement, a dressed window is essential to the finished look, function and feel of any room."
Have questions about maximalist window treatments? We're here to help.
If you have any questions about maximalist window treatments at The Shade Store or need assistance finding your dream window treatments, we're here to help. The Shade Store offers expert services every step of the way — from inspiration to installation. Our team of Design Consultants is available to assist you with material selection, color coordination, measurement & installation scheduling and more, however you choose to shop. To get started, stop by your local showroom, visit us online or give us a call at 800.754.1455.
About The Shade Store
The Shade Store is a premium custom window treatment company with a rich heritage in luxury textiles and interior design. Its exclusive collection of more than 1,300 in-stock fabrics and materials provides customers with an unparalleled amount of style and customization options. Every window treatment is proudly handcrafted in the USA, hung and tested for quality assurance and ships free in 10 days or less. With showrooms nationwide, The Shade Store offers a complete range of in-person and virtual design services for consumers and design-trade clientele, including swatches, complimentary professional window measurements and photo rendering. Additionally, the company is an advocate for environmental sustainability: For every purchase made, the company provides the 'Gift of Shade' by planting a tree in partnership with the Arbor Day Foundation. For more information about The Shade Store, please visit theshadestore.com.