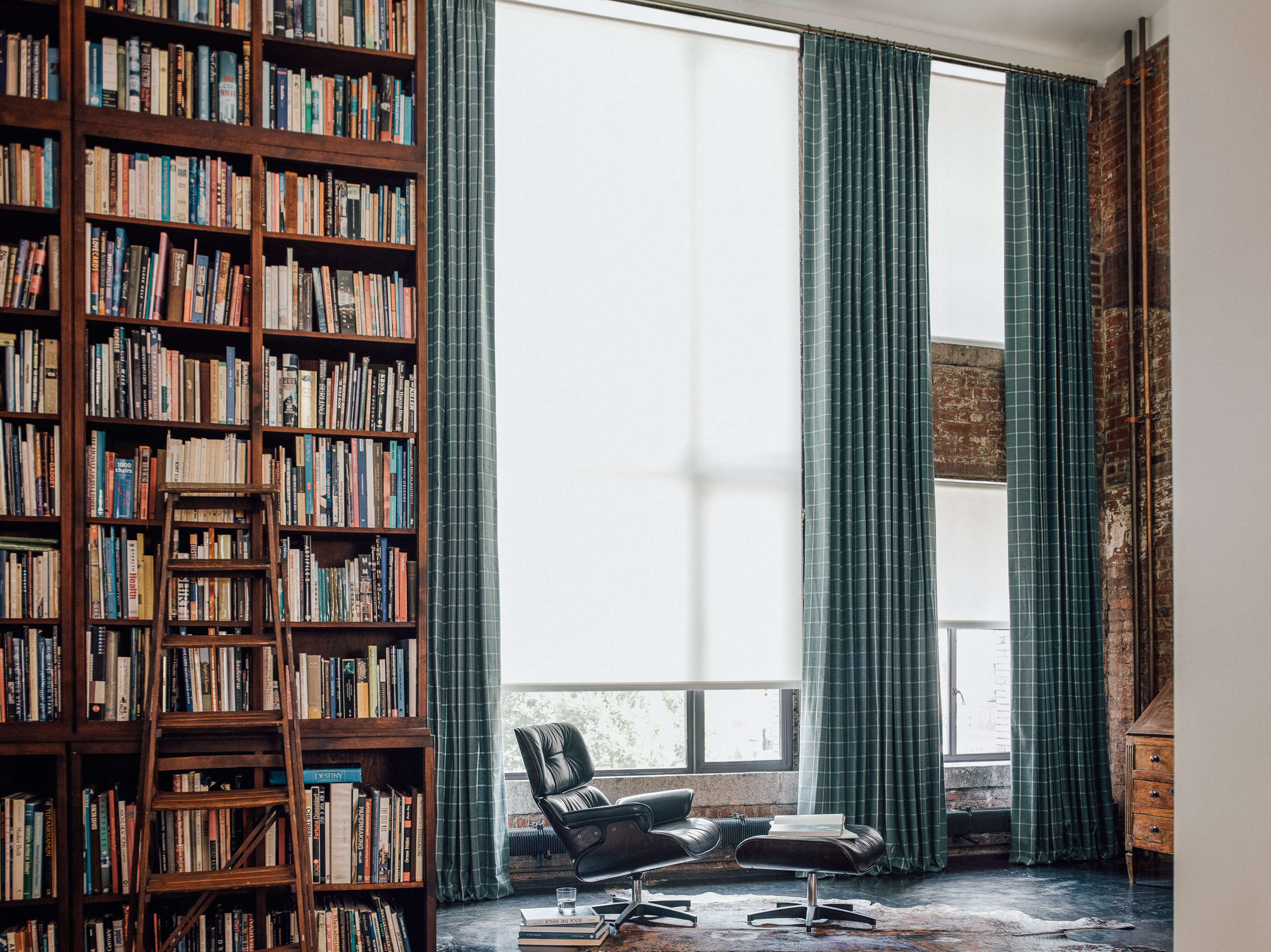 Drapery doesn't have to signify old and stuffy. With new styles and a multitude of fabrics, it can be used in every room throughout the home, and fit in with any style. Whether you'd like to simply update the look of a room or if you have a specific need in mind (like light blockage), we'll share our favorite drapery ideas for every room.
Bedroom Drapery
Sleep is important, and a darkened room can help you catch those 8 hours of shuteye a little easier. We recommend taking advantage of blackout linings in the bedroom, both for drapery and for any shades on your windows. Layering roman or roller shades with blackout-lined drapes will provide an ideal light blocking solution to keep your bedroom dark until you're ready to wake up.
Drapes with a thicker fabric also look lovely layered over sheer drapes. The sheer layer lets light filter in during the day, while the outer layer of drapes can be pulled at night for privacy and a darker environment.
Bedroom drapery may be opened and closed multiple times per day, so it's best to choose a style that can withstand a lot of action. Our Ripple Fold, Tailored Pleat, and Pinch Pleat draperies all offer high functionality, and maintain a neat appearance when drawn and pulled open.
Living Room Drapery
The living room is the perfect place to experiment with bolder window treatments. If you have solid colored furniture, try a print in complementary colors to add flair to the room.
In order to make windows look larger, hang your living room drapes higher and wider than the window frame. This also lets in more natural light when the curtains are open, making the room feel brighter.
Decorative styles like Grommet and Goblet drapery look stunning in bright colors and prints. If privacy is a concern, you can still use decorative drapes – add a roman shade or roller shade mounted underneath the drapery that can be closed when needed.
Kitchen Drapery
For a bright, cheerful kitchen, stick with sheers and light filtering fabrics that allow sunlight into the room. We recommend pairing your kitchen drapes with a roller shade or solar shade to block UV rays and also for easy cleaning – simply wipe down with a damp cloth when they get dirty.
Browse our photo gallery by room to see more inspiration for window treatments throughout your home.