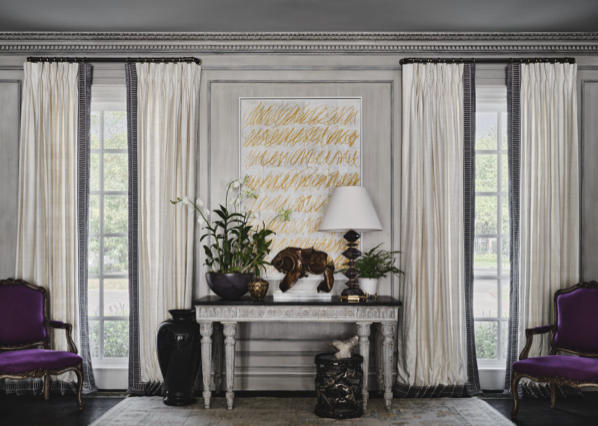 Inspired by the classic Georgian architecture of the venue, the Kips Bay Decorator Show House Dallas living room by designer Michael Aiduss focuses on elevated authenticity with tall, dramatic drapery to showcase the windows' height while adding a lush, inviting glow.
Achieve the look in your home with Pinch Pleat Drapery — Raw Silk, Glacier — and designer details like a contrasting border, available in stock at The Shade Store.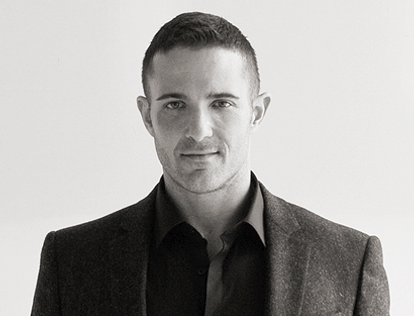 A leading designer with an innate talent for creating atmospheric spaces, Michael Aiduss works globally, bringing to life bespoke interiors that reflect their unique interiors. We spoke to Michael to find out more about the vision he had for his space at the Kips Bay Show House.
Can you tell us a little bit about your space? What was your inspiration?
I was inspired by the use of bold classical moldings in French and English homes. Being a classic Georgian-style home, it felt important to embrace the authenticity of the style of the house by installing plaster moldings and a fireplace that would exhibit the use of materiality from the 1930s. Overal,l the room is a French and continental mix from the 1920s to 1970s.
How do the window treatments relate to your overall vision for the space and bring it to life?
Whenever possible, I like using tall drapes to accentuate the height of a room. Typically, I avoid drapes that are too gimmicky — instead, I always focus on luxury. I have selected an oyster-colored natural silk that is the perfect backdrop for my trim collection with Houles.
What do the window treatments accomplish in your space?
The drapes help to bring light into the room — being lightly colored, they absorb the light and add a glow. They also make the room feel softer, especially when paired with strong architecture.
What, in your opinion, is most important about selecting custom window treatments?
One of the most important factors to consider when furnishing a room is the use of good drapery. I always insist that clients use the correct amount of fabric so the drapery is full, and not skimpy. I love using long drapes as much as possible. However, the size and shape of the window always plays the biggest factor in what feels appropriate.
What aspect of working with The Shade Store have you found to be noteworthy in this experience?
Coming from a world where bespoke drapery is always a wanted luxury, I have found The Shade Store to be very impressive with their knowledge of creating drapery.
Have questions about custom window treatments? We're here to help.
If you have any questions about custom window treatments at The Shade Store or need assistance finding your dream window treatments, we're here to help. The Shade Store offers expert services every step of the way — from inspiration to installation. Our team of Design Consultants is available to assist you with material selection, color coordination, measurement & installation scheduling and more, however you choose to shop. To get started, stop by your local showroom, visit us online or give us a call at 800.754.1455.
About The Shade Store
The Shade Store is a premium custom window treatment company with a rich heritage in luxury textiles and interior design. Its exclusive collection of more than 1,300 in-stock fabrics and materials provides customers with an unparalleled amount of style and customization options. Every window treatment is proudly handcrafted in the USA, hung and tested for quality assurance and ships free in 10 days or less. With showrooms nationwide, The Shade Store offers a complete range of in-person and virtual design services for consumers and design-trade clientele, including swatches, complimentary professional window measurements and photo rendering. Additionally, the company is an advocate for environmental sustainability: For every purchase made, the company provides the 'Gift of Shade' by planting a tree in partnership with the Arbor Day Foundation. For more information about The Shade Store, please visit theshadestore.com.