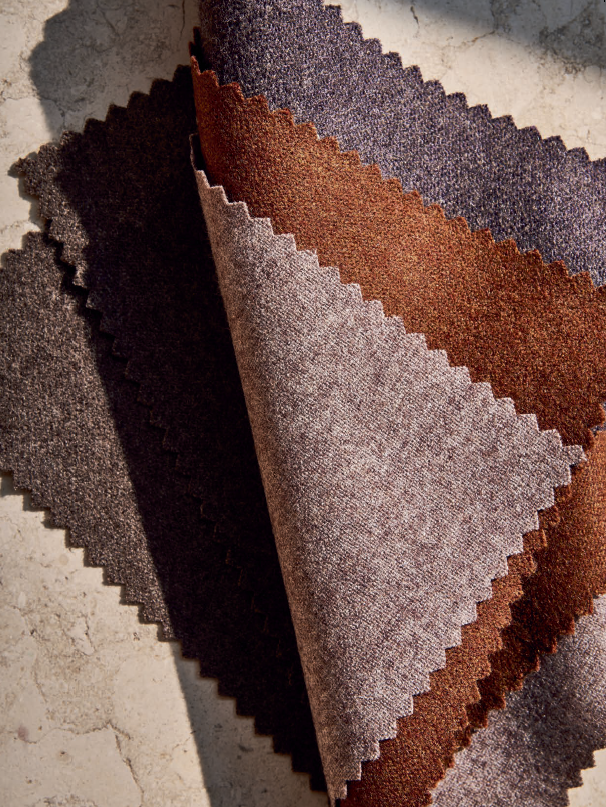 When choosing custom window treatments for your home, choosing the perfect fabric is important. In this post, we'll go over a few of our favorite fabric window treatments and how they can be used to elevate every space in your home.
Wool Favorites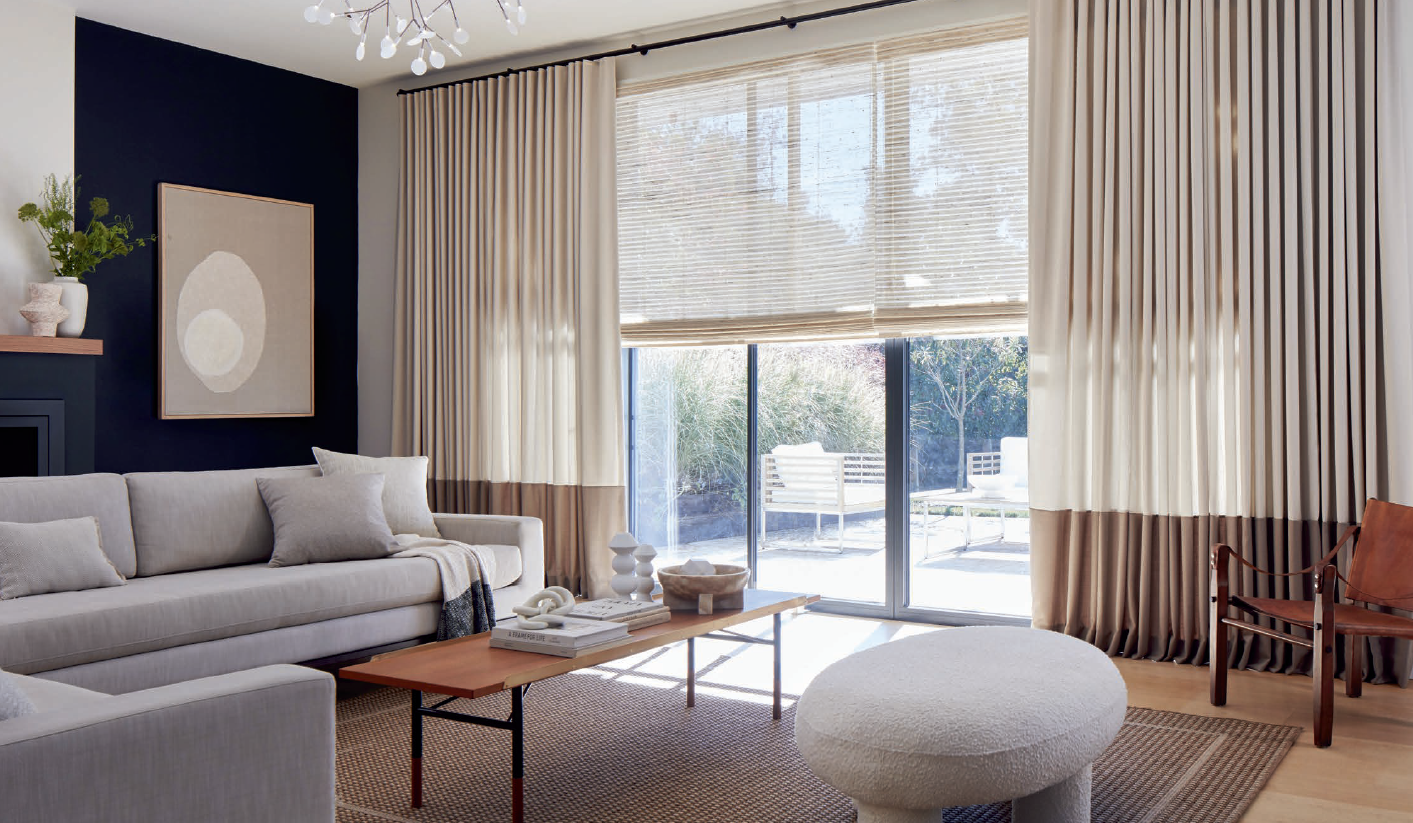 Inner Layer: Waterfall Woven Wood Shades — Artisan Weaves Cove, Ash
Outer Layer: Ripple Fold Drapery — Holland & Sherry Andes, Castle Wall, with Bottom Border — Holland & Sherry Andes, Rye
Ultra-soft and luxurious, wool is a beautiful material for windows of all types. Our exclusive Holland & Sherry collection showcases a variety of designer fabrics for window treatments we're sure you'll love. With wool, their most celebrated natural fiber, they have pushed the boundaries of design and performance to create a collection defined by excellence and rooted in heritage.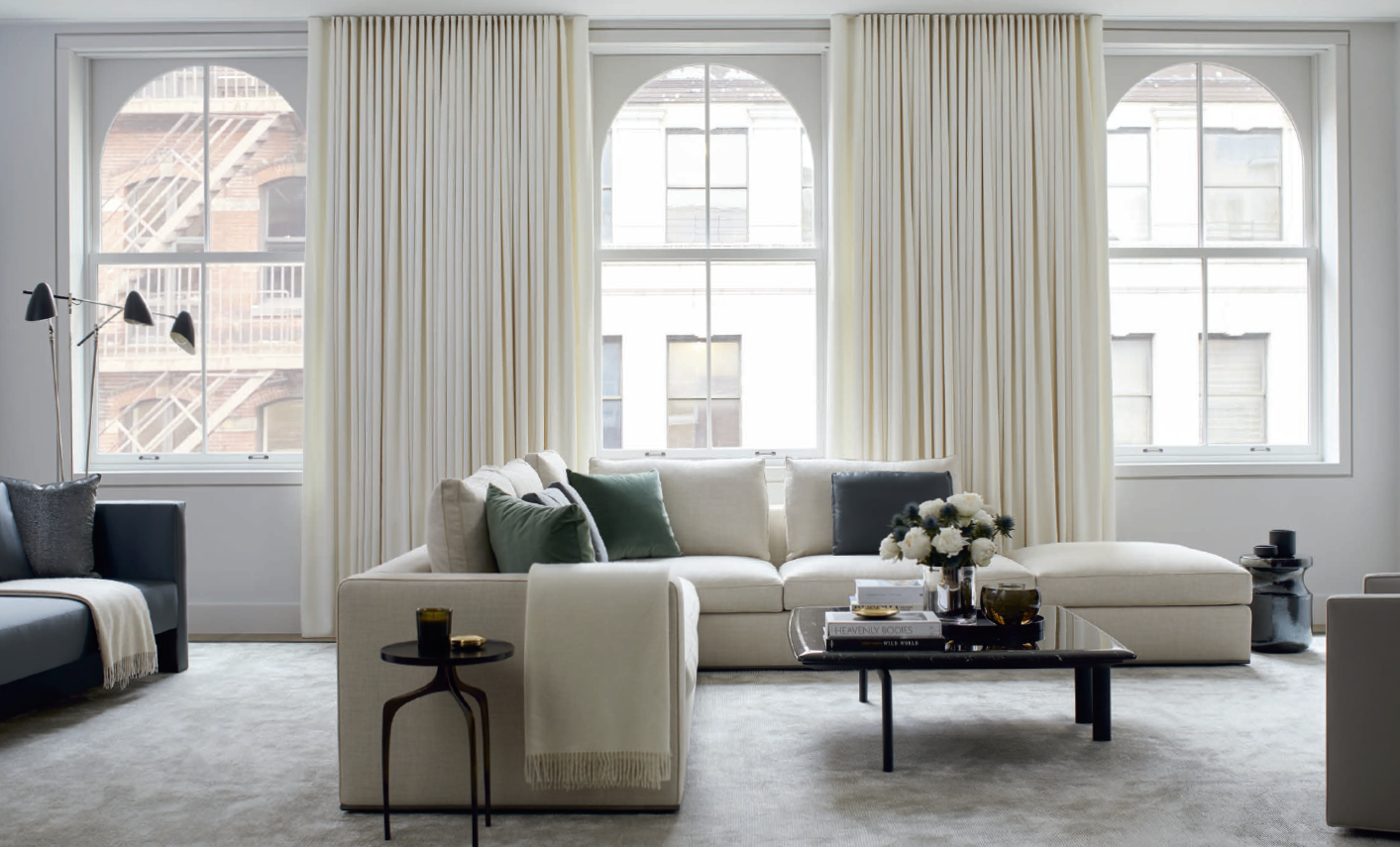 Ripple Fold Drapery — Holland & Sherry Wool Flannel, Glacier
Wool is one of our favorite window treatment materials not only for its texture and timeless character, but also for its thermal properties, no matter the time of year. During cooler months, wool fabric window treatments help keep chilly air out and warmth in — and in the summer, wool fabric window treatments help keep air conditioning in and heat out!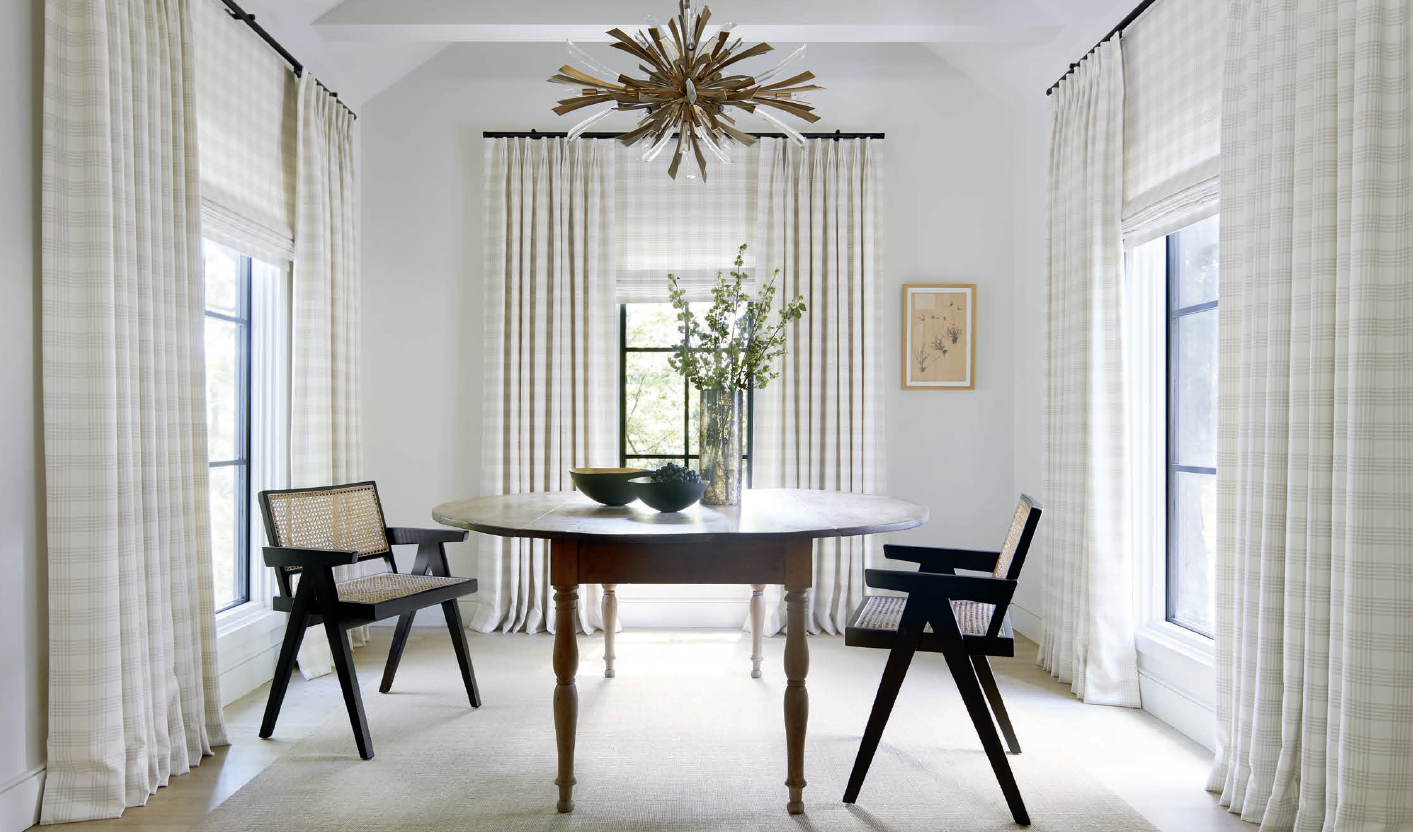 Flat Roman Shades & Tailored Pleat Drapery — Holland & Sherry Emerson, Shea
Solar Essentials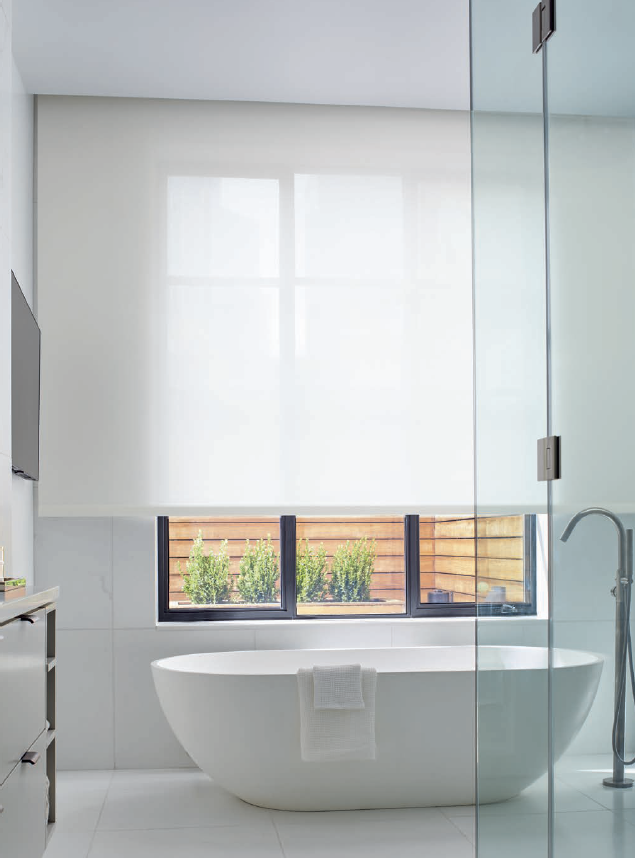 Solar Shade — 1%, White
If you're looking for stylish fabric window treatments that also provide UV protection, The Shade Store has a variety of options for you.
Our Solar Shades Collection showcases a wide assortment of styles that deliver UV protection and help prevent fading. We offer two types of Solar Shades: Basic Solar Shades and Designer Solar Shades, which include Chilewich and Sunbrella.
Chilewich
Crafted in the USA, each woven material in our Chilewich Designer Collection has a natural feel and exceptional durability, giving windows a modern, textured look you can't find anywhere else.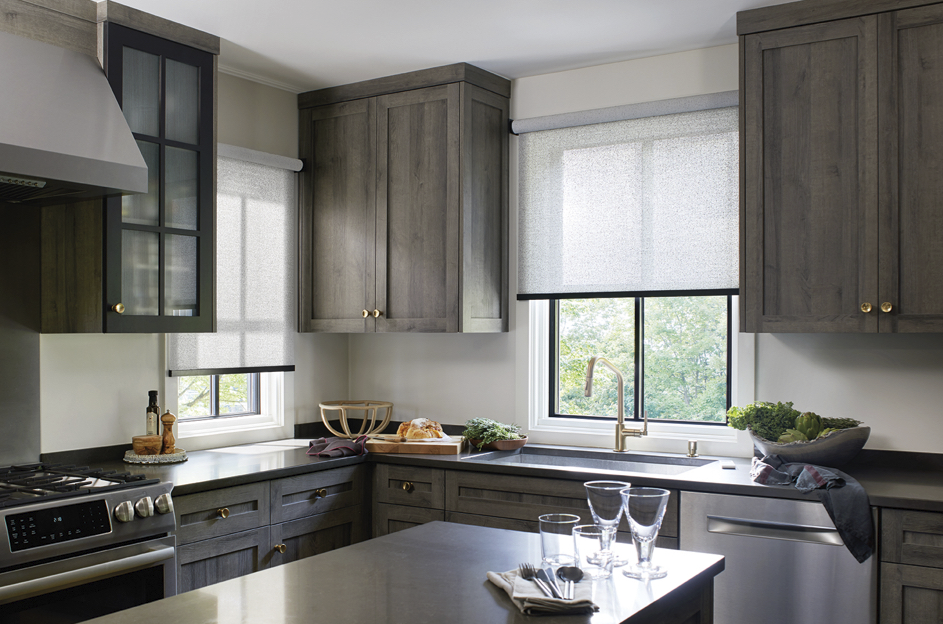 Solar Shades — Sunbrella Solar Collection 3% Solistico, Ash
Sunbrella
Showcasing subtle solids, rich textures and iconic patterns, the Sunbrella Designer Collection is full of fade-resistant performance fabrics that add softness and warmth to every interior.
We recommend Solar Shades in rooms that get lots of sun, and in spaces that you would like to achieve an atmosphere of peace and calm.
More Designer Exclusives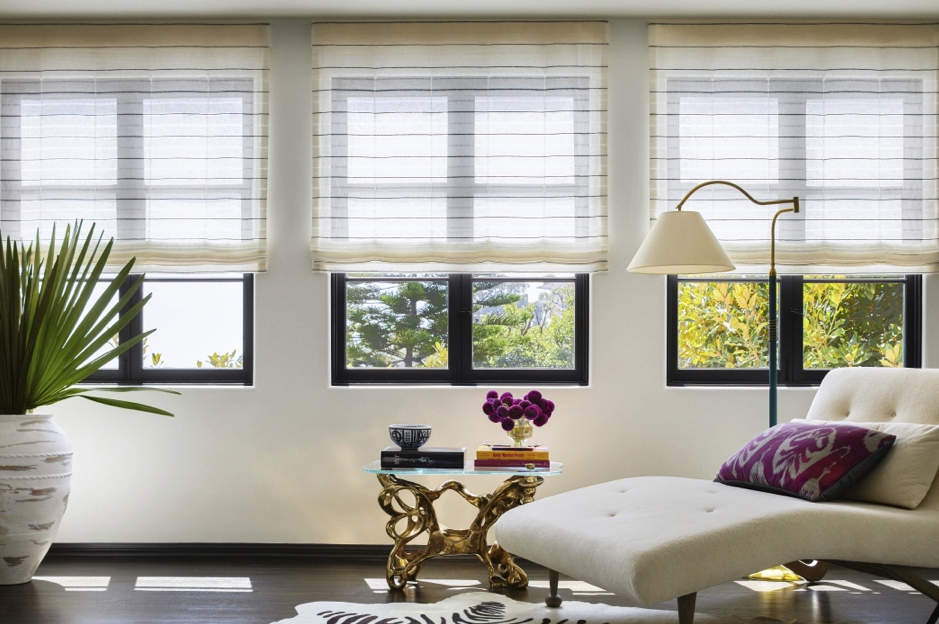 Flat Roman Shades — Martyn Lawrence Bullard Sahara Stripe, Onyx
Iconic patterns, intricate weaves, timeless designs. The work of our partners stands out as the centerpiece of our material collections. Throughout the years, we have sought out the design world's most recognized talents to collaborate on exclusive collections that are truly one-of-a-kind. Their unique taste, style and dedication to quality is exemplified in each material and we are proud to bring their visions to the window. Our collections include a wide assortment of designer fabrics for window treatments.
Martyn Lawrence Bullard
Sahara Stripe by Martyn Lawrence Bullard features a finely incorporated stripe — designed to let light filter in softly and create an air of comfort and sophistication.
Victoria Hagan
A simple fabric with major impact, Victoria Hagan's Harbor Stripe serves as a dramatic backdrop to any space. We recommend it for both traditional and modern interiors.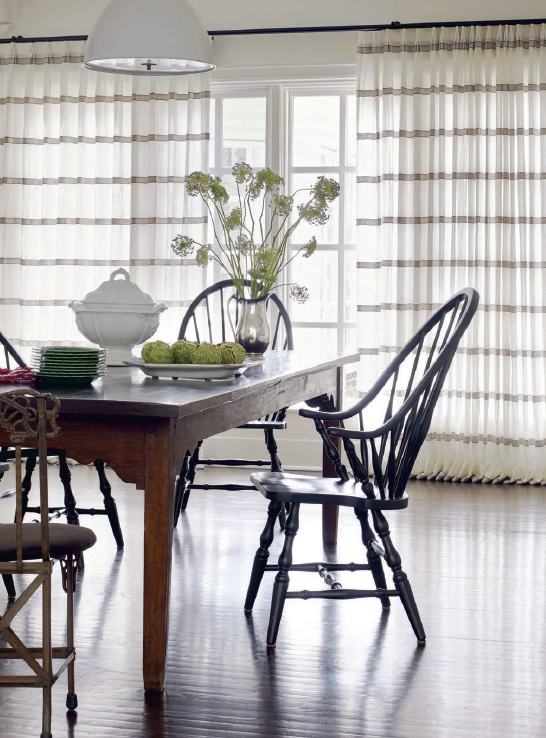 Tailored Pleat Drapery — Victoria Hagan Harbor Stripe, Stone
To explore more of our exclusive designer fabrics for window treatments, visit our Designer Collections page or stop into your nearest showroom.
Have questions about fabric window treatments? We're here to help.
If you have any questions about fabric window treatments at The Shade Store or need assistance finding your dream window treatments, we're here to help. The Shade Store offers expert services every step of the way — from inspiration to installation. Our team of Design Consultants is available to assist you with material selection, color coordination, measurement & installation scheduling and more, however you choose to shop. To get started, stop by your local showroom, visit us online or give us a call at 800.754.1455.
About The Shade Store
The Shade Store is a premium custom window treatment company with a rich heritage in luxury textiles and interior design. Its exclusive collection of more than 1,300 in-stock fabrics and materials provides customers with an unparalleled amount of style and customization options. Every window treatment is proudly handcrafted in the USA, hung and tested for quality assurance and ships free in 10 days or less. With showrooms nationwide, The Shade Store offers a complete range of in-person and virtual design services for consumers and design-trade clientele, including swatches, complimentary professional window measurements and photo rendering. Additionally, the company is an advocate for environmental sustainability: For every purchase made, the company provides the 'Gift of Shade' by planting a tree in partnership with the Arbor Day Foundation. For more information about The Shade Store, please visit theshadestore.com.