Warning
: Undefined array key 0 in
/usr/src/wordpress/wp-content/plugins/target-blank-in-posts-and-comments/target-blank-in-posts.php
on line
47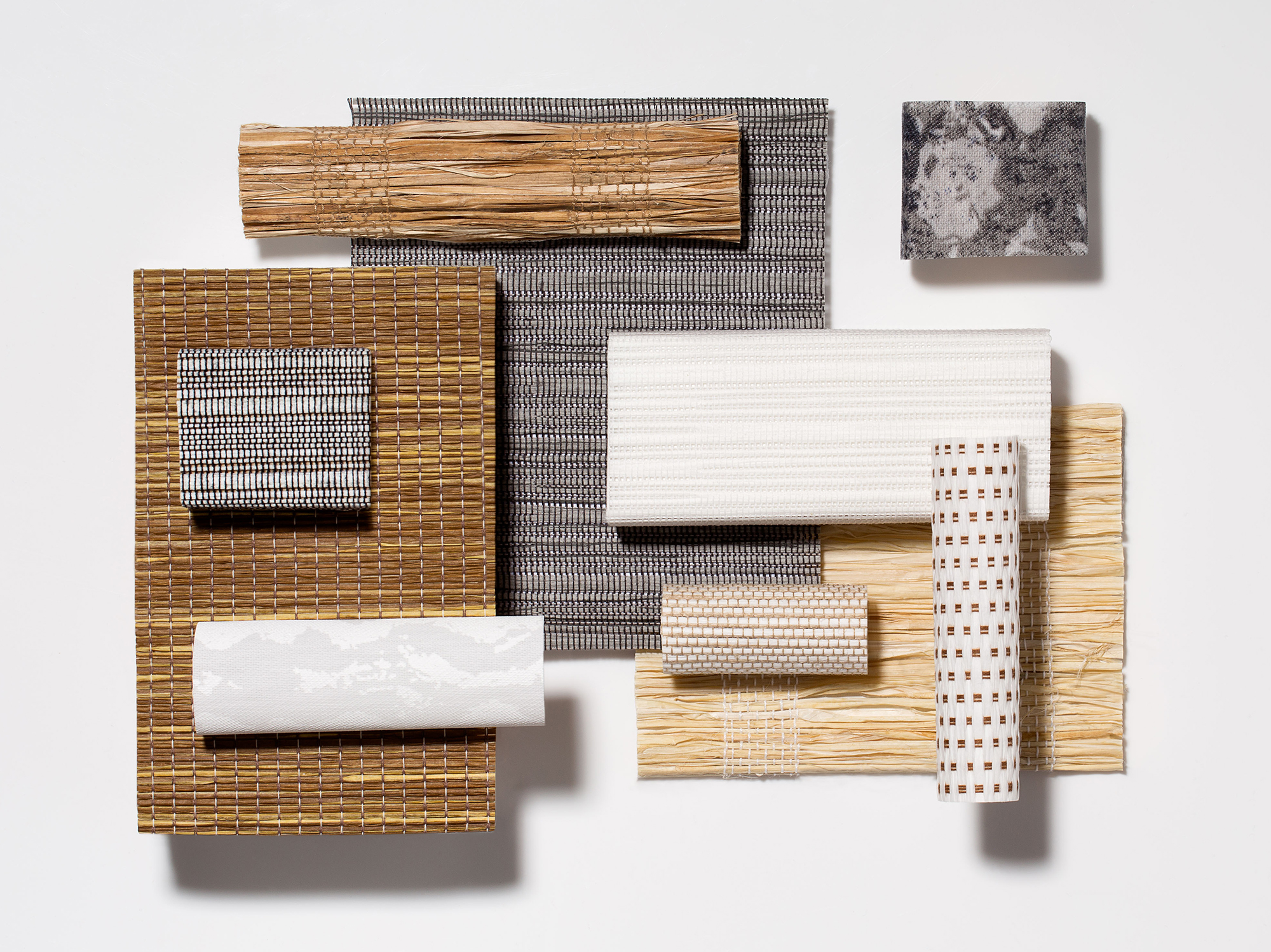 What is Farmhouse Style?
Modern farmhouse style combines the classic, no-frills aesthetic of the old-fashioned farmhouse with a sprinkling of updated modern touches. This style of decor is full of character, and gives off a casual and inviting vibe – think shiplap walls, reclaimed wood floors, and antique furniture finds.
If you're searching for farmhouse style window treatment ideas, one of the best places to start is determining which materials you would prefer to feature in your space. Richly textured wood and woven materials can help you achieve the laid-back charm that modern farmhouse style evokes. In terms of color palette, balancing natural hues such as earth tones with warm whites and deep blues can make a room feel timeless, with a modern twist.
You should also take into consideration your light control and privacy needs. If you would like to soften the light in your space, we have a beautiful selection of light filtering shades to choose from, and if you would like to block it out completely, we recommend exploring our blackout shades collection or adding blackout lining to your window treatments.
The Shade Store also offers a selection of custom window treatments that provide exceptional privacy, while staying true to your farmhouse aesthetic. Showcasing sustainably sourced woods and versatile wood alternatives, our Wood Blinds collection adds a timeless touch to the window and lets you control privacy with unparalleled character. Privacy lining may also be added to many of our window treatments, allowing you to achieve exceptional privacy with products and materials that complement your farmhouse décor.
Farmhouse Style Window Treatment Ideas
We partnered with Holli Rodrigues from the blog BeesNBurlap to collect some of the best window treatment materials and styles to bring the modern farmhouse look into your home. Holli has a passion for finding and repurposing vintage items in her home, and her Spring 2017 One Room Challenge project was their second floor Urban Industrial Vintage Laundry Room.
Naturally Textured Woven Wood Shades
Many modern farmhouses employ white walls to keep the space light and bright, and to act as a canvas for other interesting design elements like lighting and artwork. Woven Wood Shades are a great way to add texture to walls and windows, and the natural colors can play off of wood floors or exposed beams. Woven Woods lend a relaxed feel to any room. Holli's favorites for wood-toned Woven Wood Shade materials are Tahoe in Teak, Montauk-2, and Montauk-4.
Farmhouse Roman Shade Options
Another way to introduce a modern farmhouse aesthetic to your home décor is with Roman Shades. Filled with soft and elegant silhouettes, the most luxurious fabrics and made-to-layer materials in light-filtering and blackout options, our farmhouse Roman Shades instantly bring striking sophistication to the window.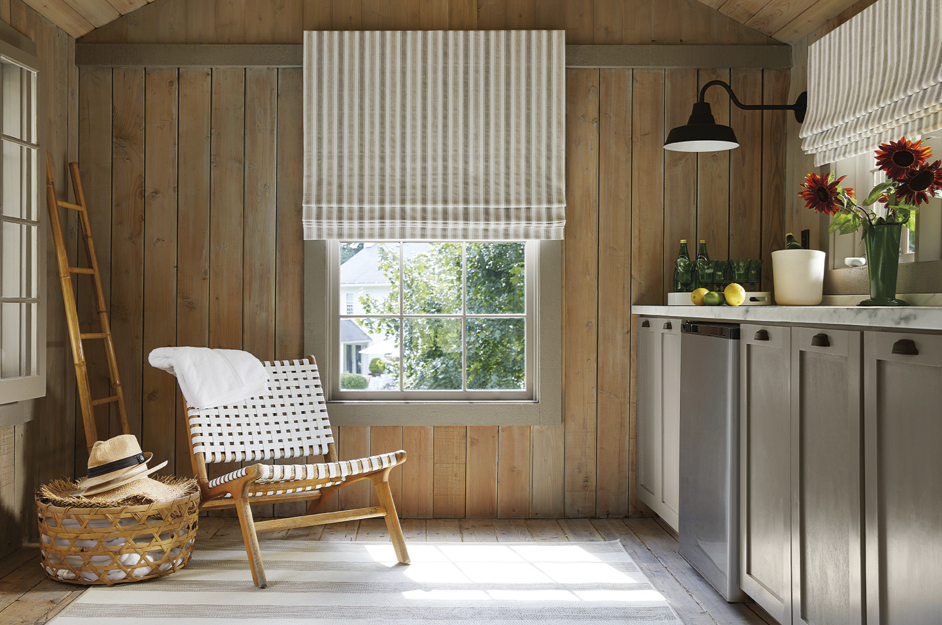 Flat Roman Shade — Awning Stripe, Fawn
Awning Stripe is a beautifully simple material that's perfect for homes with modern farmhouse character. Available in versatile neutrals, its classic stripes make the perfect complement to rustic surroundings.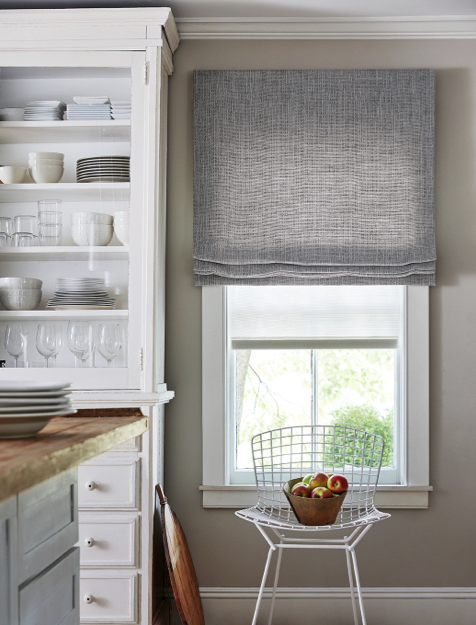 Inner Layer: Solar Shade — Chilewich Twill, Shell / Outer Layer: Flat Roman Shade — Shoreline, Pewter
If you're looking for farmhouse Roman Shades that have gorgeous texture, we recommend our Shoreline material. One of our most popular essentials, it's made with contrasting threads that add depth to every window. Shoreline is inspired by natures's coastal beauty, offering endless versatility and understated sophistication — perfecto for homes with a modern farmhouse aesthetic.
Warm White Shades
Even if you love the all-white look, you can bring the warmth of the farmhouse into the space with interesting white window treatments. Our Bryce material in White looks beautiful on Woven Wood, Roman, and Roller Shades, and softens the straight lines and hard surfaces of rooms like kitchens and bathrooms with its paper-based weave. For a bit more privacy, try Ozark in Latte with its rich mix of white and brown. If the rest of your space is a little more farmhouse and your window treatments need a touch of modern, try Roller Shades in Fountain (in White or Slate) with its subtle distressed pattern.
Striking Charcoal Gray Shades
Industrial accents like metal chairs and pipe shelving look right at home in the modern farmhouse. Charcoal gray shades can add depth and tone to the otherwise minimal modern farmhouse, and draw upon dark metal finishes to tie the space together. Materials Jackson in Grey and Bryce in Dune both add interest, texture, and color, while still allowing some natural light to filter through.
Farmhouse Style Curtains
Drapery is an ideal choice to introduce softness and texture to farmhouse style. Flowing drapery plays off of minimal farmhouse materials such as wood and metal, while also adding a layer of sophistication. Our Rod Pocket Drapery offers a traditional, charming look that fits perfectly with the modern farmhouse aesthetic.
In terms of materials, our Linen fabrics add a light, natural texture that pairs perfectly with farmhouse decor.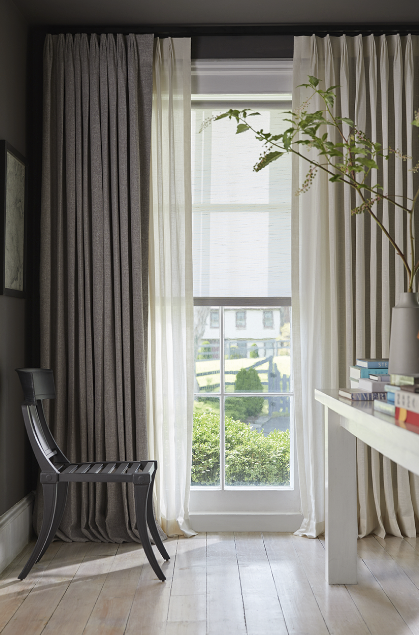 Inner Layer: Roller Shade — Cora, Light Grey / Middle Layer: Tailored Pleat Drapery — Sheer Wool Blend, Cloud / Outer Layer: Tailored Pleat Drapery — Heathered Linen, Smoke
Additional window treatment materials that go well with farmhouse style home décor are our Sheer Wool Blend and Heathered Linen. Soft and luxurious and available in versatile neutrals, they add interest and timeless character to every space they adorn.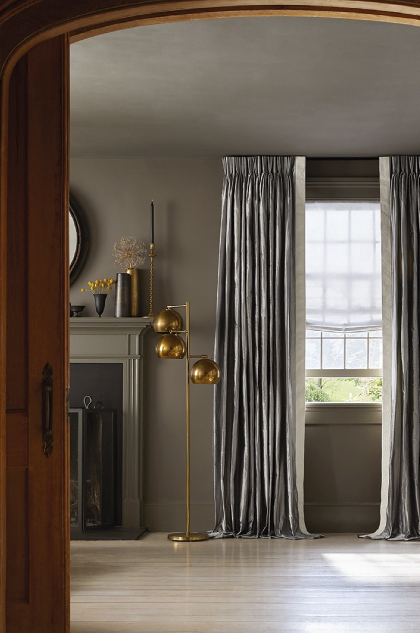 Pinch Pleat Drapery — Silk Dupioni, Pewter
Silk Dupioni is another beautiful option for farmhouse style spaces. Made of 100% silk, this subtly textured material falls in soft folds, drawing the eye toward the window and adding sophisticated character.
Blackout & Light Filtering Drapery
Our drapery collection includes sheer materials like Basket Sheer and Holland & Sherry Wool Challis. These elegant essentials are perfect for softening the light in your home and creating creating comforting environments. We also offer blackout lining for our drapery — great for spaces in which you need complete darkness like bedrooms and media rooms.
Farmhouse Style Curtain Rods and Hardware
Drapery hardware is another opportunity in which you can incorporate modern farmhouse style into your decor. Whether you're looking to incorporate antique metal finishes or classic wood elements, there are many options to choose from to find the perfect farmhouse style curtain rod.
Capture the Modern Farmhouse Style
Call us, send us an email, or stop into our window treatments showroom to meet with one of our design experts who can help you find the perfect modern farmhouse curtains, blinds, or shades for your home