How to Dress Tall Windows
If you're wondering how to dress tall windows, it may seem challenging to choose window treatments that will fit. Not only do tall window coverings need to be large enough to fit properly, but they also need to be structured to complement these bigger-than-average window sizes. So it's important to choose window treatments for tall windows that highlight the height of the window, while also providing enough privacy for your home.
If you are struggling to find window covering ideas for high windows in your home, don't worry — this post provides ideas and options for choosing window treatments for tall windows. So when you ask yourself, "How do I make my high windows look better?" you'll know The Shade Store has excellent custom Shades, Blinds and Drapery options.
Curtains and Drapes for Tall Windows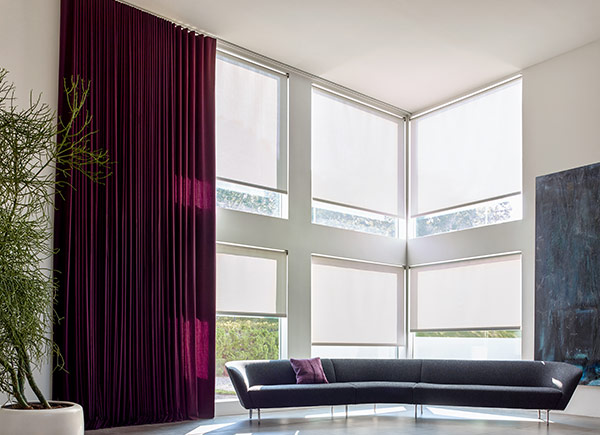 Consider using drapery for your large windows. You can customize the length of your drapery and curtains to accentuate the window's height. Long drapery panels make great tall window curtains because they help to draw the eye up to see the full height of a window, which creates a bold statement that highlights large windows, and can make your room look bigger, as well.
When choosing drapes for tall windows, it's essential to get the correct measurements and choose sturdy, eye-catching drapery hardware that will support the weight of the drapery fabric. As you'd expect, tall window curtains carry some extra weight with them (especially if you choose a thicker material), so you need to make sure your curtain rods are up to the challenge of supporting them.
To get the perfect fit, we recommend letting our Measure & Install professionals hang your curtains on your tall windows. Request a free measurement today to get started!
Blinds for High Windows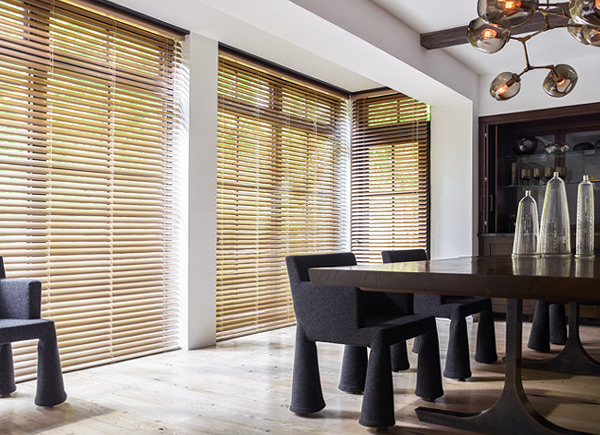 Curtains and drapes aren't the only options for tall window treatments. Blinds are also a great window treatment choice for covering a large window's top or bottom half. It's worth noting, however, that blinds for high windows are not the best choice if you need to open or close your windows frequently throughout the day, as their control mechanisms may be difficult to reach and operate.
On the other hand, blinds for tall windows are an excellent choice for consistent light control or privacy in kitchens or bathrooms – rooms where you can expect to leave your blinds open or closed for extended periods of time. So, if you're wondering, "what is the best blind for a large window," the answer is one that you don't have to adjust or open and close frequently.
Shades for High Windows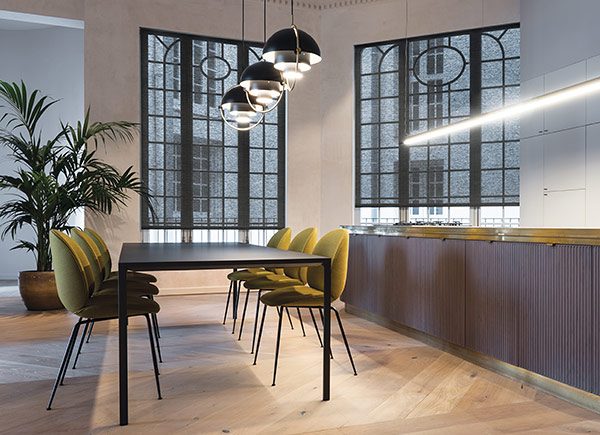 Shades can also make great window treatments for high windows. Since shades come in a variety of styles and fabrics, they can be customized to fit the room's style, location, or light coverage needs, as well as be modified to fit larger sizes. The Shade Store offers four great options of shades for high windows:
Solar Shades:

Since large windows naturally let in more light due to their large size, extra protective

solar shades

are an excellent treatment idea. They are effective shades for high ceiling windows that receive a lot of sunlight throughout the day.

Roman Shades:

Roman Shades

are another popular option for high ceiling windows that provide a dramatic look and more coverage.

Top Down Bottom Up Shades:

Top down bottom up shades provide excellent coverage without blocking the entire window. They allow you to block or let light in at the top or bottom of a high window.

Cellular Shades:

Made with a unique honeycomb design, our

Cellular Shades

are

some of the best energy-efficient window treatments

you can find. Their cells trap air, providing excellent insulation and helping maintain comfortable temperatures. Available in light-filtering and blackout options, Cellular Shades can soften natural light or block it out completely, while providing complete privacy.
Motorized Shades for High Windows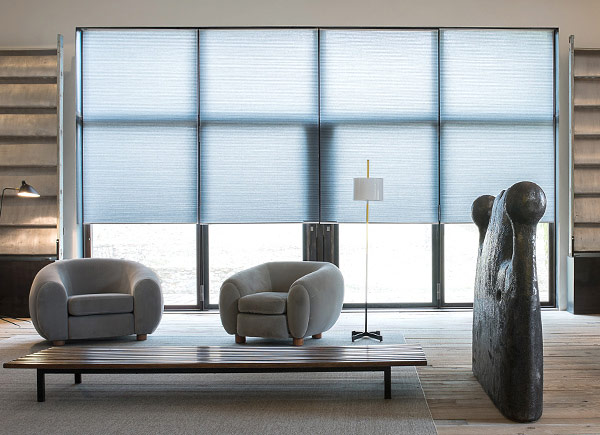 One of the inherent issues with installing shades for high windows is that they may be hard to reach and manipulate. This is where motorized shades come in handy. Motorized shades are a popular choice for window coverings for high windows, or extra tall windows. Motorized window treatments are an excellent choice for tall windows, as the automatic control makes it easy to lower and raise the shades with the click of a button.
Energy-Efficient Window Treatments for High Windows
At The Shade Store, we also have several options of energy-efficient shades for high windows:
Our

Cellular Shades

provide excellent insulation and help reduce energy bills.

Our

Solar Shades

reduce glare, protect against fading and filter out harmful UV rays.
Many of our custom Drapery fabrics like Holland & Sherry Wool Flannel and Emerson are great for covering drafty windows.
Installing Window Treatments on Tall Windows
Installing window treatments can be difficult, but it can be even more challenging when dealing with tall or high windows, due to the height of the ceilings, weight of the drapery, and requirements for accurate measurements.
When measuring and installing window treatments for tall windows, we recommend having one of our Measure & Install Professionals complete the process to ensure an accurate and secure fit. Simply request a free measurement to get started today!
Visit Your Local Showroom to Find the Best Shades or High Ceiling Windows
Whether you need inspiration or some high window curtain ideas, or you would like to receive professional input on measurement and installation, The Shade Store is here to help. To get started selecting and installing your shades for high windows, find a showroom near you or request a free design consultation today. Our expert Design Consultants are happy to help you find the best window coverings for every room in your home.